As we prepare for Standard to rotate it's important to remember that Magic is a game of interactions. Cards that haven't been good enough for Standard before easily could be after rotation particularly if there are new cards printed that they work well with. Similarly some interactions that have been possible in the past may have been poorly suited to the old format but could be strong in the new one.
For example casting Angelic Destiny on a Mirran Crusader might have been an interaction to try to take advantage of but in a world full of Vapor Snags it wasn't positioned well enough to really take over. Those cards won't be around in new Standard but the point is that some interactions are powerful enough for a format but are just not positioned properly to shine.
My recent videos have been exploring the interaction between Diabolic Revelation and Elixir of Immortality when you can end up with another Diabolic Revelation in hand. This is a powerful interaction that's worth understanding how to build around and what kinds of decks it matches up well against.
So by way of example this is how to understand that interaction as a deck design element: it matches up well against decks that are trying to grind incremental advantage going long rather than trying to end a game as soon as possible because it goes bigger than anything else at that stage of the game.
Another powerful interaction I've recently employed is Thragtusk with Disciple of Bolas. While I'm hesitant to try to make bold predictions about how a format will look without knowing all the cards I wouldn't be the least bit surprised if this is one of the defining interactions of Standard after Return to Ravnica is legal much like the Blade Splicer / Restoration Angel interaction has been in current Standard.
The old world was defined by allied color decks because of the Scars dual lands but the new world will be dominated by the guilds supported in Return to Ravnica: U/R W/G G/B R/B and U/W. These combinations will have both better lands and better spells so I expect at least 90% of multicolor decks to feature these combinations. Golgari being one of these combinations greatly increases the odds that a green/black interaction will be relevant.
On top of that Disciple of Bolas the less played of the two cards currently plays extremely well with the Golgari mechanic scavenge which allows you to create huge creatures to sacrifice for ridiculous profit in the late game. This just feels like the kind of thing Golgari should be doing so I can only assume the new cards will support this plan very well.
Archaeomancer really doesn't look like a Constructed powerhouse. It's pretty embarrassing to compare it directly to Snapcaster Mage or Eternal Witness. But Eternal Witness was an extremely powerful card that hasn't been legal in Standard in a long time and Snapcaster Mage has some serious limitations in that it only lets you get one more use out of a spell and you have to have enough mana to play that spell in the same turn.
Devastation Tide picks up Archaeomancer and all your other permanents and makes your opponent pick up all of their permanents. If all of your permanents are like Archaeomancer in that they'd rather be in your hand than in play this can let you grind out some serious advantage while the Devastation Tide keeps your opponent from building up much of a board.
What this combo wants most is a Wood Elf type effect and there's some chance that this coming block will give us one of those maybe even one that finds Gates and puts them into play. Getting more lands in hand is nice but it's not really what I'm looking for.
Thragtusk is awesome because you get to keep gaining five life and while you'll bounce the token again at least it comes after the Tide unlike something like Attended Knight which doesn't leave anything behind when you pick it up. Abundant Growth is an excellent cheap draw engine.
Emancipation Angel is a card to watch for a deck built around this just because it's likely to have favorable interactions with a lot of the cards you'd want to play anyway.
I suspect that everything with the detain mechanic will say "nonland" but if anything doesn't that would be another card that might fit.
This combo from Innistrad Block Constructed was part of the Reanimator decks that played a significant role in that format. Those decks could do some awesome things and it might turn out to be one of the better end games of the new Standard essentially filling the void left by Titans rotating out.
Fiend Hunter with Angel of Glory's Rise and a sacrifice outlet (Falkenrath Aristocrat was the best one available in Block Constructed but Bloodthrone Vampire is a single color alternative—the dream would be to find a Human that doesn't require an additional cost) allows the deck to infinite. Angel of Glory's Rise comes into play and returns Fiend Hunter and something else. Hunt the Angel. Sacrifice Fiend Hunter (and something else) to something to make the Angel come back which returns the Fiend Hunter which Hunts the Angel again and so on.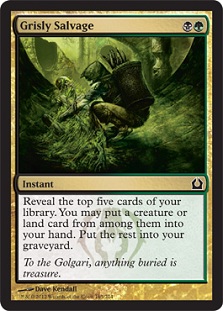 We've already seen Grisly Salvage which is an excellent enabler for this kind of strategy to support the ones we already have in Innistrad.
Mostly I just mean "keep an eye on Deadeye Navigator" when Titans and Consecrated Sphinx are gone but Zealous Conscripts is one of the best creatures you can pair with Deadeye Navigator and happens to be in one of blue's "honorary allied colors." (Red and white will function as blue's allies after Return to Ravnica and before Gatecrash.)
With Zealous Conscripts Deadeye Navigator has two modes. The most likely mode is that you'll just keep Blinking Zealous Conscripts and steal all their creatures and kill them. The other option if the board is stalled so badly that even with a ton of mana you can't kill them you can Blink Conscripts pair with it again steal one of their creatures then Blink Deadeye Navigator bond it with the creature you stole then Blink the creature you stole to keep it beyond the end of the turn. From here you'll probably have to pair it with the Navigator again and then Blink the Navigator to pair it with the Conscripts to start over. I think that came to roughly 1000000 mana but you do get to keep their creature forever.
Aside on the Temporary Color Wheel
For the period between Return to Ravnica and Gatecrash you may find it easiest to think about the supported colors as allies and just like in the current Standard you'll want to build pairs that are two supported colors or three-color decks with two supported pairs. It can be hard to remember exactly which pairs are supported so a good mental shortcut can be to think about the color wheel but swap red and black. For the next few months black is allied to green red is allied to blue and everything else is exactly as it has been.
This combo isn't too subtle and may not seem more specifically synergistic than "aura + creature" but there's something to this. Rancor is very badly positioned in the current Standard. Vapor Snag constantly threatens to fizzle a Rancor making it very difficult to cast against a blue opponent with even a single mana. Even worse the mere existence of Gut Shot in the format makes casting a Rancor on a one toughness creature a dangerous proposition even against an opponent who's tapped out. In the new world Rancor will be a lot more likely to resolve which makes it a much better card.
Wolfir Silverheart is a defining card of Innistrad Block Constructed maybe even the defining card. Without Vapor Snag Go for the Throat Dismember or Doom Blade Wolfir Silverheart is set to play a serious role in Standard. Wolfir Silverheart is a creature that makes your opponent chump block very quickly. With a Rancor chump blocking isn't really an option so there's a good chance the opponent will just die. These cards might both be extremely well positioned and the whole is definitely greater than the sum of its parts.
This is mostly just to point out the strength of the self-mill deck going forward. Golgari is the guild that brought us dredge the grandfather of self-mill and while scavenge isn't the enabler dredge was it certainly helps pay us for milling ourselves. It won't take a lot of Grisly Salvage type enablers to make you take a serious look at G/B/x graveyard strategies.
Moreover while Grafdigger's Cage won't be the only graveyard hate it is set to be the premier graveyard hate after Nihil Spellbomb and Surgical Extraction rotate. Although it stops Tracker's Instincts from flashing back it does nothing to Mulch Grisly Salvage Ghoultree or scavenge as a mechanic. Also remember that Disciple of Bolas I talked about earlier? He doesn't hate a Ghoultree.
This is even more of a stretch than Rancor and Wolfir Silverheart but I think it's worth pointing out that with red and black trading places on the color pie and red becoming blue's neighbor U/R Delver looks a lot more likely.
The world will be a hard place for Delver of Secrets and Snapcaster Mage with no Gitaxian Probe Ponder or Phyrexian mana but Izzet has always been about instants and sorceries. Cards like Izzet Charm and Mizzium Mortars look to give the pair of blue creatures a guild full of support.
Bonfire of the Damned was another key player in Innistrad Block Constructed and sometimes current Standard and when the mana is there to support it joining the current boogeymen things could get very scary. There's no Ponder to set it up but that just means everyone will have to play four Thought Scour which will help with additional shots and miracled bonfires on the opponent's turn.
Late in the game Izzet Charm can do the same thing which plays into the way the card wants to be used anyway. (Early it's a counter or removal spell then as players get enough mana to play around Spell Pierce and creatures have more than two toughness it wants to filter away extra lands—might as well try to hit a miracle while you're at it.)
Biggest Losers
I want to close by touching on a few cards that will probably see dramatically less play. First Talrand Sky Summoner will probably be worse than his Invocation when there are no Phyrexian mana spells to trigger him the moment he hits play at four mana. Some cards just need to hope that new cards come out that work well with them but to me it seems hopeless for Talrand. I'm glad he had a chance to take over a few games before all his support rotated but I just don't think he's going to have a place in the new world except possibly as a sideboard card for times when you think it will be easy to untap with him.
Finally Trading Post—wow everything that works well with it leaves. I guess it's not surprising that losing an artifact block hurts a card that relies on other artifacts but without Wellsprings Solemn Simulacrum Wurmcoil Engine or even less popular hits like Spine of Ish Sah and Mindslaver I think even Brad Nelson will dump this card and never look back.
That's all I have for old combos that I'd like to see in the new world but I wouldn't be surprised if you've saved up a few tricks of your own that you're holding for the right moment. With spoiler season upon us it can be hard to keep talk about old cards fresh but I'm doing what I can to keep working on decks that heavily feature interactions that should stay relevant. Soon we should be able to start looking at new cards to build around.
Thanks for reading
Sam
@samuelhblack on Twitter