To many people who play Magic these days ramp decks have just always been a thing. Whether in the form we've known them for the past several years with the big daddy of ramp himself Primeval Titan or in more modest incarnations like the Snow Ramp decks that were popular during Coldsnap Standard decks that accelerate into big creatures have become one of the core strategies that people associate with Magic. It wasn't always this way though. For a long time in Magic's lifespan big creatures lived solely at the kitchen table. Showing up to a tournament with something like a Dragon in your deck was enough to get you laughed out of the room.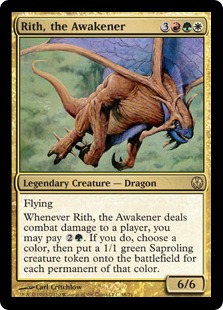 Times changed though slowly. The "Dragonmaster" nickname bestowed upon yours truly came when I finished third at PT Chicago back in 2000 with a G/R/W deck featuring a wide array of big creatures topping out at Rith the Awakener. The Invasion Dragons continued to make something of a splash in both Block Constructed and Standard with Dromar the Banisher becoming the go-to finisher for many control decks. It took a long time to get from Craw Wurm to Primeval Titan and it wasn't always easy being a fan of casting fatties along the way.
The first time WotC really made an effort to support big creatures was Onslaught block. They printed a cycle of huge board dominating creatures at six mana known as the pit fighters—Arcanis the Omnipotent Visara the Dreadful Rorix Bladewing Jareth Leonin Titan and Silvos Rogue Elemental. Go ahead—hover on those links and see what passed as impressive big creatures back in the day! Visara and Rorix each proved to be real contenders and Arcanis saw some fringe play but Jareth and Silvos had trouble making it in the big leagues.
Except in Block. Onslaught Block Constructed was an interesting format defined partially by the tribal mechanics that were pushed in the block particularly Goblins and partially by the cycling trigger enchantment pair of Lightning Rift and Astral Slide. Those two decks battling it out served as the bulk of most groups' playtesting with the occasional foray into a Patriarch's Bidding deck. One hidden gem in the format however was Explosive Vegetation.
I tested for that tournament primarily with Ben Rubin and Eric Froehlich and we identified pretty early on that Astral Slide and Goblins would be the two main players. We also quickly identified the power of Explosive Vegetation a four-casting-cost sorcery that searched for two basic lands. Explosive Vegetation made lots of things possible that were otherwise a pipe dream like casting the powerful pit fighter legends in time for them to make an impact on the game before you died. Or even more powerful things like the truly board dominating Akroma Angel of Wrath.
We tested and tuned various Explosive Vegetation decks and ultimately came to pairing green with white in part for the power of Akroma but mostly for her Vengeance. Akroma's Vengeance was an extremely powerful tool at wiping clear the Lightning Rifts and Astral Slides that the cycling decks needed to operate as well as killing hordes of Goblins.
It was particularly important that unlike Wrath of God Akroma's Vengeance didn't have the "creatures can't regenerate" clause because that let us play big poppa Silvos Rogue Elemental. We realized that the field would be primarily Goblin decks and Slide decks neither of which could effectively actually remove Silvos permanently. Explosive Vegetation into Silvos let us hit for eight and then wipe the board clear with Vengeance—clear except for our Rogue Elemental who could conveniently regenerate. Everything in the deck was either a big effect a ramp effect or some way to buy time to get to the late game where the big spells could take over—the original ramp strategy.
Here's the list which William Jensen (who should be in the Hall of Fame already but somehow missed by one vote this year) played to a Top 4 finish.
Creatures (26)
Lands (26) We weren't the only ones who took notice of Explosive Vegetation. Fully three of the Top 8 finishers played Explosive Vegetation decks. Darwin Kastle played a Dragon (!) tribal deck that used Explosive Vegetation and Goblin Clearcutter to power out enormous Imperial Hellkites and Kilnmouth Dragons while Akabiro Kashima played a three-color deck that took advantage of Explosive Vegetation's effectiveness as a color fixer as well. After the Pro Tour the Onslaught Block PTQ season saw a wide range of "Veggies" decks that sought to play all kinds of powerful spells from Akroma and Silvos to Cabal Conditioning and the various Decrees.
What's the point of this history lesson? Well M13 was home to a card that bears striking similarity to the grandfather of ramp: Ranger's Path. But Ranger's Path is more powerful than Explosive Vegetation ever was. Sure Ranger's Path may say that it only lets you search for Forests but it neglects to include the all-import "basic" tag which means it—like Farseek—can do some seriously heavy lifting when it comes to not only ramp but mana fixing.
By the time Gatecrash rolls around Ranger's Path will be able to get any color of mana but for now we only have access to the Selesnya and Golgari lands so the ramp decks I'm going to be looking at are going to be G/W/B. The combination of Farseek Ranger's Path and Chromatic Lantern will allow for some pretty "ambitious" mana bases once the full array of shocklands are available and I'm definitely looking forward to seeing just what I can do with them. In the meantime though I'm going to try to be at least relatively responsible with my mana.
Creatures (16)
Lands (24)
Spells (20) As with all of my pre-testing decks I suggest you take this list with a grain of salt—perhaps even a whole shaker. But the basic idea of this deck is to go big—no bigger than that. We want to go BIG! Angel of Serenity has gotten a lot of attention since it was originally spoiled and rightfully so—it provides a huge board impact immediately when it hits play exiling up to three creatures from the battlefield or graveyards. The big difference between Angel of Serenity and previous Faceless Butcher effects is that when the Angel dies the exiled cards return to their owner's hands rather than play.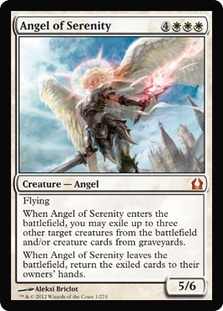 This has several huge implications. First and foremost is the fact that if your Angel dies your opponent still has to spend a bunch of time and mana recasting the creatures you exiled. Second is the fact that you can exile your own creatures from your graveyard and thus get them back when your Angel dies. This can allow for you to chain one Angel into another making it very difficult for your opponent to ever break through your recursive Butcher lock.
I've seen people putting Angel into Reanimator or control decks but I think the fact that each Angel can recur your departed creatures makes it the perfect fit for a Ramp strategy. One of the biggest weaknesses of Ramp decks is their threat density or rather their lack thereof. For the past few years Primeval Titan has essentially made this a non-issue because it represented multiple threats by itself thanks to getting potentially lethal lands whenever it hit the battlefield. Without Primeval Titan in the format though we're back to having to actually kill people with creatures instead of lands. This means that we need creatures that provide resilience to removal in addition to being able to win the game on their own because we can't afford to commit over half of our deck to mana and then lose when our opponent kills our one creature we ramp into.
Fortunately Angel is not alone in providing a removal-resilient body. Thragtusk is certain to be a major player in the new Standard and he certainly fits here. Big Tusky isn't so much meant to win the game but to serve as a speed bump for your opponent's offensive gaining you some life and soaking up damage to buy you time until you can play your real big threats. Centaur Healer and Lingering Souls serve similar purposes at a lower spot on the curve essentially existing for no other reason than to buy time until you can start bringing in the big guns.
In addition to Angel of Serenity the top of the curve features a Return to Ravnica fatty I've already discussed in this column: Armada Wurm. Armada Wurm may not quite be good enough to warrant a spot on the team here but I felt like the deck wanted some kind of potentially big proactive play at six mana. Armada Wurm isn't quite as dominant as Angel of Serenity but still represents ten power worth of trample damage from a single card and even better it's split across two bodies so your opponent can't kill it with a single spell. This is especially potent with the pair of Vault of the Archangel in the deck which can make any big creature that sticks around for a single combat step enough to turn the game around.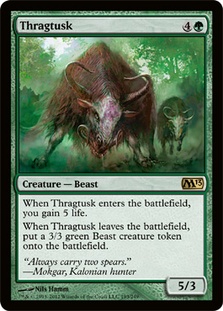 All that life is especially useful if you follow up with Griselbrand. Griselbrand has had his moments of glory already drawing so much ire from Legacy players that the #Griselbanned hashtag became popular on Twitter until the Legendary Demon failed to crack the Top 8 of GP Atlanta in the face of the hate aimed at him. No one has really had much success trying to hard cast Griselbrand yet but there's a first time for everything. His four black mana cost has previously been prohibitive when it came to trying to actually play him in a ramp deck but Overgrown Tomb Farseek Ranger's Path and Chromatic Lantern change all that. There are so many ways to ramp to Griselbrand starting with a turn one Forest that I would not be surprised to see him become a go-to big threat in post RtR ramp strategies that look—well something like this one.
The exact selection of cards here certainly needs some work but the basic premise is exactly the same one that brought William Jensen an unlucky Oblation draw away from a Pro Tour finals ten years ago—buy time build up mana and play enormous threats wiping the board when necessary. The sideboard here like everything else is very rough but is intended to illustrate some of the options for when "ramp into a fatty" might not be enough.
Angel of Glory's Rise is certainly the best possible thing to ramp into against the Zombie decks that are sure to be popular likely getting the nod over Griselbrand in that matchup. Purify the Grave gives some insurance against opposing Angels or reanimation strategies in general. That slot could easily be a similar card like Cremate or Grafdigger's Cage depending on what else is out there. The Duress/Vraska/Underworld Connections package is an example of what you might do to shore the deck up a bit in control matchups which are almost certain to be a serious problem with a deck so heavily devoted to ramping into Angels.
Is this deck any good? I don't know—I haven't played a game with it. But I certainly think this direction has a lot of potential. We may no longer have Primeval Titan but there are still quite a few big creatures out there worth ramping into and the options we have for ramp effects and mana fixing are just getting better. Even if there isn't a top tier ramp deck to come out of Return to Ravnica stay tuned for Gatecrash when Farseek and Ranger's Path really go into overdrive. Just what crazy things will we be able to cast then?
For any of you who live in the Southern California area and want to battle me this weekend I'll be at the Super Return to Ravnica Prerelease hosted by +EV Games gunslinging alongside PT Amsterdam champion Paul Rietzl. You can find all of the info on the event here: http://www.facebook.com/events/271834129595304/
I know I'm looking forward to it!
That's it for this week—good luck to all of you playing in prereleases this weekend and have fun. Especially my Selesnya brethren. Go go green creatures!
Until next time
Bmk
@bmkibler on Twitter
www.twitch.tv/bmkibler
facebook.com/briankiblermtg

| | |
| --- | --- |
| | We are Selesnya. Whatever we need to do can be done with creatures. Knight of the Reliquary Qasali Pridemage Thalia and friends don't flinch in the face of any opposition. Together we will conquer. |