No decklists this time. Instead I aim to enlighten you with a handful of things I've learned over the course of my Standard testing with Return to Ravnica.
It's flashy it's powerful it helped create this—what more could you want in a card? Well how about something that is a little efficient?
Last season's Standard was all about x/2s such as Huntmaster of the Fells Geist of Saint Traft Insectile Aberrations lowly mana creatures and tokens. This year's Standard appears to be about beefy hard to kill dudes like Geralf's Messenger Lotleth Troll and Thragtusk.
First of all Bonfire doesn't even kill much right now. Secondly it's basically only good if it's a one-sided sweeper. Sometimes you'll miracle it for lethal but most of the time you're using it to kill their team while keeping yours alive.
Finally there are more efficient options available such as Mizzium Mortars. If you're looking to kill a couple of 1/1s then Bonfire is the best card for the job. However if you think the board is going to stall out with x/3s and higher you want Mortars as your Doom Blade and as your Bonfire. If you don't need either of those cards then you shouldn't be playing Bonfire in the first place.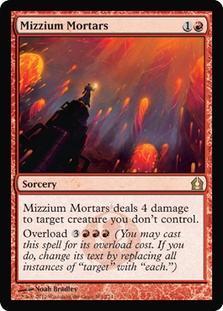 Flames of the Firebrand is another solid card that's worthy of Constructed play yet whenever I post a decklist I get the same "Why Flames over Bonfire?" question. Sometimes you want to kill a Centaur Healer and sometimes you want to kill Knight of Glory and Avacyn's Pilgrim and Flames is far more efficient at doing that than Bonfire.
Bonfire is a fantastic card that will certainly reappear as the metagame shifts. However maindecking Bonfire right now is like playing four maindeck Doom Blades in anticipation of the Zombie mirror match.
Again mostly because of metagame considerations. As I've said before I'm not in the market for Shock Spell Pierce or Careful Study. Most people think that having options is a good thing and I agree. However what if your options are all do-nothings?
Against Zombies you have few good targets for Shock or Spell Pierce. Any sort of green-based deck is going to be the same way. Control exists to some degree but the games go long enough to the point where Izzet Charm is hardly a true counterspell.
Oh I can sift through some cards if I don't want Shock or Spell Pierce? I guess that's good because I probably won't be using the other sides of the card anytime soon. Is 'draw two discard two' ever worth a card though? Think about how many decks play Faithless Looting maindeck. Chances are that most of the ones you've seen do it because they get some benefit from discarding a card like Griselbrand so they can Unburial Rites it.
In the various Izzet Charm decks I've seen like Delver or RUG Control they have next to nothing to take advantage of that effect. You can certainly build Delver to take advantage of it with things like Runechanter's Pike or Skaab Ruinator but then you're working super hard for what? A couple extra power on your Pike?
That doesn't seem worth it to me.
Again like Bonfire Izzet Charm is primed to impact Standard in a large way just not in this metagame. Shock is fine against things like Rakdos Cackler and Diregraf Ghoul but basically nothing else. My main issue with it is that you're trading two mana for their one mana and UR isn't exactly easy to come by in the early turns.
Thanks to the shocklands mana bases are going to be good but not perfect. Imagine a scenario where you have two core set dual lands but no way to turn them on or where you have two duals of your third color. Izzet Charm isn't easily castable has no real upside when killing one-drops and isn't the best tool for the job.
If you want to stop one-drops Augur of Bolas is probably where you want to be.
Aside from Detention Sphere Decay doesn't kill anything that any other removal spell wouldn't kill. The uncounterable clause is mostly useless in Standard and BG isn't exactly easy to come by in Zombies. For the most part you want to be killing big things that are in your way or exiling things like Geralf's Messenger. You are never going to draw an Abrupt Decay and be super happy about it.
Similarly to Izzet Charm you're losing tempo when you're using it early on small dudes and it's hard to cast. I recognize that it's new and flashy but overall it isn't anything special.
Abrupt Decay is a completely different story in Legacy but that's something I'll probably touch on in a future article.
Gonna have to go with no on this one (although I hope to be proven very wrong). U/W Delver wasn't all about a single card; it was about the sum of its parts. Delver and Geist of Saint Traft provided the beats while cantrips like Ponder and Gitaxian Probe allowed you to play a low land count keep the gas flowing and win even though your opponents had more powerful cards than you did.
Without Ponder Delver has to play more lands and flips less consistently both because of a higher land count (and therefore lower spell count) but also because you don't have Ponder to set it up. Hitting a third of the time isn't bad but I'd rather be closer to 50%. If your Delvers aren't transforming then your deck isn't very impressive.
Delver was also one of the decks that won by inches most of the time. With the Delver decks giving up a lot of edges the cards getting more powerful and the fact that aggro-control basically has no one to prey on means that Delver of Secrets may very well be dead.
This guy is certainly easier to make work than Delver. You basically need zero setup aside from blue and white mana and he pays you ridiculous dividends. I've tried various things like White Weenie splashing blue for Geist and Spectral Flight Bant with Rootborn Defenses and Bant with more hexproof guys and Spectral Flights.
Overall the Rootborn Defenses seemed nice when I had Geist but not worth a card when I did. Even when I had turn 2 Call of the Conclave I didn't want to spend three mana to make a 3/3. The other main issue was the mana base. With only Temple Garden and no Breeding Pool Arbor Elf doesn't work some of the time. Perhaps we have to wait until Gatecrash before we can fully explore Bant strategies.
Initially I was very happy with Lingering Souls. Then I played with Zombies against it and saw how easily I could attack with all of my creatures into four 1/1 fliers and lose basically none of my team. Souls tokens don't end up trading with much if anything in Standard. It's a fine way to buy some time but you have to be building up to something spectacular.
If you're playing with Lingering Souls you almost certainly need to be running Intangible Virtue or Favorable Winds otherwise Jace Architect of Thought is going to destroy you every single time. Not only that but Detention Sphere is a very real card and there isn't a good answer to it.
Esper used to be my control wedge of choice but I have since moved on to U/W/R. Lingering Souls will allow you to activate Jace a couple more times than normal and maybe that's worth it. The fact that it's so bad in any other situation makes me strongly avoid it.
Colorless lands might be a trap. I've played with both of these lands and while a fine draw on turn 5 or so once your mana base is already complete these are not what you want in your opening hand as your second or third lands.
Now I typically err on the side of caution and assume that if I get to cast my spells that should typically be enough. In this day and age it might not be enough. I have a feeling that you might have to get a little greedy with your mana base and the cards you play in order to succeed but I won't be doing it until I'm sure it's correct.
What version of Zombies should I play?
Thankfully Brad Nelson has you covered and you can check out his article on Friday.
I will say that I don't like Rakdos Cackler or Rakdos Shred-Freak in Zombies although they do get better with Rancor. Blood Artist is similarly underpowered but is pretty good in mirror matches and decks that aim to stall the ground. Your dinky little guys just get outclassed so quickly while any draw with Lotleth Troll Geralf's Messenger and Falkenrath Aristocrat is usually a good one.
Ultimately I'd say that Jund Zombies is where you want to be as far as power level is concerned but you won't win very many mirror matches. You certainly won't ever lose to Augur of Bolas though.
The meatier more midrange build of Zombies intrigues me and Brad has a super good list for that.
RUG vs. U/W vs. Grixis Control
In the words of Shuhei Nakamura: "Each is ok."
RUG is capable of beating Zombies by small balling them with Augur of Bolas and Pillar of Flame. However against a true control deck with Nicol Bolas Planeswalker or Entreat the Angels it's going to be tough. You might able to grind them out some games with Thragtusk but most of the time they'll resolve some giant finisher and you can't do anything about it.
In the games I've played with RUG against Zombies I've felt more in control during the entire game than I have with any other control deck. Against other control decks I mostly felt helpless. I'm not sure what you want to do with that information. Maybe there's something you can do to make the matchup against control better or maybe you flirt with danger and play some other control deck that's alright versus Zombies but better against the field.
The Miracle deck is good and most of the lists are so obvious that it's impossible to build your deck terribly. My problem with it is that it depends on having some opportune moments. You're never in control from the beginning so you have to rely on some of your draw steps to be favorable. I don't mind playing from behind every game but I would like to have the ability to control my destiny a little more than the Miracle deck provides.
The leaves me with small balling them with removal and eventually finding my win condition once I have control or staying alive until I can start slamming six-drops. Of these I like the first option best but that might not be the most viable.
Another option is playing U/W/R Control which gives you access to the powerful miracles and not being as reliant on them. If I were to play control it would be something similar to the U/W/R deck I've been talking about.
Jund vs. Control
This doesn't feel like an easy one for Jund to win. Rakdos's Return is a game changer but you can't exactly play that maindeck in a field full of Zombies. It will be a sideboard card at best hopefully with some Duresses for protection. U/W needs to sideboard counterspells already so Rakdos's Return won't be as impactful as you might expect.
Thragtusk is obviously a pain but it doesn't exactly compare to Jace Architect of Thought or Tamiyo the Moon Sage let alone Entreat the Angels. Nicol Bolas isn't a cakewalk either. Using Dreadbore doesn't exactly get you anywhere since they've already used their planeswalker at least once.
Overall it looks like Jund has a tough control matchup potentially a bad G/W matchup and Angel of Serenity seems difficult to deal with. For now I'd advise you to stay away.
***
I'm heading to the StarCityGames.com Open Series in Cincinnati this weekend and I'm very excited. Not only do I get to test whatever deck I decide on in a big tournament but I get to see what everyone else shows up with too. Even with a Modern Pro Tour on the horizon I can't stop thinking about Standard.
And I get to play Legacy? Don't mind if I do...
GerryT
@G3RRYT on Twitter
'What guild am I?' Leave me alone I'm not done with my research.

*goes back to notebook*