I'll try to make this perfectly clear.
Standard
(pronounced 'midrange')
A format currently filled with slow decks lacking coherent structure.
A format where aggressive decks need a reason to exist and green is the best color.
A format in which people are starting to get lazy.
The Problem
Obviously, we've already found the problem: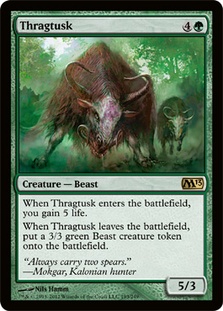 What makes Thragtusk such a good card and something basically every other deck in Standard wants to build around? For one, Thragtusk is format defining because R&D pushed his design to be that way. He's an efficient, easy-to-cast creature with a solid body and quite a few abilities. But what those abilities do to a lot of decks in the format is the real problem.
I'm so transparent I disappear.
1. It Punishes Aggressive Decks
Thragtusk gains five life. This might not seem like a lot at first, but just think about it for a second. Most burn spells in the game deal approximately three damage (or less). That makes this single ability count for almost two cards against a red deck! Additionally, the 5/3 body creates a roadblock for anyone trying to attack you, buying you even more time than normal. When you add to this the fact that if Thragtusk ever leaves play you get another 3/3 body...
So aggressive decks have a bit of a problem with Thragtusk. That's easy to understand. All of his abilities combine into a maelstrom of misery for anyone attempting to win via Gore-House Chainwalker. While I don't think the aggressive decks in the format are currently bad, I do feel like Thragtusk singlehandedly invalidates entire strategies. He isn't hard to cast and isn't hard to splash in virtually any shell, so there's currently very little reason to play an aggressive deck unless you build your deck to just get around such an annoying pest.
2. It Punishes Control Decks
While control decks haven't really had many problems dealing with creatures in the past, I think this era is a bit different. Basically every creature in the format worth playing has some absurd "comes into play" ability, "leaves play" ability, or is outrageously difficult to kill. Thragtusk has all three of these things and can give control decks fits.
While Thragtusk itself is a reasonable body at 5/3, the fact that he dodges some of the format's most played removal is key. Pillar of Flame helps keep decks like Zombies in check, and most decks are basically forced to play it in order to keep up with the undead horde. Unfortunately, this type of removal is useless against Thragtusk, which only increases his stock. I would recommend using Pacifism type effects to deal with this menace since they're also great against Zombies, but there's a problem with that:
Thragtusk poses a fairly basic threat of a two-for-one against control, which is exacerbated by the existence of cards like Unburial Rites. It can be incredibly difficult (and frustrating) to actually kill a Thragtusk, let alone another three to eight copies. The Reanimator decks that have been cropping up as of late are a testament to the power level of Thragtusk and the ability to recur him over and over again. There are a lot of games where it's just strategically correct to Unburial Rites a Thragtusk as opposed to an Angel of Serenity, which is just outrageous considering their cost difference.
While there is this thing called "graveyard hate," it's pretty difficult to expect those cards to singlehandedly beat the Reanimator decks. After all, they are proficient in staying alive and casting their spells. They don't really need their graveyard all that much to win. When faced with something like Rest in Peace, they can easily adapt. They begin to discard their Unburial Rites to Faithless Looting and continue with their regular game plan of casting large monsters until the opponent runs out of answers. You're also spending a card to invalidate their graveyard, which hurts in the longer games.
3. Thragtusk Mirrors Are Boring
I played a Reanimator mirror match on Magic Online last week where it was clear that it was just a matter of time until my opponent was going to win. Since we both had access to Thragtusk, it took him over twenty turns and most of his clock. I ended up winning the match with him timing out, but in live play it would have easily ended in a draw (since I ended up taking the second game). For the entirety of the match, I considered conceding out of boredom.
This is not a good thing for Standard or Magic in general. While Thragtusk is a fantastic card, the battles you get into playing with him against him just seem to slog on forever. It's just mind-numbingly boring Magic.
There really isn't much you can do about it, though. When you play Thragtusk in your deck, it's basically like you're signing away your right to get frustrated with how long a game takes. After all, it's Thragtusk's job to keep you from losing. While the body is "nice" and can do some attacking, you shouldn't kid yourself. When your opponent casts a Thragtusk, you should just settle in for the long haul. If either of you casts an Unburial Rites, it might just be time to get out a nice book and get comfortable.
Use More Counterspells!
These words I'm driving into the ground. The same words I scream out over the crowd.
These are the cards you want to beat Thragtusk. These are the cards that will keep all these "midrange" decks in check. Their mana bases are incredibly greedy, and it seems foolish for us to expect any of them to incorporate Cavern of Souls anytime soon. Of course, if the metagame continues to fluctuate and we see a resurgence of counterspells, this could all change.
Until we reach that point, I can only suggest increasing the number of counterspells you use in your deck. Obviously, if you aren't playing blue this isn't really a viable option. You probably need to find another way around it.
Zombies found Crippling Blight, which was an ingenious answer to an otherwise annoying problem. Unfortunately, the existence of Restoration Angel often makes this plan a bit worse than it would otherwise seem. I'm really not sure how to counteract this. Usually, there are combo decks or control decks that can keep midrange in check, but at the moment those decks just aren't viable. Epic Experience is just that: an experiment. I don't know if it will ever get to the point where it's a realistic contender, but Travis Woo seems to think it could be. That's a start at the very least.
Ignore the Problem
But I can see can see through these haunting things. My molded dreams are defaced by the same hands that shaped them.
I'm not telling you to play a bad deck. I'm not telling you to play bad cards. I'm telling you to find a way around the problem. If their goal is to (favorably) interact with you on every fundamental level, then don't interact with them.
This is a dangerous proposition.
Once we open this door, it feels hard to ever go back. Similar to the Bant Spirits deck played by Team SCG Black at Pro Tour Avacyn Restored, I'm suggesting trying something that stops vying to be cute and interactive and just tries to kill the opponent. While the tools aren't necessarily the same, the core seems familiar:
How did we forget about this guy so soon? For quite some time, Invisible Stalker defined both Standard and Block Constructed! Combined with Swords of This and That, Runechanter's Pike, Spectral Flight, and even Increasing Savagery, Invisible Stalker was an actual machine. You could build your deck around it because your opponents had virtually no answers to it. With the absence of Whipflare in the format, this can only be a more accurate description.
Geist of Saint Traft is already a nuisance to deal with, so I can only imagine that a dedicated Invisible Stalker deck would be much worse for all of these midrange piles. As I'm sure you're aware, we don't have access to Swords anymore, and Runechanter's Pike isn't as good as it used to be thanks to the rotation of everyone's favorite (masochistic) mechanic. Luckily, we have a few new goodies to work with and some old favorites.
While the last one isn't terribly exciting for Invisible Stalker, it does help Geist of Saint Traft turn into an actual (over)powerhouse. If you're looking for ways around Thragtusk, then Spectral Flight is one of the better options. The green-based decks will rarely have ways to kill it in their maindecks and generally have few options after sideboarding. It will probably be smart to have answers for their answers, such as Dispel, but we'll get to that in a moment.
What if we incorporate all of these cards into a coherent shell and try to build something that's competitive against control, tries to ignore midrange, and races aggro? Well, it might look something like this:
This idea is in the beginning stages, but we need to start somewhere. I know what I want to be doing, and I know the tools I have to work with. You can branch out into different colors, incorporating various pump spells and tricks into your schemes. I'm just afraid that if I get too crazy, I'll lose sight of what I'll be facing off against round after round. While you need to keep aggro decks in mind, you can't forget about control decks either.
I know this deck will likely get blown out by Zombies and probably run over by Mono Red. This isn't a deck for a format full of those cards. This is for a format that's currently revolving around Thragtusk, and I think that Thragtusk decks have virtually no game against you. I know that you only have access to so many creatures with hexproof, but this is definitely a deck that isn't afraid to mulligan aggressively. You probably need a creature in your opening hand to have a chance against most decks, and your cards all build upon themselves. If there was any realistic fear of getting blown out by removal or sweepers, then this deck would not be viable. As it stands, I don't think those kinds of cards are popular or even good.
Potential Splashes and Benefits
There's all these islands out at sea, I can't reach.
Black
Duress, Appetite for Brains, Crippling Blight, Dead Weight
This could give us cheaper removal and efficient disruption against decks featuring Terminus and Supreme Verdict. Appetite for Brains is also appealing because it helps answer so many different threats out of the midrange decks. I also appreciate the prospect of casting Crippling Blight on a lone blocker with a Geist of Saint Traft in play.
Red
Furor of the Bitten, Pillar of Flame, Izzet Charm
While I'm not usually a fan of Izzet Charm, I think this could be a deck in which it shines. You have plenty of mediocre topdecks in the late game, so turning those into real cards would be awesome. Additionally, you need protection for your creatures, so the "Negate" effect from Izzet Charm would be welcome. You also gain an awesome removal spell for Zombies and a cheap pump effect in Furor of the Bitten.
Green
Rancor, Abundant Growth, Ground Seal, Avacyn's Pilgrim
I'm not sure if green adds enough to the deck to make it viable, but I do love me some Rancor. I'm not sure Rancor is right for a deck like this since your opponent will rarely be blocking your threats. When the trample part of the card is irrelevant, Rancor shouldn't matter nearly as much. Avacyn's Pilgrim can accelerate you into Geist of Saint Traft, but I don't think that alone justifies adding an additional color.
Problem Cards and Their Answers
Sink to the beat.
This is a real answer to your strategy and is actually a problem, but they will almost always be in the sideboard so you can prepare for them a bit more easily. Her ability to interact with you is pretty rare for Standard, so having a niche answer probably isn't a bad thing. The answer can also have added benefits against a host of other cards in the format.
This card is seeing a lot of play in Bant Control lists as well as sideboards of U/W/R Midrange and Control. Since you can't actually counter it, it provides a unique problem for your game plan that can only be answered a handful of ways. If you don't splash black for Duress or Appetite for Brains, then your only answer will be...
This is a card that's seeing more play in sideboards of Reanimator style decks thanks to its flashback. Fortunately, this isn't a great answer to your deck since you'll rarely get "blown out" by it. If you expect it to affect you greatly, just sandbag your creature until you can cast it and play an enhancement on it or hold up for Dissipate / Syncopate / Negate.
While there are some other answers, those cards are a lot more expensive and easier to deal with. Terminus, Mizzium Mortars, and Cyclonic Rift are the ones that come to mind immediately, but I'm sure there are others I'm forgetting about. These answers are pretty clunky and shouldn't pose too much of a problem.
...
While this deck seems like a one-trick pony, I don't think that people really have the tools in Standard to combat such an odd strategy at the moment. There really isn't a Tranquility effect, and the sweepers in the format really aren't that good against the other more popular decks at right now. Thragtusk is just too much of a problem for people to fight fair against it, which is why I'm suggesting doing something completely different.
While I wouldn't classify this as a "combo deck," I do think it attacks on a completely different level than what people are expecting. Without Ponder or something similar, consistency might be an issue at first, but I think that figuring out all the numbers will make the deck run much more smoothly. I'm excited to see just how good Invisible Stalker can be in Standard and whether or not people will be able to deal with it.
With so many options at our disposal, I can't wait to try them all out! Each color gives us something new to work with and try, and all have strengths and weaknesses. Over time, if the deck ends up being a serious contender, the best build may just depend on what everyone else is playing.
I know that suggesting you do your best to limit interaction with your opponents can open up a whole new can of worms for Standard, but maybe that's what we need to defeat a creature as overwhelming as Thragtusk. Sometimes, you just have to try to ignore what your opponents are doing and just race them. Invisible Stalker with Ethereal Armor might not end up being the answer I'm looking for, but at least it has my creative juices flowing! And I can't say I'm disappointed to have another Spectral Flight deck in my grasp.
Thanks for reading.
strong sad on Magic Online
@strong_sad on Twitter