"I'll make you a deal. If Thundermaw turns out to not be good I'll write an article called 'I was wrong about Thundermaw.' Of course if you commented on my Thundermaw article dissing the card you better have your 'I was wrong about Thundermaw' post ready for when it starts winning tournaments."
So let me just get this straight. Thundermaw Hellkite really is the new Baneslayer Angel of Serenity is the biggest game in Standard and Jace Architect of Thought is the best planeswalker since Jace the Mind Sculptor?
The truth is that when Gatecrash comes out and we discuss the best new cards here there's no chance that comments thread isn't littered with people ragging on the new cards and suggesting that it's just hype.
And that's ok!
Now let's see if those who spoke out against Thundermaw Hellkite actually deliver...
This weekend marked the beginning of month two of Return to Ravnica Standard. The largest Auckland Grand Prix ever (262 players) and SCG Open Series: St. Louis (395) were the biggest Standard events of the weekend. While each event had its own direction both loudly displayed the sort of evolution taking place in Standard right now.
Grand Prix Auckland featuring an impressive four Reanimator decks in the Top 8 including the winner Walter MacMurdo. Rounding out the Top 8 were two U/W/R Midrange decks a U/W/R Control deck and a Naya Midrange.
Meanwhile Stateside we saw a somewhat more diverse Top 8. Two Bant Control decks a Reanimator a Jund a G/W Humans and three Midrange decks (this time split with two dropping the red). In the end it was the midrange deck with Thundermaw Hellkites that won the tournament.
Here is a compiled look at this past weekend's metagame. As usual we are taking a page out of Hall of Famer Frank Karsten's playbook using a modified version of the winner's metagame concept weighing each win as six points second at five points third-fourth at four etc. This gives us an idea of the metagame at the top tables (which is generally more useful for preparing for next week's event).
GP Auckland and SCG STL Metagame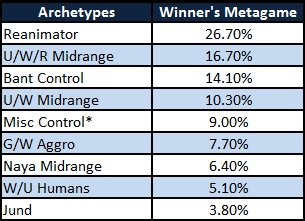 * Grixis U/W/R and RUG
Lots of interesting things jump out here. To begin with U/W/R Midrange's stranglehold on the format seems to have dipped slightly but really that's just because some of the top Midrange decks didn't feature the third color unlike the winner. If everything else is equal being less colors is better but it remains to be seen if the U/W version has staying power. It looks much weaker against aggro but if this weekend was any indication aggro appears to be on the downtick.
Reanimator was definitely the deck of the weekend which we will discuss below. This is hardly a new strategy as it has been performing well ever since Angel of Serenity has been legal. However this week saw the archetype take such a giant leap forward that I am expecting a lot more graveyard hate next week (and rightfully so).
Bant Control has clearly taken the top spot away from U/W/R Control in terms of being the default control deck. One of Bant's great strengths is how effective it is against aggro. What does its future look like in this world of Reanimator and midrange decks?
Finally where are the Zombies and Jund decks? This seems to be a format about Restoration Angel Angel of Serenity Thundermaw Hellkite Thragtusk and Jace Architect of Thought.
Let's take a look at the metagame's evolution over the past five weeks as well as provide a suggested New Meta percentage to give us an idea of how important each of these decks should be to testing.
Evolution of the RTR Metagame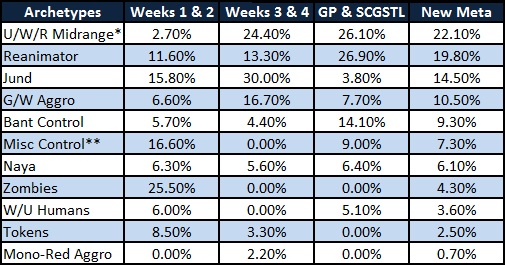 *Includes U/W and U/R Midrange
**Control Grixis and RUG
Since bursting onto the scene three weeks ago the Midrange decks have made great strides towards picking up where Delver left off. I guess the secret was taking out the Delver of Secrets and replacing them with Thundermaw Hellkites (which isn't entirely different from Kibler Rubin Sperling and Jacob taking out their Kird Apes and replacing them with Baneslayer Angels).
Reanimator has been successful every week but has been gradually building as people are better able to tune their lists.
Week 1 sensation Zombies has completely died off. This makes me want to cut back on the Centaur Healers which is of course exactly what the Zombies players want to see. If everyone cut their Healers used Thundermaw instead of Thragtusk and played less Pillar of Flame I would want them back since Zombies would surely reemerge. However given how sticky decklists are from week to week that's not likely to be next week.
Jund appears to have taken a major hit. This is largely because of its weakness to Reanimator as well as not exactly wanting to face the blue decks. It was good at beating up G/W Zombies and Humans. It's positioning has massively eroded but unlike Zombies there's a lot you can do to customize a Jund deck. As a result I expect to see Jund rebound a little in the next couple of weeks.
Let's start by taking a look at the archetype of the weekend Reanimator:
Creatures (14)
Lands (23)
Spells (23) All six of the top finishing Reanimator decks are clearly descended from the same bloodline. They need black and white for Unburial Rites and Lingering Souls red for Faithless Looting and green for Thragtusk Mulch and Grisly Salvage.
There's quite a bit of diversity among the filler cards such as the right mix of fatties to complement Angel of Serenity or what removal spells to play. Dreadbore Oblivion Ring and Sever the Bloodline seem to be emerging as the elimination spells of choice.
The single copy of Slayer's Stronghold is an added tool for going long against Supreme Verdict / Terminus decks. It does have to compete with Vault of the Archangel which combines with Lingering Souls to form a helluva back-up plan.
The sideboard is mostly removal and reactive cards for tuning though there are a couple of particularly noteworthy cards. First and foremost Modern's darling Deathrite Shaman is really coming into its own in Standard. Reanimator is a big part of the metagame (which Shaman dominates on account of its green ability) but unlike many other graveyard hate cards Shaman can actually be maindecked.
In fact more and more Reanimator decks are starting to use a couple Deathrite Shamans main. It combines with cards like Grisly Salvage and Faithless Looting to form a Birds of Paradise. It obviously dominates the mirror but it's also effective against Zombies and Snapcaster Mage.
Another sideboard card that's been gaining popularity is Slaughter Games. The ability to name Entreat the Angels Unburial Rites or Angel of Serenity can be game winning in right matchups.
While he didn't win it was Dylan Brown's take on Reanimator that presented the biggest piece of new technology:
Creatures (19)
Lands (23)
Spells (18) With a full playset of Seance Brown has access to far more Reanimation than other Reanimator decks. Seancing Angel of Serenity gives you your choice of up to three Unsummon and/or Raise Dead. Seancing Craterhoof Behemoth will often just kill opponents outright. Finally just settling for Thragtusks and Centaur Healers can buy you time to find bigger fish to fry. It's worth noting that Slayer's Stronghold is particularly effective with Seance as is Trostani which not only gains you a ton of life but can populate and make a copy of whatever you Seanced (though without dying at the end of the turn).
Seance is a very powerful new tool that we are only beginning to understand how to use. This is a card that has been very under the radar until now. It's certainly worth experimenting with.
While there's sure to be a massive backlash against Reanimator this particular breed of graveyard deck is actually quite resilient against hate. After all you can still just play out all of your creatures then Craterhoof or Angel your opponent right out.
It's worth noting that Ray of Revelation was already a good sideboard card on account of its ability to hit Detention Sphere and Oblivion Ring not to mention the occasional Intangible Virtue. Seance getting more love raises its stock a non-zero amount.
Up next we have the deck that has followed in Delver's footsteps as the "best deck in the format."
Creatures (15)
Lands (24)
Spells (21) A variety of cheap midrange plays like removal bounce and permission are designed to give you a time advantage so that you can Geist of Saint Traft and Thundermaw people into oblivion. This deck is full of good cards that flow smoothly without many inherent weaknesses. It isn't as consistent as the old Ponder decks but it tries to make up for it with a little more brute force.
Seven maindeck counterspells that can be beaten by Cavern of Souls is worth reflecting on. After all how many people even play Cavern of Souls these days? Cavern was so effective at thwarting permission that people didn't feel they needed it anymore which brings us to today.
The other U/W/R Midrange lists were very similar to Forsberg's though Grand Prix semifinalist Yoshitoki Sakai's adoption of Desperate Ravings certainly caught my eye.
Given that these decks are playing Unsummon and not playing Delver of Secrets it's amusing to look back on the idea of banning Vapor Snag or Delver of Secrets. Obviously a lot has changed but you have to admit that this format is far better for not having Ponder in it.
Just as Thundermaw has emerged as the flagship fatty in the most popular deck in the format this format's "Delver-less Delver" has emerged Thundermaw-less Thundermaw:
Creatures (12)
Lands (23) The idea is that once you're certain that most people have given up aggro you can cut the burn for card draw and slightly better mana. I'm not sold on the longevity of this approach as aggro will eventually return. That said it does get to make good use of Runechanter's Pike which is particularly powerful with flash creatures in a format full of sorcery speed removal.
Up next the top control of the format after five weeks Bant Control:
Creatures (12)
Planeswalkers (6)
Lands (25)
Spells (17) A man after my own heart! Humburg's list is within two nonland cards of the Bant deck discussed here trimming a sweeper and a card drawer and adding a Syncopate and wisely running it at sixty. Remember playing a 61st card in testing can be useful for trying out more ideas more quickly but come tournament time discipline is ideal.
I'm also a huge fan of the Sigardas in the board. They're very difficult for some decks to deal with and give you a valuable added angle of attack. Geist of Saint Traft is another threat that complements this plan but it also doubles as removal for opposing Geists (which can be challenging for this archetype).
Getting to use Jace Thragtusk Restoration Angel and Angel of Serenity all in the same deck ensures few will be able to compete with Bant on card quality. Of course positioning matters. After all complete with maindeck Centaur Healers this list is ready to prey on Zombies and a format full of Pillar of Flame and Izzet Charm. Now that everyone plays Searing Spear (largely because of Centaur Healer) and no one plays Zombies the evolution must continue (though I would continue to board the Healers because they are just so good at solving certain types of problems).
Now we come to the lone remaining Jund player to Top 8:
Creatures (11)
Planeswalkers (2)
Lands (24)
Spells (23) There really isn't a lot new here but it's worth listing here as a deck to use for one's playtest gauntlet. Jund may have taken a hit this week and isn't the top dog anymore but it will rebound and should be tested against.
It's worth taking a moment to consider Appetite for Brains which can hit Jace Thragtusk Thundermaw and either Angel (actually exiling them to prevent any recursive shenanigans) not to mention hitting Unburial Rites itself (which Duress isn't super effective at).
Ok so our gauntlet has an aggro-control (U/W/R Midrange) a combo deck (Reanimator) a control deck (Bant) and a midrange deck (Jund). That means the fifth and final deck of our gauntlet should be an aggro deck but after striking out three weeks straight it's time to set aside Zombies and give G/W Aggro credit for being the best aggro deck at the moment.
Creatures (31)
Planeswalkers (1)
Lands (23) Fusing elements of the dedicated Humans decks and the dedicated Archangel decks this new breed of G/W is heavy on the threats while staying fast and consistent. There isn't too much unusual going on here but I would make sure to include this strategy as one that you test against. Too much focus on the blue decks and combo decks can have a distorting influence on our preparation so it's good to make sure to include the other extreme.
The rise of Thundermaw has me thinking about Selesnya Charm. After all how many non-black decks can actually kill a Thundermaw before it hits them? Most black decks are playing Dreadbore instead of Ultimate Price anyway. Besides there are plenty of other creatures it hits it can make a token and you ever know when a mediocre Giant Growth will come in handy (particularly in a double strike deck).
Ok a couple fringe decks to touch on before calling it a day:
Creatures (19)
Planeswalkers (3)
Lands (26)
Spells (12) This Naya list makes use of a blend of half of the good Bant cards and half of the good Jund cards. The Guildgates help make up for the lack of a second shockland but overall I kind of feel like this is just a worse Bant deck. Still getting to use Kessig Wolf Run is a thing.
Up next we have what might be the most novel of this week's top finishers Josh Hendricks' RUG Soulbond deck:
Creatures (16)
Planeswalkers (3)
Lands (24) While the list appears to be in early stages of development the combination of Nightshade Peddler and Izzet Staticaster is pretty exciting. Harkening back to the days of Basilisk Collar this combo lets you completely lock out many creature decks like G/W. Vault of the Archangel is another possibility assuming you're in the market for a four-color deck (at the very least).
Another combination that can completely lock people out is the use of Deadeye Navigator and Zealous Conscripts. If the game goes long enough you can eventually blink your Navigator out after stealing a creature with the Conscripts. When it comes back bond with the creature you stole. Then (perhaps after attacking) Blink the stolen creature and it's yours for good. Alternatively you can just have the Navigator and Conscripts "make relationship" and Blink out the Conscripts as many times as you want letting you steal all of your opponent's creatures.
Finally it's a small point but the splash of Slaughter Games helps illuminate just how popular the card is becoming in the format.
Ok our last deck of the day. Did you really think someone could place highly with Grixis and not get a nod?
Creatures (7)
Planeswalkers (2)
Lands (25)
Spells (26) Just barely missing Top 8 Jeremy's list continues the long and proud tradition of Olivia Voldaren. Admittedly there are enough Searing Spears that this is less reliable than it used to be but Vasseur wisely has diversified his threats with Nicol Bolas Desecration Demon and Niv-Mizzet. I can only hope the lack of Jaces was a card availability issue.
It also breaks my heart to see Think Twice here instead of Desperate Ravings. Sometimes the mana is too hard for Ravings or we are too reliant on miracles. This list is neither of those and should definitely upgrade to Ravings.
Moving forward we have a clear metagame to attack but how? Will there ever be few enough Thragtusks that it's no longer suicidal to play a red deck? Now that Bant has surpassed U/W/R Control is it possible that Grixis is next? What about Five-Color Control? After all Chromatic Lantern ensures all color issues are out the window. What about Battle of Wits?
One thing is for certain: I'd be doubly sure I have graveyard hate next week...
Patrick Chapin
"The Innovator"