Greetings and welcome back Magic fans! In today's article I'm going to jump back to talking about Standard a format I've been playing and enjoying quite a bit lately.
Usually the phrase "putting the band back together" is wrought with contemptuous inflection. For instance every year when the Detroit Pistons put out their roster and reveal that they're once again going to parade the corpses of Tayshaun Prince Charlie Villanueva and Rodney Stucky out we Detroiters dismayed say: "Looks like the Pistons are putting the band back together once again…"
Putting the Bant back together on the other hand is an endeavor that always brings me much happiness and amusement. As many of you know in Constructed Magic I really enjoy what U/W/G has to offer the competitive player. Blue provides permission and card draw; green provides mana ramp and fixing; and white provides removal and high quality finishers.
When I woke up this morning I checked the StarCityGames.com homepage to see what decks performed well at the SCG Standard Open in St. Louis. Notably Bant Control decks ended up in the 2nd and 3rd place slots in the final standings. With that piece of information it's clear that I'm commenting on and tuning a powerful archetype that already exists (so I'm NOT claiming to be inventing the wheel). However the Bant Control list that I built and played in a 50-player Standard event at Warriors III Cards and Comics last Thursday night is sufficiently different and innovative to warrant discussion here in my column.
So without further introduction let's take a look at my decklist and move on to a discussion of what it is what it does and why I believe it's a fantastic choice for players attending the next SCG Standard Open or an upcoming Invitational Qualifier.
The Deck
Creatures (13)
Planeswalkers (1)
Lands (25)
Spells (21) Let me explain what makes this list different and in my opinion expertly positioned for the current metagame in contrast to the other Bant Control decklists that have been floating around (and to their credit performing very well).
It isn't very hard to build a good Bant deck. The pure saturation of powerful cards in U/W/G is overwhelming and with that being said a deck with Thragtusk Restoration Angel Dispel Supreme Verdict and Detention Sphere is probably going to be good even if it isn't constructed particularly well.
In fact I believe that the Bant Midrange decks are probably very good at beating most decks that don't revolve around playing and recurring the Tusk. Decks that recur Thragtusk are really good against most decks that choose not to go this route. Any deck that is trying to go under Thragtusk (win before it matters) is going to be supremely punished by Midrange's Centaur Healers and other efficient cards that make it difficult for fast aggressive decks.
But it appears that the trend isn't to go smaller and faster than Thragtusk; rather it's to be playing with Thragtusk. If this is true then playing decks that don't beat Thragtusk isn't the position we want to take with our Bant deck. It's important to beat non-Tusk decks but it's perhaps even more important to be able to win against others who are playing the format's most popular card.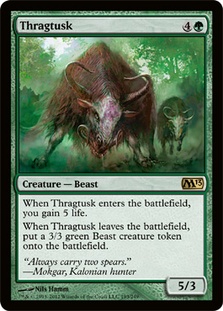 "Standard is warping itself around the presence of this powerful grindy Beast. If everybody is playing it how do we win the Tusk mirror?"
The most obvious flaw I noticed with other Bant decks when I was investigating decklists was that I felt they either went too big or too small. Now as I've already stated much of the intricacy of building a Bant deck becomes moot since those Farseek into Thragtusk into Restoration Angel draws will simply beat a lot of decks.
Here's the thing that I came to realize after playing with my Bant deck and giving it a tune up: Bant can do many things really well in the same deck.
Allow me to give an example:
Bant Midrange decks in Standard tend to be overloaded with cards like Centaur Healer and other cards that saturate the three- and four-drop slots in the deck. From there the decks tend to top out with Thragtusk. Bant Control decks on the other hand tend to forego the middle drops and load up on high-end stuff and planeswalkers.
My thought process was that I didn't want to get hung up on labels which is something that I believe aspiring deckbuilders are apt to do. They think to themselves "Well my deck is Bant Midrange (or Bant Control) and therefore I should load up on cards that I know to be "midrange" or "control" type cards.
Once I started playing with the cards I thought to myself "This archetype has so many options that I can employ to help me win games that I want my deck to be able to do many different things well. I will forego the stereotypes of 'midrange' and 'control' and remix the deck to do a lot of different things expertly."
Many of my cards are flexible and play nicely when I'm trying to clog the board against aggressive Zombies or G/W Aggro but they also work to my advantage when I'm trying to go bigger than opposing Bant Esper or Grixis Control decks.
For instance I have Centaur Healers Snapcaster Mages Thragtusks Supreme Verdicts and Restoration Angels to play "small ball" in the early part of the game. I noticed that many decks can't beat these types of cards which is why the Bant Midrange is popular and good in many matchups. However I also noticed that other decks that go bigger than Midrange prey upon it because they're essentially "more Thragtusk-y" and go levels above "simply Blinking a Tusk for value."
In the Thragtusk mirror whoever goes bigger is going to have an advantage. The most logical progression of "bigger and better in the Thragtusk deck" is to play Angel of Serenity. Angel of Serenity is probably the best and most powerful creature in Standard if we look specifically at what it does and how it impacts a game. It provides raw card advantage a huge board presence swing and can set up to establish a nigh unbeatable lock once you have multiples going and recovering each other.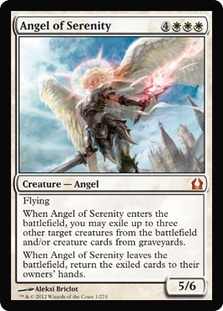 "Going bigger than Thragtusk with Bant."
All Bant decks that carry the label "control" play with Angel of Serenity as they rightly should. Angel of Serenity is a ridiculously swingy and powerful card that helps control decks looking to go big assert their advantages in a number of different ways. It gives Bant a way to stabilize the board—our opponent loses all of their guys and is now facing down a giant 5/6 flier. Also it allows Bant another way to gain card advantage by Regrowing creatures that have gone to the graveyard previously that threaten to return to our hand if the Angel dies.
When I was working on my Bant list it was pretty clear that Angel of Serenity was the best thing that a Thragtusk deck could be doing. However there's more than one way to get to the point in the game where Angel will matter.
The most obvious problem that I saw with other Bant Control decks (and a problem that I see in many decks being played in Standard) is that while the format revolves around grindy cards that generate virtual card advantage (Thragtusk Restoration Angel Angel of Serenity Olivia Voldaren Huntmaster of the Fells the list goes on…) nobody is actually drawing extra cards.
It's been said over and over again that Thragtusk makes the format slow and grindy so why don't people take advantage of this by doing the most powerful thing one can do in a slow format: DRAW EXTRA CARDS?!
What's better than a card that implies a two-for-one by virtue of being drawn? How about a card that draws two two-for-ones?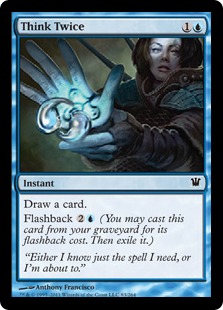 "You should Think Twice before dismissing this card…"
The format is sufficiently slow that I actually WANT to draw a Think Twice in nearly every game that I end up playing. Control decks need to walk a thin line between having good spells to play up the curve and making land drops beyond what other decks need to make in order to fully leverage their more powerful spells later in the game. Think Twice is the perfect card to prodigiously push a control deck from the midgame into the late game where it's well equipped to stabilize and transition to attack mode.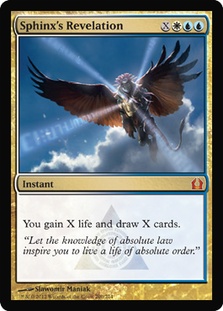 "SPHINX: Name a card that's criminally underplayed in a Thragtusk metagame?"
I don't understand why this card doesn't see more play in Standard. It blows my mind.
Is this even a real card?
I played five rounds with my Bant deck and won them all and battled my deck against a number of other players and decks in between rounds and it goes without saying that every time I resolved this card my opponent immediately lost the game.
Not only did my opponent lose the game but the following series of events consistently happened:
We were playing a game that appeared to my opponent to be a real game of Magic that was tightly contested.
At the end of my opponent's turn I tapped seven or eight mana and put Sphinx's Revelation on the stack.
My opponent rolled his eyes in disgust as if to signify that what was happening wasn't actually real but rather a perversion of reality where something that should never happen was happening to them.
I untapped my lands and then my opponent proceeded as though we were playing a game of Magic but then very quickly realized that we were not in fact playing the same game anymore.
I described the use of Sphinx's Revelation to a friend during the tournament by saying the following:
"Up until the point I cast Sphinx's Revelation it feels like my opponent and I are playing a reasonable game of Magic and then after I cast the spell suddenly we're not even remotely playing the same game anymore."
I won at least one game in each of my matches with a tap out Revelation that basically ended the game on the spot. Obviously it's sweet that the life gain is tacked on to Stroke of Genius so that in situations where you're being attacked—where one couldn't afford to tap out to draw cards—Revelation can function as a Fog as well as a draw five.
One aspect of my deck that I believe makes it a BETTER control deck compared to others is that it has actual card advantage in the form of Think Twice and Sphinx's Revelation which is a pretty big deal in a control mirror where being able to execute an end game is important.
My end game is also sufficiently big besides being able to draw cards. I have three copies of Angel of Serenity (which is the right number since drawing the third Angel makes the card even more powerful by virtue of always being able to have one in play one under the Angel in play and one in hand).
But all the control decks have Angel so how do I make my Angels better than theirs?
The answer: my lands!
"Having the same 'best' threat as everybody else is fine and good but having better ways to get them into play is a mirror breaker."
Let's talk about Alchemist's Refuge first.
Right now I'm playing one because one is the only number that's free. It doesn't really affect my mana all that much and since the card doesn't do anything in multiples there isn't a drawback to drawing the first one.
The main reason that this card is in my deck is to win the Bant / Angel of Serenity matchup. They have to play their Angels during their main phase (or not play them at all) which means drawing the Refuge is a huge advantage. Essentially drawing this card in a long control mirror turns us into a Faeries deck and leaves them playing a FAIR-y deck full of sorcery speed spells.
The biggest most busted play is that when they cast their Angel and put its comes into play ability on the stack to rebuy three creatures we flash down our Angel to stop it from every happening. The Refuge makes it so that their Angels don't work and ours have flash. If that isn't backbreaking I don't know what else is.
The other thing that's sick about this card is that it allows Bant Control to play Supreme Verdict and Terminus at the end of the opponent's turn. Yes Alchemist's Refuge gives our SPELLS flash not just creatures (better than Winding Canyons unless your commander isn't U/G).
The other thing that's pretty great about Alchemist's Refuge is that it allows you to flash down a blocker or attacker for next turn. In the late game when our opponent attacks with some creature Refuge allows us to flash down a Thragtusk and block or flip the script and go on the offensive. I can't even describe to you how screwed up flashing down an Angel of Serenity is during combat before blocks…
The other powerful land Cavern of Souls is great in its own right but combos quite nicely with the Refuge as well.
Obviously having uncounterable Angels and Thragtusks is pretty big game against other blue/control decks. I noticed that most Bant decks don't run Cavern which may be a concession to a metagame that isn't playing counters because people are afraid of Cavern in the first place.
The sacrifice of a colored mana source isn't even that big a deal in the Bant deck. Almost every land in the deck is already a dual land so it's not like we have to cut duals. In order to make room for Cavern of Souls and Refuge we're cutting a few basic Islands to gain access to cards that give Bant a supreme tactical advantage in the important blue mirror match.
If you aspire to live long enough to execute these powerful late game tactics it's important to have a plan for survival. My plan is to be a midrange deck until I generate enough resources to do game breaking late game stuff.
"Grinding their offense to a halt."
I've devoted a lot of space in my deck to a solid defense based on trading cards to stunt their offense. It's also pretty sweet that against other control decks while we can still draw cards we can also use these types of cards to pick away at their life total and planeswalkers with some early pressure in order to get positional advantage later on.
Snapcaster Mage is really really good in this deck because having so many Angel of Serenity later on in the game gives us lots of avenues to replay and abuse Snappy-Casty.
Two maindeck Dissipates allow Snapcaster Mage to essentially seal up games once they go late by running the opponent out of cards and threats and then countering multiple spells in a row.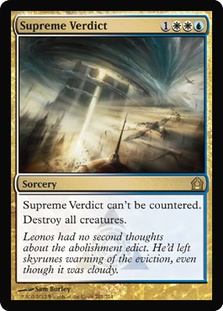 "Reset Button"
Snapcaster also has nice synergy with Supreme Verdict which is one of the most important cards in the deck. Verdict allows Bant to undo the progress creature decks have made on the board and then rebuild it to our advantage by playing more powerful creatures in the later stages of the game.
Although there are only six Wrath effects in the deck (two Terminus four Supreme Verdict) it's possible to destroy the board twelve times in combination with Snapcaster Mage and Angel of Serenity recursion. In one particularly long game I actually blew up the world by recurring Snapcaster Mages eight times by looping Angels and Snapcasters against his Kessig Wolf Run + creatures before my opponent finally succumbed to defeat.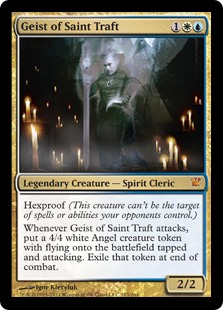 "Their best card against us our best card against them."
I don't really like Geist of Saint Traft in a deck like mine; however I do recognize that because of what it does that it's one of the cards we're weakest to. On the flip side the decks that play Geist are also pretty weak to it. Out of the sideboard my plan for beating Geist decks and other Bant Control decks is to board in more Cavern of Souls with a slew of Geists.
It goes without saying that against decks like U/W/R Midrange boarding in Geist of Saint Traft as a removal spell that kills their Geist of Saint Traft is pretty big game. As the game progresses their Geists become less and less important since Supreme Verdict nicely answers the card. The main pre-board draw they have that's good against us is to play a Geist on the play and defend it for a turn to push through damage. Then when I tap out to cast Supreme Verdict they can end of turn Snapcaster / burn me and then untap into a Thundermaw Hellkite which is often too much pressure to overcome.
Simply legend ruling their Geist takes all the pressure off and puts them into a rough spot. Having access to Cavern of Souls to play Thragtusk and Angels through their permission leaves them with no good plays.
"If there are plays available that make this card good perhaps I'm just not seeing them…"
One thing I've certainly taken note of as I scoured Standard Bant lists for ideas is that most control decks are maxed out on Jace.
My actual experience with this card (in my deck at least) has bordered on extremely mediocre to unplayable. Whenever I play it and +1 him my Jace gets immediately Oblivion Ringed Dreadbored or Detention Sphered. Most of the time Jace is a mini Fact or Fiction that gains three life and that's often at the cost of giving up positional advantage to merely play it.
The main difference between my Bant Control deck and typical Bant Control is that I forego playing with Jace and instead draw cards with actual card draw instants. I have no shortage of creatures to attack opposing Jaces so I don't perceive that I give up much in the mirror by not playing him.
Furthermore in my defense of not playing the J man it seems to me that much of the format has adapted to make Jace mediocre at best. Sure Jace is fine once you're already going to win the game but he doesn't seem to me to offer the potential to flip the game around from behind the way other options do.
The complaint that I had for Geist in many decks is the same one that I have for Jace: he's either going to be an A+ and win the game or an F by virtue of forcing you into a line of play that's bad because you have to play him and he won't be good.
For what it's worth I'm playing two copies of Jace in my sideboard and have found him to be tremendously effective against Jund Midrange decks where using his -2 ability is a good play. I would also sideboard him in for the control mirror when I have cards like Negate to protect him and myself from their Jace. I like the ability to counter their turn 4 Jace and then play my own but I don't like him game 1 where I'm likely to have to tap out for a Jace and have get it countered against people with more permission than me.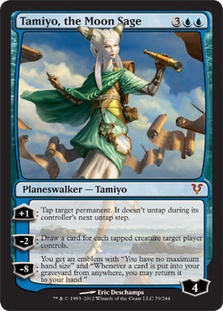 "A planeswalker that PERFORMS!"
Few plays in Standard are more satisfying than 'mooning' my opponent—of course I mean slamming a Tamiyo onto a board where they only have one threat.
I've been very impressed with this card and if I wasn't already so satisfied with the way that the pieces of my deck work together I would almost certainly add a second one. I like the way she ACTUALLY deals with my opponent's threats particularly after I've killed the initial onslaught with a Supreme Verdict and only need to fend off their scraps.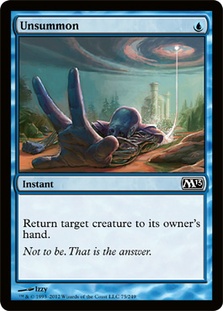 "Not just for tempo decks."
Traditionally we're told that Unsummon is a card that 'tempo' decks want to play since it can be used to move a blocker out of the way and push through some damage.
I've been really happy with Unsummon as a card to buy time while I try to ramp into my powerful end game. Rancor and soulbond are two things that annoy me and Unsummon to its credit severely punishes them.
Unsummon also performs double duty since our creatures are so good that we don't mind casting them twice especially if it means we get to brick a removal spell to bounce our Thragtusk or pick up our Angel.
Sideboard Guide
Versus Jund Midrange
+2 Negate
+2 Jace Architect of Thought
-2 Centaur Healer
-2 Terminus
The Jund matchup plays out as a grinding march towards inevitability that Bant wins by virtue of its ultra-quality spells such as Sphinx's Revelation and Angel of Serenity. Jund only has two ways to win the match up: they can resolve a Rakdos' Return (which is why we bring in Negate) or they can set up Kessig Wolf Run. It's still difficult for them to win with Wolf Run because every Azorius Charm and Snapcaster Mage Time Walks them and Bant has a high capacity to gain life and push through the beats.
The Angel is also big game and every Angel played sets them a long way back especially if it eats their Thragtusk Beast tokens and rebuys a Thragtusk from the good guys. Jace comes in to help bury Jund in actual card advantage as their virtual card advantage via Olivia is easily answered by actual removal spells.
Versus Zombies
+1 Azorius Charm
+2 Unsummon
-2 Dissipate
-1 Supreme Verdict
Of all the decks in the format Zombies is the one that I have the loosest grasp of. It's not particularly popular in Michigan and as a result I haven't had the chance to play against it very much. Unsummon and Azorius Charm are nice cards to buy time during the march towards super huge Bant monsters.
If I were going to take this deck to a tournament I would further investigate how this matchup plays out because it could be an Achilles heel for my build. Cards I would look to in order to make this matchup better include Knight of Glory Pacifism Elite Inquisitor Pithing Needle and Purify the Grave.
Versus G/W Aggro
+1 Azorius Charm
+2 Unsummon
-2 Dissipate
-1 Think Twice
The G/W matchup is one that I feel very confident about. We have a ton of Wraths and a ton of removal which makes it very difficult for them to get much going.
They're all-in on their first rush of guys since after Thragtusk comes down the game becomes really dicey for them. I've seen people playing with Zealous Conscripts in G/W Humans so be careful not to get killed by this line of play. It isn't the end of the world if they hit you with a Thragtusk as it just undoes what you did. It's a pretty sick play to Unsummon the Tusk when they try to steal it which I did to blow a guy out last week.
Versus Bant Control
+3 Geist of Saint Traft
+1 Cavern of Souls
+2 Jace Architect of thought
+2 Dispel
-2 Azorius Charm
-2 Terminus
-2 Centaur Healer
-2 Supreme Verdict
In this matchup I'm looking to board out a lot of my creature control and take my tactics into one of two very narrow avenues. I want to try to protect a Geist of Saint Traft and quickly end the game or I want to go deep and get to my big (and superior) end game quicker than they do.
It's debatable whether or not to bring in Negates. Most of the good spells they're likely to have are instants anyways which is why I like Dispel. Mostly I want to counter their counterspells. However depending upon which build they're playing Negate can be a nice card as is Ray of Revelation if they're heavy on Detention Spheres and Oblivion Rings.
Versus U/W/R Midrange
+3 Geist of Saint Traft
+1 Cavern of Souls
+2 Dispel
-2 Terminus
-2 Azorius Charm
-2 Detention Sphere
Against this deck we want to stick a Geist or kill a Geist and then use Dispel to knock down one of their important counters. Cavern of Souls is pretty huge here because U/W/R has a very tough time beating uncounterable Thragtusks and Angels. Their clock is very much dependent on being able to Dissipate or Syncopate those types of threats.
Versus Epic Experiment
+3 Negate
+2 Dispel
+3 Geist of Saint Traft
+1 Cavern of Souls
-2 Terminus
-2 Supreme Verdict
-2 Detention Sphere
-3 Angel of Serenity
Board in all the Counterspells and all the Geists and board out all the creature control.
Conclusion
For now I really like the way my Bant Control deck is positioned in the current metagame.
It has a lot of midrange tactics available to it that help out with aggressive strategies. The "Bant" core midrange cards are sufficiently powerful enough (as is evidenced by the success of that archetype) to win games all on its own but I'm merely using it as a vessel to grind through the midgame and into the late game where I take advantage of our potent late game inevitability.
I wanted to build a Bant deck that has good cards and tactics all the way up the curve and that doesn't focus too hard on being good early or being good late. If you're going to take the time to go all they way to the top you should make sure you beat decks that are also trying to win by going big. I believe that Angel of Serenity is the best "card" to go big with and since there isn't a bigger/better option the best we can do is play "more" Angel and have "better" ways to leverage it (Alchemist's Refuge and Cavern of Souls).
I'm really happy with how the deck turned out and it's a ton of fun to play (which is why I decided to share it with you guys). If you're looking for a new version of a deck that does a lot of things well and gives you a lot of room to play games (especially in this slower more grinding format) you should try out my Bant Control list.
As always good luck everybody and thanks for reading!
Cheers
Brian DeMars