First off, I just want to thank everyone who emailed me, left comments, and talked to me in person about how much they liked "The Hero's Journey" from a couple weeks back. I thought the idea had merit and was pleased at how it turned out, but all the good feedback really made my weekend. These are the moments that writers live for, and I deeply appreciate everyone who took the time to reach out and let me know what they thought!
This week I want to recap the sweet, sweet Commander tournament from two weeks ago at Richmond Comix. We had 32 people show up for the event, which was awesome! There were eight pods of four, and the winner of each pod advanced to the final table to battle for the judge foil Gaea's Cradle.
When I wrote "The Hero's Journey," I mentioned how I was a little concerned that such a sweet prize might push people to make their decks hypercompetitive; Commander is a format that's easy to break if you have sufficient motivation to do so. For my own part, I wanted to bring a deck that was powered up enough to be able to hang with the expected power level of other players—and to be able to destroy a table in one fell swoop if need be—while also being something fun and capable to producing an epic story or two.
The deck I settled on was the one I featured in "Cat Breath Of The Infinite!" revolving around the combo of Breath of Fury, Nacatl War-Pride, and some way to give your creatures haste. If you can catch an opponent with a lot of creatures unable to block or tapped down (perhaps assisted by an end-of-turn Naya Charm), you can set off an exponentially growing horde of Nacatl War-Pride Cats.
The deck as originally built had a lot of Tutoring in order to bring things together as often as possible…but I also included some other cards that can key off getting additional attack steps too. The thing was that the few times I'd been able to play the deck, I'd yet to be able to set off the Breath/War-Pride combo, so I really wanted to make it happen here at the big tables.
I also wanted to squeeze some combo busters into the deck—some ways to force the Spikes to play a more sporting game of Commander. Since I wasn't playing blue, it wasn't as simple as loading up with counterspells and Stifles, but I managed to squeeze in Silence, Angel's Grace, Red Elemental Blast, Pyroblast, Gaea's Blessing, Stranglehold, and Voidstone Gargoyle. Here's what I sleeved up:
Creatures (27)
Planeswalkers (1)
Lands (41) Outside of the main Breath of Fury and Nacatl War-Pride combo, there are a lot of fun synergies in the deck:
Breath of Fury + Giant Adephage: Assuming a 7/7 trampler is bigger than any potential blocker, this combo can keep the attacks coming until dead.
Aggravated Assault + Sword of Feast and Famine (+ a creature to equip): It should be easy to find an opponent with only green or black blockers, but if not, Scuttlemutt can help you out. In addition to the extra attack steps, Aggravated Assault can give you lots of fun things to do with your creatures that tap to do stuff.
Sword of Feast and Famine + Hellkite Charger: Easy to pull off if the skies are clear!
Bear Umbra / Nature's Will: These can swap in for Sword of Feast and Famine for untapping lands.
Glaring Spotlight / Naya Charm / Aurelia's Fury: Ways to get in with attackers.
Boros Charm / Dauntless Escort / Frontline Medic: Ways to make your attackers resilient to blockers.
Saffi Eriksdotter + Deadwood Treefolk: A classic combo to keep the creatures flowing—one I put in just about all my green and white Commander decks.
After the pods were announced, I sat down with my three opponents. Two of them were grizzled multiplayer veterans I've literally been playing Magic with for over ten years; the third was a lovely young woman who just recently started playing Magic. I asked everyone to show me their commanders: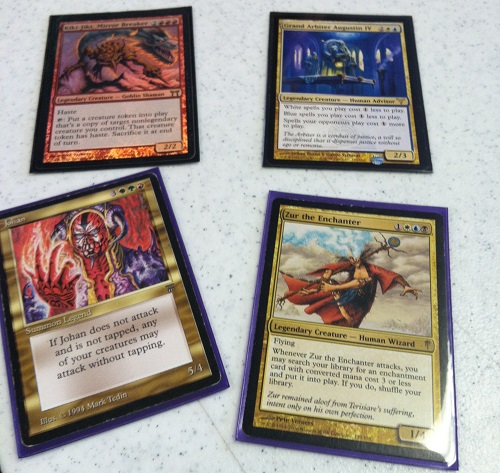 Hmmmm…one of these is not like the others…one of these does not belong!
Griff was playing his vicious Kiki-Jiki, Mirror Breaker deck, built to combo off and kill the table quickly. And if that doesn't work, he nukes everyone's lands until he can pull together his combo kill. It's brutal, ugly, and consistent as hell.
Jay was playing Grand Arbiter Augustin IV, chock full of combo busters and designed to punish people trying to do unfair things. Oh, and it makes everyone generally miserable as well as a side effect.
Our new player Cassie was armed with Zur the Enchanter, arguably one of the most powerful commanders in the format, so I wasn't worried that she wouldn't be able to hang with the veterans. She was suitably armed for the tournament!
Griff came roaring out the gates with a turn 2 Goblin Recruiter, fetching up the ugliness right off the bat: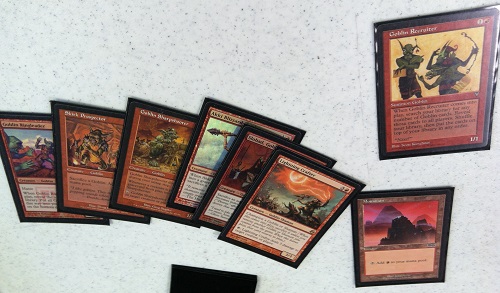 Jay then played Torpor Orb, which kinda put a big kink in Griff's plans and had us all breathing a little easier since we no longer had to worry about dying immediately. Cassie played Zur, but Jay's Aven Mindcensor kept him from getting too crazy.
I accelerated and got a strong—if rather "fair"—board position: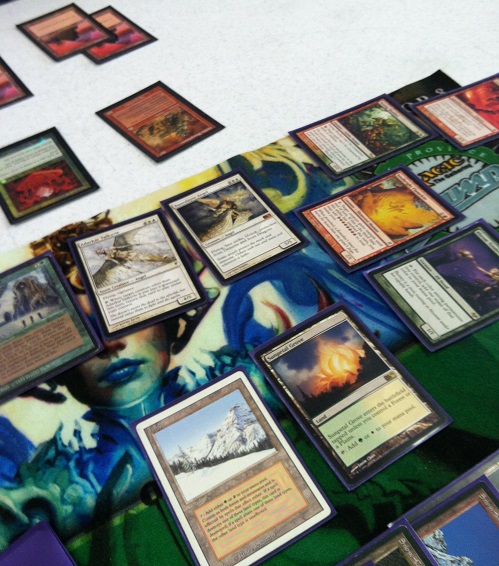 Jay, Cassie, and I all sent some attacks Griff's way, wary of the fact that he could potentially go off at any time if he drew a way to get rid of Torpor Orb, and eventually his life total dwindled down to zero. I started trying to figure out who to attack from here.
Jay copied my Baneslayer with Phyrexian Metamorph, and then Cassie Cloned it, which kinda blunted my attack a little bit…until I realize that I could attack with Baneslayer into Baneslayer and then get my Baneslayer back with Adarkar Valkyrie. So I attacked Jay, he blocked, I tapped the Valkyrie…and Jay hit it with a Trickbind! Well, crap… I scanned my hand and my board, looking for an answer…and realized I had a Maze of Ith, so I used it to remove my Baneslayer from combat.
Then Jay dropped Ensnaring Bridge with just a few cards in hand, and everything ground to a halt. Zur had an enchantment boosting his power, so Cassie couldn't attack either.
I dug deep on my Sylvan Library to find an answer, dishing out more than twenty points of damage to myself, but found nothing, and eventually Jay assembled Our Doom:
First he killed Cassie, and then he killed me to advance to the final table. It turned out that all the other pods were done and were waiting on us to finish…which was sweet for me since Tommy, Richmond Comix's manager, had a "9th place" award for the last person eliminated in the pods. I got this sweet consolation prize: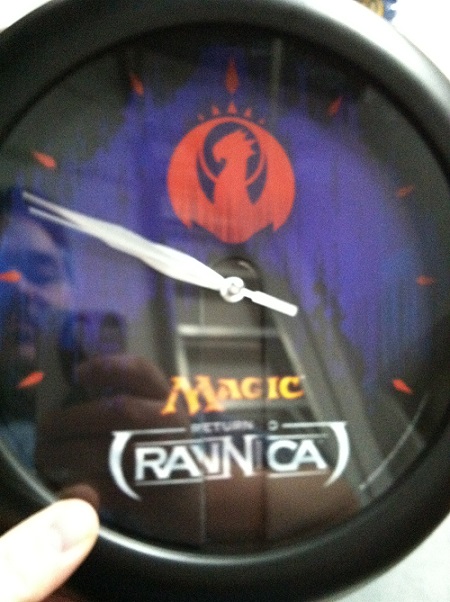 The clock came with five inserts from each of the guilds featured in Return to Ravnica. Naturally, the default in the Smith house will be Golgari, but I switched it to Izzet to support my roommate Chuck, who made it to the final table with my Niv-Mizzet deck tweaked to his specs and preferences. Here's a picture of the commanders who vied for the big prize: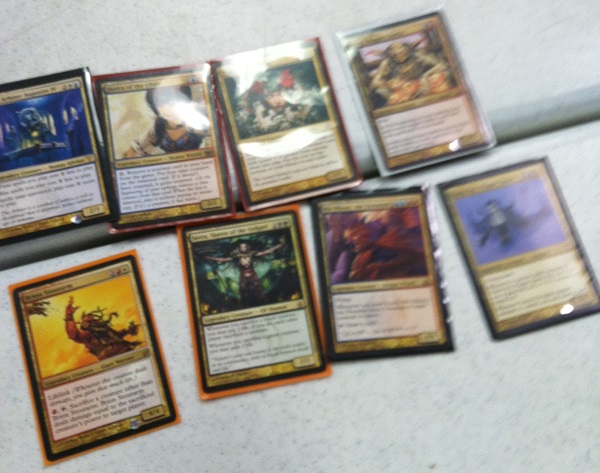 Apologies for the rather poor picture; I kept trying to angle it right to avoid some of the glare but ended up making part of the picture blurry. If you can't make them out, the commanders were: Grand Arbiter Augustin IV; Jhoira of the Ghitu; Mayael the Anima; Wort, Boggart Auntie; Brion Stoutarm; Savra, Queen of the Golgari; Niv-Mizzet, the Firemind; and Garza Zol, Plague Queen. A fairly strong collection of commanders, though only two (Jhoira and Niv-Mizzet) would be considered overpowered.
Jay's Grand Arbiter deck came out strong early, shutting down a lot of decks with Trinisphere and Land Equilibrium. Then he assembled the lethal Helm of Obedience / Rest in Peace combo and freaked everyone out. I watched in silent horror as Chuck played Viashino Heretic, pretty much forcing Jay to kill him before the Heretic lost his summoning sickness (and thus keeping the Cradle from coming home with us).
Several of the players began disassembling Jay's lockdown pieces in order to help other players out of squeeze, and even though Jay took out a couple players, he eventually was taken out himself. At that point, it was a slugfest between Wort, Brion, Savra and Garza Zol, with creatures battling through mass removal until Savra stood alone once the smoke cleared, killing his last opponent with Hornet Queen and her Insects boosted with Overrun and Overwhelming Stampede. While I was sad Chuck didn't win the Cradle for me, I was pleased Team Golgari—playing a very creature-heavy deck—won the prize!
Wandering around watching the final table play their game, I ran across a fellow who was quite the Commander enthusiast. He wanted to show me a theme deck he'd made called "Ladies Looking Left." Here's some of the cards in it: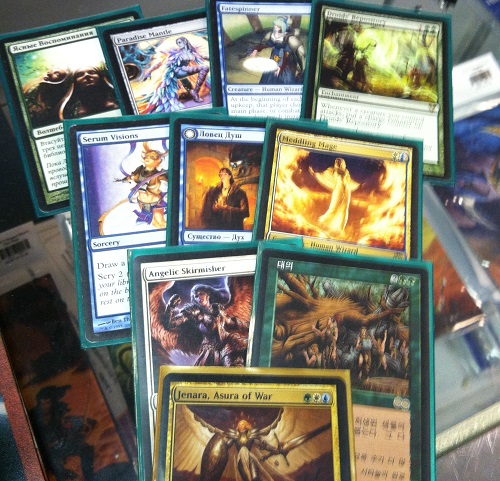 Yep…nonland cards in the deck feature a lady looking left. It made me realize that Magic has been around so long and that so many cards have been made that you really can use some really crazy themes for your deck. What a truly epic game!
Oh, before I forget, I did indeed get to award a Bennie Smith Spirit of EDH Haymaker Award! The first nomination came during the preliminary four-player pod rounds, when one player managed to kill another with a Chameleon Colossus that had been pumped with Umezawa's Jitte counters and its own doubling ability to deal 64 points of damage. His victim called me over to nominate the guy for the award. While that's certainly an impressive hit, I personally thought that really wasn't an unusual thing for Chameleon Colossus to pull off at a Commander table. I asked the other guys at the table what they thought, and they agreed with me…didn't really qualify as a Haymaker.
I got to give away the Award a little later when the guy playing Wort, Boggart Auntie killed all three of his opponents in the early rounds of the game by the sheer tribal power of Goblins attacking (as opposed to Lightning Crafter / Kiki-Jiki combo). I recorded a video of him for posterity, though being quite a video noob, I didn't turn my phone sideways. Apologies for the narrow picture.
I hope you enjoyed the recap of the tournament. There will be another tournament Saturday, April 13, and this time to add a little twist only Modern-legal cards are allowed (so unfortunately Commander product won't be allowed). Hopefully, I'll be able to give away one or two more Spirit of EDH Haymaker awards!
If you're going to the StarCityGames.com Open in Washington, DC this Saturday, track me down and say hi! I still have extra copies of Necrotic Ooze I'll be happy to sign and give away to my loyal readers. I'll be rocking the Standard Open with a homebrew, so wish me luck… If I'm out of the tournament early, I'll be jumping in side events and looking for friendly Commander pick-up games.
Take care,
Bennie
starcitygeezer AT gmail DOT com
Make sure to follow my Twitter feed (@blairwitchgreen). I check it often so feel free to send me feedback, ideas, and random thoughts. I've also created a Facebook page where I'll be posting up deck ideas and will happily discuss Magic, life, or anything else you want to talk about!
New to Commander?
If you're just curious about the format, building your first deck, or trying to take your Commander deck up a notch, here are some handy links:
My current Commander decks (and links to decklists):
Previous Commander decks currently on hiatus: