Another Prerelease is in the bag, and Dragon's Maze is only a few days away from official release. This is always an exciting time for any players, but for Commander fans the flavor-first design of this current block means that there are plenty of new legendary creatures to build around.
Dragon's Maze in specific is a bittersweet release for this format; the story dictates that we're receiving ten new legends to build around, which is a pretty strong showing. The flip side of the coin, however, is that these new commanders are guild champions—not guild leaders. As a result, the rarity level and the perceived power level of each card is going to be a little bit lower than in Return to Ravnica and Gatecrash.
(In some cases, quite a bit lower. But my grandmother used to say, "Cass, if you don't have anything nice to say, don't say nothin' at all." She could also open beer bottles with her teeth, so I'm inclined to follow her instruction here.)
As is the usual case when a new set drops, we Commander writers get to drop what we're usually doing and divvy up the new cards to talk a little bit about what we like and what we're planning on working on for our own decks. Usually, Bennie Smith is very quick to both send out the reminder email that it's time to get to work and also to immediately call dibs on anything green in sight. This time, he did the former but not the latter. I briefly considered toying with his emotions by taking a shot at Varolz, the Scar-Striped or Emmara Tandris, but Bennie is far too nice of a guy to do that to.
Besides, I've had my eye on Melek, Izzet Paragon since the moment it was spoiled.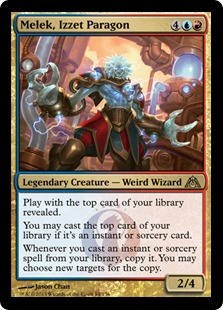 (Not So) Humble Beginnings
Having started playing Magic when Revised and Antiquities were hitting the shelves (and being bought out just as quickly), I've got nearly two decades of cardboard addiction under my belt. As a result, I can (kind of) remember a time where there were no formats and you just played what you had. I can honestly lay claim to winning a tournament with a first turn Black Lotus into Channel for a lethal Fireball back before Type 1 was even a concept.
Sadly, the prize was something like eighteen packs of Fallen Empires. You kids these days don't know how good you have it…
Anyway, when the DCI became a thing and we started to see the birth of actual formats, I gravitated first to Vintage (like I said, it was called "Type 1" at the time) and then to Legacy or "Type 1.5." And I have no shame in admitting that I was a dirty, dirty combo player all the way. Sure, I dabbled in Keeper, but everyone back then did. As soon as there was a valid way to, you know, just win, I dove in headfirst.
By the time I finally hung up my competitive Magic playing, I had been running 1-Land Belcher in Legacy and Long.Dec in Vintage. The nice folks at Wizards of the Coast had recently given us all a nice Christmas present they called storm, and I was more than happy to sling Mind's Desire into Tendrils of Agony all day long.
It was a good time to be a dirty, dirty combo player.
The Seven- or Eight-Year Itch
Fast-forward to 2012. I've long since hung up my Ancestral Recall. There is an inner harmony that I've discovered centered on the joy that is Commander.
I'm peaceful, happy, and never ever complain about anything or lose my cool in games and then head over to my blog to complain endlessly about it. (Hey—stop laughing!)
All is well with the world.
And then Return to Ravnica is printed, and they spoil this:
I feel an itch coming on and start checking prices on Mind's Desire. This is not a good sign.
After spending some time reading up on the various Commander forums out there to see what people are doing with this card, I'm given a wonderful jump-start when Imshan, one of my contemporaries over at Commandercast.com, wrote this primer on exactly what I was looking for: an Izzet-based storm combo deck featuring Epic Experiment and a ton of ways to abuse it in order to take one big, glorious turn that will reduce the rest of the table to ashes (and possibly cause people to start trading and checking email on their iPhones as it resolves in a complicated web of triggers and stack tricks). Imshan and I had a few discussions, and he wrote this follow-up for GeneralDamageControl.
Here's the deck that he brewed:
Creatures (16)
Planeswalkers (1)
Lands (40) The quick explanation is that the deck aims to build up some mana and the correct mix of cards in hand. Once it does, Trench Gorger or Mana Severance will clear the lands out of the deck, ensuring that the Epic Experiment that is about to hit for a large X value and be Forked and Twincast a bunch of times will be hitting nothing but spells. Ignite Memories can take it home, as can a huge number of Drakes courtesy of Talrand, Sky Summoner. Even Guttersnipe becomes a game-ending threat, and there's always the option to win through commander damage with Niv-Mizzet 2.0.
I tinkered with the deck a little bit as well, trying to find something that fit my play style more and that packed a little less of a combo punch (so as not to completely alienate my regular playgroup) but still had some teeth in other ways. I tried to leverage draw sevens a bit more, added Sphinx-Bone Wand and Arcane Melee, and tossed it into a few games to varying success.
(For the record, Sphinx-Bone Wand was easily the all-star. I won a game where it ended somewhere in the neighborhood of twelve or thirteen counters at one point, taking out a player who had gained something like 80 life with the Wand alone.)
The deck fell out of favor for me before long, though. The big problem was that it tended to be an all-or-nothing proposition; it either did absolutely nothing of consequence while still drawing hate based on the commander choice or else it took that one big turn and just won. What it didn't do very well was be interactive and hang in games, which was a bit of a downer.
And Niv-Mizzet never really felt completely in place as the commander of the deck either. It doesn't work to call him a "puppet commander" because he can still steal games and be a powerhouse, but Niv never really felt like a part of the deck. That's something that never sits well with me.
With the coming of Melek, that problem is now solved.
Finding the Angle
I'll be honest—what I'm about to try to put together isn't anything more than theorycraft. I think the deck that was in place with Niv-Mizzet 2.0 might be better, as it ran more answers, had a better suite of mana producers, and a more viable suite of win conditions.
This deck has more crazy, though. Looking at Melek, he's all about peeling spells off the top of the deck and making copies. It stands to reason that the ultimate way to build a Melek deck is to go all-in on spells. Therefore, I'm shooting for lands, instants, and interrupts. No maindeck permanents at all.
It's also going to try to go even further toward that big turn. It's going to be all about cycling, recycling, drawing, copying, casting, and doing it all over again. The angle is to try to play not just the entire deck but hopefully to play it a few times over.
Maybe it finds a win somewhere along the way too? Who knows…
Problems
There are a few shortcomings that will reveal themselves in a hurry:
Mana development. Red and blue are terrible at ramping and fixing without artifacts, so this deck will need to rely on lasting until midgame and possibly deploying a few choice red ritual style effects.
Win conditions. This is a bigger problem. As I won't do infinite, the previous deck leaned pretty heavily on permanents to win the game as I detailed above. This one will need to lean on other peoples' permanents and liberal reuse of a few choice damage spells instead.
One-trick pony status. Unfortunately, there's no overcoming this one. This is an experiment in how crazy that one turn can get, so it becomes a bit of a goldfish deck pretty quickly and doesn't have much of a "plan B" The Izzet are all about their experiments, so we're staying true to that theme to a pretty serious fault.
If nothing else, it will be interesting.
The Deck
Let's do this roughly by category. I'm all about compartmentalizing.
The Big Turn
Epic Experiment, Mind's Desire, Seething Song, Mana Geyser
This is where it all goes down. At its heart, this deck wants to cast Epic Experiment off the top of the deck with Melek in play to copy it. The reason for this lies in the rules of Epic Experiment; the cards you reveal with it do have an order, but they all resolve together as a part of Epic Experiment. This means that the old version of the deck couldn't copy an Epic Experiment without being able to Fork in response to the original casting but not as a part of it. Without the copy resolving first with the original on the stack, there would be nothing to target when the Fork resolved.
With Melek, it becomes a simple matter of playing Epic Experiment as largely as possible, getting the free copy, and hoping that it finds a Fork effect to aim at the original.
Mind's Desire is essentially Epic Experiment Jr. but serves the same function. (They get along pretty well too.) In order to get that big mana, Mana Geyser is the preferred card of choice, but Seething Song works in a pinch.
The Draw Package
Ancestral Vision, Ponder, Brainstorm, Preordain, Portent, Telling Time, Deep Analysis, Fact or Fiction, Blue Sun's Zenith, Stroke of Genius
One of the bigger problems with steering clear of permanents is that you lose out on reusable top-of-library manipulation, which is incredibly useful when your commander is a fixed Future Sight. The main weapon of choice here is clearly Sensei's Divining Top, so the replacements need to be cheap and numerous in order to come close to gaining some of that value. Ponder, Brainstorm, Preordain, Portent, and Telling Time try to regain some of that lost ground. They're great for increasing storm counts as well.
(Remember, Ancestral Vision is free under Mind's Desire as well.)
The other selections are based on redundancy (Deep Analysis is fantastic, as it casts twice), power level (EOTFOFYL, anyone?), and scalability (Stroke of Genius and Blue Sun's Zenith not only draw a ton of cards but can be win conditions with Melek's help even without a Palinchron / High Tide or Grim Monolith / Power Artifact infinite mana combo.)
The Big Sevens
Wheel of Fortune, Windfall, Reforge the Soul, Wheel of Fate
Draw sevens keep this deck moving. As you're aiming for a big turn, the ability to refill your hand on the relative cheap is pretty critical, so much that it overshadows the fact that you're giving your opponents draws as well. These options range from the standard (Wheel of Fortune) to the free (Wheel of Fate under Mind's Desire again) to the rest of the pack.
Removal
Devastation Tide, Evacuation, Cyclonic Rift, Mizzium Mortars, Vandalblast, Blasphemous Act, Chain Reaction, Capsize, Shattering Pulse, Temporal Fissure, Aetherize
Once again, red and blue are pretty terrible at answering things without countering them or dealing them a ton of damage. This deck wants to have access to Oblivion Stone in the worst way, so instead I'm overloading (no pun intended once we get to Vandalblast and Mizzium Mortars) on the options that are there.
A solid bounce suite is critical. Answers to creature strategies (Aetherize, Evacuation) help to cover the fact that you won't have chump blockers to head off some of the damage. There are some big damage spells (such as Chain Reaction and Blasphemous Act) that can clear things out as well, and it is important to note how well Melek plays with the aforementioned Mizzium Mortars.
Since red manages artifact hate pretty well, I'll add a few components in that area and add a few catchalls in Capsize and the storm-enabled Temporal Fissure. Of course, there's everyone's favorite new Commander auto-include, Cyclonic Rift. (Ah, the joys of running bounce in a deck with abundant draw sevens! This is an excellent answer to just about anything…including probably having friends that want to play Magic with you anymore.)
Creature-ish Cards
Call the Skybreaker, Rite of Replication, Stolen Identity, Gather Specimens
Call the Skybreaker is the closest this deck gets to running creatures. Fortunately, with all of this draw, there should be a decent selection of lands just waiting to be discarded in order to make an Elemental army.
Rite needs no introduction, and anyone that has ever responded to Avenger of Zendikar with Gather Specimens (or better yet Warp World) knows exactly what I'm talking about here.
Finally, Stolen Identity is a value package since you can encode it on a creature you copy, thus neatly side-stepping the "no permanents" rule while still getting a ton of return on the investment.
These cards should serve to help out with the whole "this deck is dying for a win condition" thing. I hope.
The Theft Package
Blatant Thievery, Dominate, Bribery, Acquire, Knowledge Exploitation, Insurrection, Reins of Power, Twist Allegiance
This is the other way the deck can find win conditions. Obviously, the big two are Insurrection and Reins of Power, which functionally works as a mini Insurrection here. Twist Allegiance is the same card but in red and more expensive.
Knowledge Exploitation is probably always going to find a board sweeper, but at least it gives the deck the ability to do things like permanently deal with enchantments or successfully manage protected creatures that it couldn't do easily otherwise. Likewise, Acquire finds that Sol Ring or Sensei's Divining Top I wanted after all. And Bribery needs no introduction.
Lastly, Dominate and Blatant Thievery offer a little pinpoint permanent management, which is going to be very welcome in this deck. I'm always a huge fan of sorceries over enchantments that take control of things because the metagame I play in is very heavy with enchantment and artifact hate. These two let you get away with the required thefts without the fear that someone is going to dump Naturalize on your Control Magic and screw up your combat math.
The Damage Package
Price of Progress, Ignite Memories, Prophetic Bolt
Of the three, Prophetic Bolt really becomes the workhorse of the group. Four damage and a really decent card filtering package mean this is bringing tons of value to the table. Melek is going to love this card.
Ignite Memories is the fringe spell that might just manage to catch someone with a small handful of high cost cards or a high storm count. (I mean, it's no Sphinx-Bone Wand, but in this deck it has potential to do some serious damage.)
Finally, while I'm still coming around on land hate, this deck should be light on nonbasics, whereas most other decks are not so much so. This is a beating with Melek in play under the right circumstances and should be a viable win con on its own.
Recursion
Mystic Retrieval, Past in Flames, Timetwister, Spelltwine
There has to be some level of reusability to the spells in this deck, and to a great extent the constant draw sevens should mean that it runs though cards quickly and with heavy discards.
Past in Flames is pretty much there to allow the deck to get the same reusability that Deep Analysis has out of every card in the deck. This is great to play out on the big turn to get double-duty out of the important spells. Mystic Retrieval will serve a similar but limited role as well, buffering storm counts and flashing back when needed the most.
Spelltwine is one of my favorite newer cards. Again, I'm aiming to fill this deck with cards that are redundant, and Spelltwine is part recursion and part utility, which really helps. (Remember Knowledge Exploitation? Spelltwine is a limited value add version of that card because there should be a wrath effect lying around in someone's graveyard.)
And then there's Timetwister. Since this is the only legal Power in the format, it's in. It helps that this is the effect that this deck will need to keep finding and playing key cards; due to the nature of the deck, it desperately wants something like Elixir of Immortality that will let it just reshuffle and restart with a fresh deck. Timetwister is the best example of that card out there. (Raise your hand if you're shocked that a piece of Power is good…)
Copy Effects
Fork, Reiterate, Increasing Vengeance, Twincast, Reverberate, Wild Ricochet
All kinds of flavors in here. There's the vanilla "copy and pick new targets" field in Fork, Reverberate, and Twincast; from there, there are choices with buyback (Reiterate), choices that copy themselves (Increasing Vengeance), and choices that copy anything else being played as well (Wild Ricochet). Again, with the interaction involving Epic Experiment, these are critical to making the deck perform. Do not skimp in this area.
Tutors
Mystical Tutor, Personal Tutor
The choices are pretty pedestrian here, but nothing puts the correct card in front of Melek faster or more accurately.
Saying "No" To Things
Spelljack, Cryptic Command, Mana Drain
Cryptic Command and Mana Drain are simple—counterspells that gain reasonable advantage when cast. If you need to protect your spells or board position, these are the core of the permission suite.
Spelljack is the hybrid in the bunch. Sure, it's a counterspell, but because of how it plays out, it also can do some wonderful things internally. Besides being able to sandbag counterspells and other instants and besides being a method of exile in blue, it also can be turned on its owner. If you fire off Mind's Desire and end up with something that isn't in the correct place at the correct time, Spelljack serves as a great way to pull the offending card from your own equation and hold it in reserve until later when it really is in need. Loads of goodness on copy effects by the way.
Overall, it is important to note that this isn't a control deck, which is why the counters number so low overall. The deck needs to push through a key spell when it goes to take the big turn, and these counterspells are here as a bare-bones squad to make that happen.
The Odds And Ends
The final two pieces to the puzzle. This deck wants Leyline of Anticipation more than almost any other card, and Vedalken Orrery follows closely behind. Quicken at least gets some of that goodness with the added cantrip draw as well.
Mana Severance is the final holdout from the last deck. It's pretty clear what the purpose of the card is, and it really is pretty fantastic to make sure that every last thing that follows is ready to go when it gets revealed.
Lands
Thawing Glaciers; Tolaria West; Valakut, the Molten Pinnacle; Mystifying Maze; Desolate Lighthouse; Volcanic Island; Steam Vents; Cascade Bluffs; Sulfur Falls; Scalding Tarn; Izzet Guildgate; Izzet Boilerworks; Shivan Reef; Command Tower; Reflecting Pool; Reliquary Tower; Temple of the False God; Boseiju, Who Shelters All; 10 Island; 10 Mountain
Finalizing the list with lands shouldn't be much of an issue. The basic count is a full twenty; past that, a load of lands that produce both colors of mana are on the list (Command Tower, Shivan Reef, Reflecting Pool, Steam Vents, Cascade Bluffs, Sulfur Falls, the Guildgate and Boilerworks, and Volcanic Island). The deck wants to hit all its land drops and be able to get going with its game plan, so it is critical that each land counts towards colored sources.
There is a host of colorless utility lands too. Thawing Glaciers and Temple of the False God help with a little extra mana, while Boseiju offers up another wave of protection against counters. There's a Reliquary Tower to manage the heavier draw, a Valakut to try to get some damage happening around the edges, and a Mystifying Maze to offer more anti-creature protection. Desolate Lighthouse and Tolaria West add some tutoring and filtering to the mix as well.
Really, that should do it.
The New List
Here's the new deck as it stands: Like I said, it's a good attempt to see how far you can take a building restriction and fit a theme and a new commander into it. I tried to stick with the cards I own (to be fair, I parted ways with my Timetwister last year, but I'm about to obtain a replacement), but if you're interested in actually purchasing this deck outright, here's the cost on a card-by-card basis (not including basic lands):
| | |
| --- | --- |
| CARD: | PRICE: |
| Ignite Memories | $0.25 |
| Mana Geyser | $0.25 |
| Mystic Retrieval | $0.25 |
| Temporal Fissure | $0.25 |
| Vandalblast | $0.25 |
| Aetherize | $0.49 |
| Blue Sun's Zenith | $0.49 |
| Call the Skybreaker | $0.49 |
| Dominate | $0.49 |
| Gather Specimens | $0.49 |
| Izzet Guildgate | $0.49 |
| Portent | $0.49 |
| Shattering Pulse | $0.49 |
| Spelltwine | $0.49 |
| Telling Time | $0.49 |
| Twist Allegiance | $0.49 |
| Desolate Lighthouse | $0.75 |
| Increasing Vengeance | $0.75 |
| Prophetic Bolt | $0.75 |
| Stolen Identity | $0.75 |
| Capsize | $0.99 |
| Deep Analysis | $0.99 |
| Izzet Boilerworks | $0.99 |
| Knowledge Exploitation | $0.99 |
| Mana Severance | $0.99 |
| Mind's Desire | $0.99 |
| Mystifying Maze | $0.99 |
| Preordain | $0.99 |
| Quicken | $0.99 |
| Reins of Power | $0.99 |
| Reliquary Tower | $0.99 |
| Reverberate | $0.99 |
| Temple of the False God | $0.99 |
| Windfall | $0.99 |
| Epic Experiment | $1.49 |
| Evacuation | $1.49 |
| Melek, Izzet Paragon | $1.49 |
| Ponder | $1.49 |
| Reforge the Soul | $1.49 |
| Seething Song | $1.49 |
| Acquire | $1.99 |
| Brainstorm | $1.99 |
| Devastation Tide | $1.99 |
| Insurrection | $1.99 |
| Past in Flames | $1.99 |
| Reiterate | $1.99 |
| Twincast | $1.99 |
| Wheel of Fate | $1.99 |
| Wild Ricochet | $1.99 |
| Cyclonic Rift | $2.49 |
| Fact or Fiction | $2.49 |
| Tolaria West | $2.49 |
| Spelljack | $2.99 |
| Blasphemous Act | $3.49 |
| Mizzium Mortars | $3.49 |
| Rite of Replication | $3.49 |
| Blatant Thievery | $3.99 |
| Valakut, the Molten Pinnacle | $3.99 |
| Command Tower | $4.99 |
| Mystical Tutor | $4.99 |
| Price of Progress | $4.99 |
| Stroke of Genius | $4.99 |
| Boseiju, Who Shelters All | $5.99 |
| Fork | $5.99 |
| Shivan Reef | $5.99 |
| Ancestral Vision | $6.99 |
| Steam Vents | $6.99 |
| Sulfur Falls | $6.99 |
| Thawing Glaciers | $7.99 |
| Reflecting Pool | $9.99 |
| Wheel of Fortune | $11.99 |
| Bribery | $14.99 |
| Cascade Bluffs | $14.99 |
| Personal Tutor | $29.99 |
| Cryptic Command | $34.99 |
| Scalding Tarn | $34.99 |
| Volcanic Island | $139.99 |
| Mana Drain | $169.99 |
| Timetwister | $399.99 |
It's a cool grand all told. The Izzet apparently spare no cost when it comes to lab experiments…
Anyway, this is at least an interesting design exercise. The more I build around constraints like this, the more I enjoy it. It really is a sweet spot for me where I can include cards that I might feel guilty about playing otherwise for power or "good stuff" reasons, yet I can also toss out other auto-includes without worrying about how the deck will fare. I think I'll be designing a lot of my personal stuff along these lines going forward.
As far as Melek goes, I'm still really excited about him. I alluded to it at the start, and I'm going to break form (sorry grandma!) and say it: some Dragon's Maze's commanders are plain weak sauce. Melek is one of the few that not only holds his own but also manages a pretty decent and powerful effect that would give Niv-Mizzet a run for his money in the right circumstance.
I'm also excited to revisit my current build to see what I can do to improve it and optimize it for its new commander. I'm not sure I can hold fast and strong to what I did here, but some of the concepts are certainly carrying over.
What do you think? Was this an interesting way to go? What would you have done differently? Since this is an open experiment, I'd love to hear your thoughts on what I can do to improve it.
Before I go, Sean mentioned last week that Dear Azamiis coming up on episode 100. This is pretty exciting, and I'm glad to be on board with an institution like this. If you have any ideas for something special we could do to celebrate the milestone, please feel free to let us know.
Thanks again, everyone! See you all in two.
-Cass
Want to submit a deck for consideration to Dear Azami? We're always accepting deck submissions to consider for use in a future article, like Matthew's Teysa, Orzhov Scion deck or Anthony's Ruhan of the Fomori deck. Only one deck submission will be chosen per article, but being selected for the next edition of Dear Azamiincludes not just deck advice but also a $20 coupon to StarCityGames.com!
Email us a deck submission using this link here!
Like what you've seen? Feel free to explore more of "Dear Azami" here! Be sure to follow Sean on Facebook...sometimes there are extra surprises and bonus content to be found over on his Facebook Fan Page, as well as previews of the next week's column at the end of the week! Follow Cassidy on his Facebook page here or check out his Commander blog!
| | |
| --- | --- |
| | I am Izzet. Besides being the main colors that I usually flock to when I build decks or draft (the best time I ever had in Standard was playing Adrian Sullivan's "Eminent Domain" list!), I'm also very much behind the philosophy; I'm at my happiest tinkering around with things, understanding them, and experimenting with them. Any wonder that my background is in computers, graphic and web design, and my degree is in film theory and production? ;) |