Next week I'm going to open up the Meandeck Labs to the public and show you a new monstrosity we've been working on. Some people have asked me why my team and Vintage in general has been so inactive recently — particularly during November December and January.
Nothing could be further from the truth. Meandeck has been biding our time. We have been hiding from view and busily preparing a number of deadly brews. The problem wasn't a lack of ideas and progress; it was that we have so many ideas we don't have time to tune them to the level necessary to make them explosive metagame bombs. Unlike the professional formats none of us make a living from Magic. Testing and tuning decks is something we can only do in our spare time. For me that became a great difficulty the last few months between my job and other issues associated with my personal life. While all of Vintage's other teams have appeared to "let themselves go" — Meandeck has been focused extremely busy and excited to make waves once again. Hell I have a deck that I can't wait to show you that I thought up last October. It's one of my finest concepts since Meandeck Gifts. I just have been too busy to perfect it until recently. We are ready to storm the Vintage metagame and shake things up.
However since I've been teasing you so much here I am going to show you one hot tech item.
Before I do I want to mention that Oscar Tan was in Ohio in December. Here is picture of Oscar and me that I want to share with you!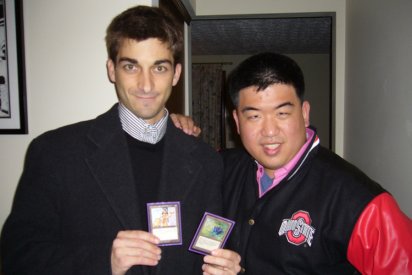 This deck is by far the worst of the four cogent concepts we've come up with in the last few months. (To develop four solid deck ideas you have to go through probably three times that many). There comes a point where as much as I want to develop many of the ideas we have there just isn't enough time. Although I think this deck has a lot of potential there were a number of stumbling blocks - including the printing of Shattering Spree - that made this deck less and less attractive. I have permission to publish it and I think you'll find it interesting. JP Meyer Rian Litchard and Paul Mastriano all had a heavy hand in this deck:
Creatures (8)
Lands (14)
The deck plays out like a Fish deck. You use Chalice and Wasteland for tempo and you drop either Dark Confidant or Phyrexian Dreadnaught. There are a number of things I found attractive about this deck. First Phyrexian Dreadnaught trumps Darksteel Colossus (a.k.a. the new Morphling). Second Confidant fits well into the whole Mask theme. Third Confidant gives you a solid engine so that you can pretty much find any card you need within a short period of time.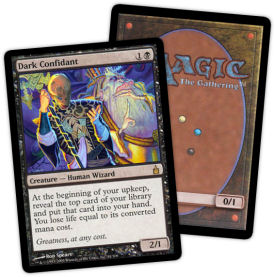 The casting cost of everything in Mask is zero to two so Confidant is a nice fit. Another creature option is Hunted Horror. Shred Memory is also an out against Goblin Welder.
Moving on...
I asked the StarCityGames.com forums denizens to ask some questions that I could ramble on about.
Jdizzle Recently mentioned on TMD about the inconsistency of the way Stax is being built lately. Everyone seems to be throwing in random cards that look cool the outcome is a deck that isn't as focused on what is right or wrong. For example Gifts is pretty much summed up in two lists: Meandeck and Brassman. This seems to be for Stax not even close. How about writing an article on the proper development of Stax (I believe Chang is on when it comes to building Stax correctly). Or maybe this is better off to be mentioned by Kevin Cron?

Here's the thing about Stax: Stax is a deck composed of sixty cards. The problem is that you will win most of your games off somewhere between 40-75% of those cards. For example Smokestack is a much more important card than say a random Swords to Plowshares. I think Eric Miller's decks are the prototypical example of this.
His decks would start: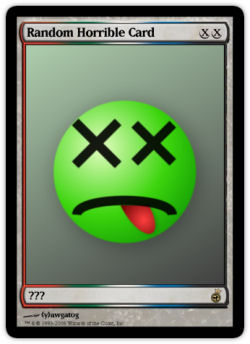 4 Mishra's Workshop
4 Trinisphere
4 Juggernaut
4 Smokestack
4 Crucible of Worlds
1 Random Horrible Card
1 Random Horrible Card
1 Random Horrible Card
1 Random Horrible Card
1 Random Horrible Card
1 Random Horrible Card
The point is that he would play a ton of random horrible cards and it wouldn't matter. It wouldn't matter because the key cards he would rely on — Trinisphere Juggernaut and Smokestack - are the real paths to victory. What may have put him over the top was that the random horrible cards might actually be good in very narrow situations that would arise. Travis Laplante's Stax decks are the same in my view. For those of you who don't know Travis Laplante won the Fall Waterbury with this Stax list.
I mean Fact or Fiction? Possessed Portal? Mind's Eye? In Stax? These random horrible single-copy cards aren't the reason that Travis won the Waterbury. He won his games off the key cards: Null Rod Smokestack etc etc.
Because players aren't necessarily rewarded when playing Stax for focus Stax tends to breed diversity of design.
As for leaving this to Kevin I can tell you that Kevin's Stax lists are extremely bizarre in recent times. He bends over backwards to plug holes in his deck and in doing so he opens up new ones. Moreover it's just another example of how Stax is a deck that is suited to multiple interpretations.
What do you think are the current tier 1 decks? Same question for tier 1.5 and tier 2.
Well I recently wrote an article on the Vintage metagame.
I think the data bears out what the top tiers are:
Tier One.
Stax particularly Uba Stax
Gifts both variants
A deck I'm going to unveil next week
Tier 1.5.
Control Slaver including Burning Slaver
Storm Combo
TT Confidant
Tier Two.
Oath
Fish
Dragon Combo
Looking at the results of the last Waterbury you may not believe me.
I firmly believe that Psychatog is outmoded. Its appearance in the top two decks is anomalous and explained less by Psychatog than by the cards surrounding it. The fact is that the GroAtog deck faced control matches - and no Stax in the entire tournament - which is reflective of the Waterbury and Northeast in general. Now die-hard Tog players can do okay — Josh Franklin and Joe Bushman have the potential to make top 8 with Tog but more likely they will fall in the 9-16th bracket at X-2.
I think Oath is a pretty terrible deck if you are a Vintage expert but it is a fantastic deck if you have very little experience in Vintage but want a realistic chance to top 8. GWS Mat Endress is a notable exception.
What has been the driving factor for the fragmentation of the metagame? Stax was king the last four or five months of last year. Every tournament since the start of this year has resulted in a different deck winning and so many different decks have either become viable or win tournaments despite being "bad."
The driving factor explaining fragmentation has been simple: a lack of innovation. Without new decks popping up (my team has largely driven a good deal of this innovation in the past and we have been very very quiet recently... biding our time) people are forced to metagame with what they have. Hence you see people taking a deck say Stax and then tweaking five cards here and there... and then what you have is twenty different Stax lists.
In 2004 after the big inaugural StarCityGames tournament it was quite clear that there were only three good decks in the format: UR Fish Four Color Control and Workshop Aggro. The top 8 of that tournament featured three Fish decks in the top six a Workshop Aggro deck and Four Color Control. At Gencon the following month everyone played those decks - except that Fish and Four Color Control got hated out. I played Mono Blue because Back to Basics plus Energy Flux trumped all of those strategies. Workshop Aggro put four people in the top 8 although a Control Slaver deck that snuck its way there won the tournament.
My team responded. With such a consolidated metagame revolving around creatures the solution was simple: Oath. I had already decided to play Oath at the next StarCityGames Power 9 event when they went ahead and printed Forbidden Orchard for me making my deck that much more savage. Oath took the metagame by storm. At the following tournament we saw something like forty Oath decks.
What you see was a clear trend from tournament to tournament in a highly consolidated metagame with new decks emerging at each event to shake everything up. This is not the case at the moment. Without new decks emerging to the top tiers people tweak and tune and it results in a highly fragmented metagame. Playing what you know is as important as what you play. This is why GroAtog and Psychatog can win despite being objectively bad.
What will happen if Stax cannot contain combo decks?
Nothing. Combo decks are very hard to play and they require a very high level of skill. The skill requirement keeps combo decks in check. Stax should be aiming at Mana Drains every single time a Stax player considers how to tweak its deck.
What archetype (prison control combo etc.) do you feel has the most untapped potential for a powerful deck?
Untapped potential? Hmmm. I think it depends what you mean by untapped potential. I think Control has the most untapped potential simply because you can run any combination of colors off of fetchlands and there are tons of combinations out there that people have still not properly explored.
Suppression Field has been played by a particular Stax player in the Chicago Area. How do you feel about Suppression Field in prison?

I have to be honest; I have not personally tested it. However I have read my teammates reports testing it and my view is that it is one of those cards that I was talking about earlier (regarding Travis Laplante and Eric Miller) — a card that is randomly good often bad but mostly irrelevant. Your Stax deck isn't going to win off Suppression Field.
I think the real problem with Suppression field is that it cuts into Stax's current biggest strengths: Strip Mine recursion Goblin Welder and Bazaar of Baghdad. Not to mention it makes Wasteland much more difficult to use. I can see it being strong but you have to build the deck around it (more or less) and it would still probably be weaker than something else. I think the one thing that it has going for it is that it can be dropped on turn 1 easily. It fits the Boa Constrictor plan of just making this difficult for your opponent. However the other flaw is that it is a tactical card not a denial of resource card. Chains of Mephistopheles attacks the use of draw engines which are omnipresent. Suppression Field is much narrower.

Do you feel Dark Confidant is the definite bomb creature that vintage has been looking for over the last couple of years?
I think Dark Confidant is a very solid creature that will see play in Vintage for years to come but I think it is both underhyped and overhyped. It is underhyped because despite all of the progress that has been made with the card its full usage is still not fully understood. However it is overhyped because I think people will find that the decks they are using it most frequently are not the optimal home for the creature. Dark Confidant is a great card that was very well designed.
Do you personally believe Workshop Aggro has any potential as a tier 1 contender given the current cardpool and - to a lesser extent - the metagame?
No. Gifts is simply too fast for Juggernauts to be good. The only way I can see to make it work is using the approach of Gilded Lotus. Unfortunately that creates huge consistency problems and is highly vulnerable to a swathe of new cards like Shattering Spree. Shattering Spree should probably put to rest any claims that Workshop Aggro might have on being tier 1. Now I am not saying that Workshop Aggro is unviable or terrible... I just don't think it has a shot in hell of entering the same territory as Gifts and Stax.
Do you think aggro in any form has a chance to make a comeback?
Absolutely. Vintage is a surprising beast. It experiences twists and turns at every step of the way and if I were to say that Aggro had no chance to make a comeback I would be foolhardy. There is a good chance that some day somewhere a great aggro deck would return to Vintage.
Do you think players should look at other formats much more for new ideas for specific cards in decks?
Absolutely. I think that players should pay particularly close attention to new sets because block decks show new synergistic interactions that may have some application in Vintage in a very different form. Blocks drive design in Magic and new blocks often see the printing of savage cards that generally push the envelope in Vintage.
How can Oath beat Ray of Revelation other than via Tinker-Colossus?
With Phyrexian Furnace more countermagic more tutoring/search or by playing the control role. The answer to this question generally depends upon the particular matchup. Ray of Revelation from a Stax deck is much different from when it is in a control deck. In Stax you can attack Ray by attacking their mana base with Wastelands so that they can't cast it. Null Rod plus Wasteland can make this a likely possibility. Against Control the better play is to try and be the control role. So play a draw engine that will push the game in your favor.
Would you say that the ability to make new decks is wholly dependent on new powerful cards that are printed (most recently Dark Confidant Flame Fusillade Uba Mask Gifts Ungiven and many more from Mirrodin block) or that there is room for creativity we haven't seen yet?
This isn't an either/or question — the answer to both is yes. Creativity often involves an evaluation of how powerful new cards may be applied in Vintage. I think the Mask deck I published at the beginning of this article is one example of this. There are many others.
How do you account for the discrepancies in the results from the US and from Europe? Storm Combo does quite well overseas but is less successful in the States. Additionally we find that rogue builds and combo and Fish do quite well in the Canadian metagame. Again this seems to differ from the US results. Is this a "US against the World" scenario? It's strange considering that the Internet makes almost every successful list available. You would expect a worldwide meta that is more consistent with a lot of net decking.

I think you are speaking historically rather than from a recent and objective perspective. Storm Combo has been heavily displaced in favor of the hugely popular T1T (The Italian Intuition/AK Darksteel Colossus Control deck) and Meandeck Gifts. Meandeck Gifts continues to perform well overseas. Rogue builds and Fish type decks do well in Canada because the metagame is so different. People play lots of random decks and so combo tends to perform well in a dispersed metagame... and Fish decks tend to be well suited toward attack a broad metagame as well particularly when piloted by the talented players that play those decks in Canada.
You are making a mistake in pigeonholing the US to one entity. The Northeast Waterbury metagame is vastly different from the Midwest Gencon/StarCityGames Chicago and StarCityGames Richmond metagame which is more coherent. There are regional differences everywhere but there are trends that are observable. For example in December I wrote an article on the Fall Vintage metagame. As many Gifts and Stax lists were found in European top 8s as were found in American top 8s. Gifts and Stax dominated both metagames. You are focusing on the differences but ignoring the huge similarities.

There seems to be no truisms in Vintage anymore. I look through the results of tournaments on morphling.de and It's a hodgepodge of what to me looks like innovative decks archetypical decks and jank. These results are from large and small venues.

Two points: most of the tournament results posted on morphling.de are actually small European events. Those top 8s will obviously reflect a very random metagame since we are talking less than thirty people. Second there are no proxies in Europe generally and so jank piloted and metagamed well will make top 8... while it will not in the fifteen-proxy American metagame.
I felt that Storm (Tendrils) more than anything else redefined the Vintage metagame over the last few years (that is you played it or a deck that can beat it). Colossus was another card that we took notice of but really it is a replaceable win condition in many of the decks that used it so it was hardly defining.

So where do you feel we are at now? Storm Workshop Drains Oath Bazaar and Standstill are the cards that most top tier decks are built around. The win condition may vary between decks. Do you see any shifts coming in the near future?
I'm glad you asked.
Some time ago I broadly categorized the decks in Vintage as Workshop Drain Ritual and Null Rod decks.

Now Uba Stax is a major innovation in several ways. But I would argue that the biggest innovation of Uba Stax is not Bazaar at all but Null Rod. Vroman has said more than once that the thing he is most proud of is getting people to use Null Rod in Stax. It truly was brilliant. Null Rod is counter-intuitive and yet incredibly powerful. It is so powerful that it has literally created an archetype and made decks like Fish and even made decks like aggro viable (or at the least not suck too terribly).

When Fish first emerged it was certainly on the back of Rod. At the time Drain decks were vulnerable to rod - esp. one's like Tog and Control Slaver. Combo saw rod as a death knell. Some important changes have taken place since. First of all Control decks - the Drain decks - use more acceleration than ever. My innovation of Meandeck Gifts requiring Mana Vault and Petal - which is now staple - has solidified this. This makes these decks bend over to Rod even more than they ever have. However they have sped up as a result and the result is that the Fish decks have a more difficult time getting Rod into play and stopping the Drain player before they can get the Rod down.

Fish used Rod to hurt Stax a lot in fact. I have played countless games against Kevin where Rod just turned Stax off. Kevin's Stax list was particularly Moxen dependent.

So the major changes are a speeding up of Drain decks and squeezing out of Fish decks. What Uba Stax does is incorporate Rod into the archetype. Null Rod is the strongest lock component in the game in my opinion possibly even more so than Trinisphere. When you consider that Fish emerged on its back and you consider what Rod does to the format - a format where it is a rule that every deck runs Sol Ring or Moxen - then Rod is and is always going to be a powerhouse.

How does Uba Stax manage to get away with it? One primary way above all: by using Bazaar. The incorporation of Bazaar makes it possible for the deck to play spells without Mana. It helps dig and abuses Goblin Welder so that the deck doesn't actually have to pay mana to cast spells after Rod hits play.

Now the incorporation of Bazaar has another side effect - it demonstrates that Uba Stax is really the convergence of three forces: Rod Workshop and Bazaar - three of the five powerhouse archetype foundation cards that I mentioned in the paragraphs above. When you consider that simple fact then it should hit you full force just what Uba Stax is: a monster. Drain decks have Force of Will and some powerful weapons but Uba Stax has everything else.

In fact Drain decks and Uba Stax are the antithesis of each other in many ways. Uba Stax plays with all the cards that Drain decks don't and vice versa. Uba Stax is the anti-Will deck and Drain decks are the Will decks. Uba Stax gets Rod Workshop and Bazaar and Drain decks get Force of Will Mana Drain and Brainstorm. They are polar opposites and as such should probably have a growing vice grip on the metagame. I don't see Fish decks making much headway as these two behemoth's battle.

So that was the first point I wanted to make: Uba Stax should be theoretically monstrous because it is the evolutionary endpoint for three of the five foundational building blocks of Vintage: Bazaar Rod and Shop - and the incorporation of Rod into Stax was made possible by Bazaar.

Similarly most Drain decks are converging around core components. Those components are not going to change in the near future. I can't imagine running a Drain deck that didn't have Will Tinker Burning Wish Colossus Walk Ancestral and either Recoup/Regrowth etc etc. The variation around those core components is the differenced between Slaver T1T Gifts and Oath. I think Oath should run most of those components. More and more frequently Tendrils of Agony is seeing play in Control decks. It is in the board of most Gifts lists and even Control Slaver now to Wish out with Burning Wish. TT Confidant uses it in the maindeck. I think there is a danger that just as Uba Stax appropriated Null Rod and made Fish somewhat obsolete the use of Tendrils in control has made TPS obsolete.
Gifts-Oath was the convergence in one deck of most of the Drain deck components.
Currently some budget aggro-control decks have been making waves (return of UW or UR Fish as well as RW Aggro in the form of TMWA) across the Vintage metagames. This undercurrent of new budget decks is slowly starting to take more and more players in its wake. Do you think that these decks can remain viable and do you think that they are good for the Vintage metagame and popularity?
I think that the budget aggro-control decks that have been making waves are the wrong way to go with the archetype. There are opportunities for really breaking the mold but these concepts are old hat — they are not new or innovative so much as a retrenchment to old form. I do not think they are good for the Vintage metagame or for the popularity of Vintage for several reasons. Although I think these decks aren't terrible they lull people into a false sense of security. I would rather a budget player take Oath to a tournament in order get a taste of what Vintage is really like.
How would you build a Stax list? What cards do you look at as being powerful in different metagames?
I would play Five Color Uba Stax... but that is the subject of another article.
If you are looking to add Tinker/Colossus to a Blue deck is seven artifacts (not counting Darksteel Colossus but counting a Black Lotus) too few?

I don't think you can make the decision to add or not add Darksteel Colossus based simply upon the quantity of artifacts so much as an analysis of what they do. For example if you play Fish with Sapphire Pearl Lotus four Aether Vial and four Chalice of the Void I would definitely play Tinker plus Colossus.
What would be the lowest number of artifacts to run to effectively add Tinker/Darksteel Colossus?

I think that in general probably four Moxen one Sol Ring and one Mana Crypt is enough to support Tinker and Colossus.
Why doesn't Oath win big tournaments? It seems like Boros Deck Wins in Extended: lots of hype/players a good number of top 8s and no wins.
By now my answer should be apparent. Oath is a good deck but it isn't a great deck.

If Vintage had this card pool but the year was 2001 the best deck for sure would be Oath... because the innovation was so poor. Oath is a deck that a great player can pick up take to a tournament and top 8 simply because it has so much "oops I win" factor with Forbidden Orchard. What happens is that Oath decks make top 8 but then have to face good players with great decks and inevitably they lose. If Vintage were more competitive Oath wouldn't be making top 8s at all (except GWS Oath which is piloted by high caliber players who love Oath). I think Endress Oath list derived a lot of its power from its surprise value of Chalice plus Choke.
That's all from me.