StarCityGames.com is proud to present the second generation of SCG tokens featuring likenesses of your favorite personalities!
Illustrated by our talented artists Liz Nugent and Kristen Plescow, this batch includes five of our most popular personalities from StarCityGames.com and SCGLive: Todd Anderson, Sam Black, Reid Duke, Tom Martell, and Cedric Phillips! Also new this time around are the creature types, with each of the five players becoming the subject of a token befitting their personality and playstyle. For example, Tom Martell won Pro Tour Gatecrash in Standard and Grand Prix Indianapolis on the back of Lingering Souls... so he himself has become a 1/1 flying Spirit!
This newest generation of tokens will be first given out at Grand Prix Miami on June 28-30 with commemorative GP Miami backs, and the five players featured will be available for the All-Star Meet & Greet session on Friday, June 28, 2013, between 6-8 pm. So get your Grand Prix Miami Commemorative Tokens autographed, chat about Magic: The Gathering, or just say hello!
After Grand Prix Miami, you will also be able to pick up your commemorative Series Two tokens at all Open Series events, starting at #SCGMA on July 6-7 in Worcester, Massachusetts!
To see the tokens, preregisister for the event, and learn all about Grand Prix Miami visit
MagicGP.com
.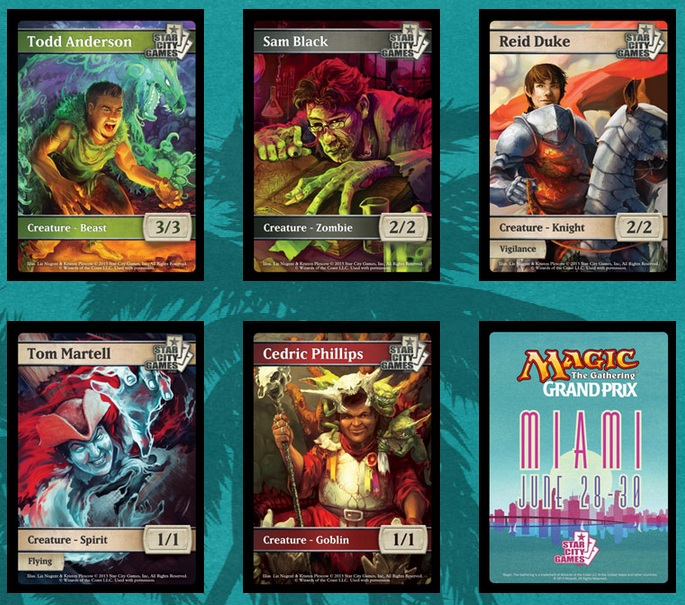 (EDIT: 4/15)