From the Vault: Twenty Full Contents!
posted 2013-08-06 by Reuben Bresler
Today, DailyMTG.com writer and Wizards of the Coast Magic R&D member Gavin Verhey wrote an article in his series Reconstructed detailing all twenty cards that will appear in the limited edition collector's set. Several cards, including Jace, the Mind Sculptor, were revealed to be in the set earlier this summer at San Diego Comic Con and PAX Australia. Several of the cards have new art, appear in foil for the first time, or both.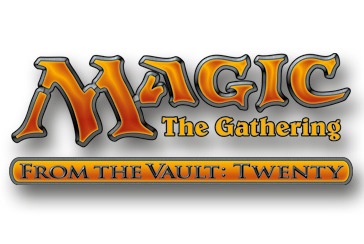 The full card list includes:
Dark Ritual
Swords to Plowshares
Hymn to Tourach
Fyndhorn Elves
Impulse
Wall of Blossoms
Thran Dynamo
Tangle Wire
Fact or Fiction
Chainer's Edict
Akroma's Vengeance
Gilded Lotus
Ink-Eyes, Servant of Oni
Char
Venser, Shaper Savant
Chameleon Colossus
Cruel Ultimatum
Jace, the Mind Sculptor
Green Sun's Zenith
Kessig Wolf Run
To see the full announcement and article, read Gavin's article entitled From the Vault: Twenty in his column on DailyMTG. From The Vault: Twenty will be released on August 23, 2013