November FNM Promo Grisly Salvage!
posted 2013-08-23 by Reuben Bresler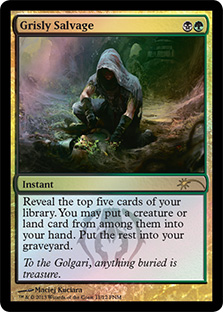 Wizards of the Coast has announced that the FNM promo foil for November will be Grisly Salvage, with new art by Maciej Kuciara.
The current FNM promo is Dimir Charm, and that will be followed by Experiment One (September) and Ghor-Clan Rampager (October).
Maciej Kuciara started doing art for Magic: The Gathering in Gatecrash on cards such as Simic Manipulator. More recently, he is the man behind M14's Xathrid Necromancer.
To see the full announcement, you can read the Magic Arcana by Trick Jarrett.