Wizards of the Coast Director of Organized Play and trade marketing Hélène Bergeot announced some big changes to the 2014 Grand Prix events and the 2014 Grand Prix schedule in her article More Grand Prix, More Prize Money in 2014. Among the changes include:
Grand Prix with fewer than 1,199 participants will now have a prize pool of $35,000 (increased from $30,000, which was payout for all previous GPS). Grand Prix that have between 1,200 and 2,399 players will have a prize pool of $44,000. And Grand Prix that are 2,400 and larger will have a total prize pool of $54,000. This will take effect for individual Grand Prix on December 7, 2013.
On-site registration will no longer be accepted on Saturday mornings of events (except China). Online preregistration and on-site preregistration on the Fridays before events will be the ways to sign up for the Grand Prix.
Changes to Team Grand Prix structure, including the elimination of all byes from Team GPs. Payouts for Team GP are still to be announced.
Batterskull, with new art from Igor Kieryluk, will be the 2014 GP promo foil.
There will be 46 Grand Prix in 2014, including 21 in North America... and three of those will be run by StarCityGames.com! GP Richmond on March 7-9, GP Orlando on October 3-5, and GP New Jersey on November 14-16 (all in 2014).
With the increase in prizes, additional Pro Tour, and growth of the game as a whole, 2014 is looking to be an exciting year! Stay tuned to #SCGNEWS for news and updates when they happen in the Magic community.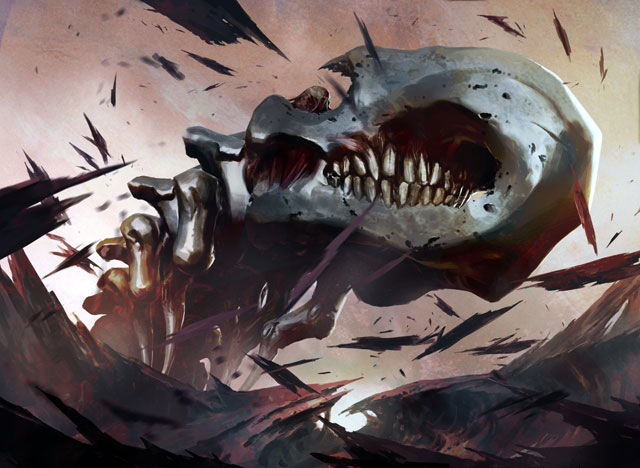 Illustrated by Igor Kieryluk