At each StarCityGames.com Invitational, the winner is immortalized on their very own token. As it turns out, the Invitational champion in Indianapolis was none other than StarCityGames.com writer, Above the Curve costar, and Versus video star Brad Nelson! Brad wanted his token to encapsulate his personality, his drive, and his love of Trading Post. So now he's the G.O.A.T.!
No, not the 'Greatest Of All Time'... He's an actual 0/1 Goat, perfect for his beloved Trading Post! Check out Brad's new limited edition token, with exclusive art by Kristen Plescow: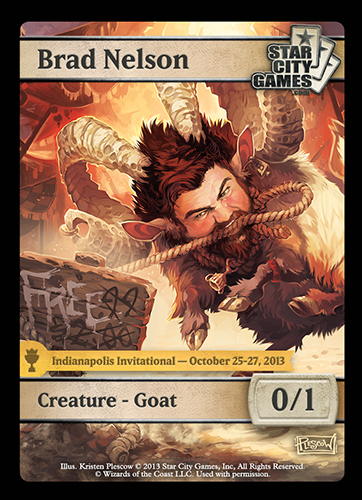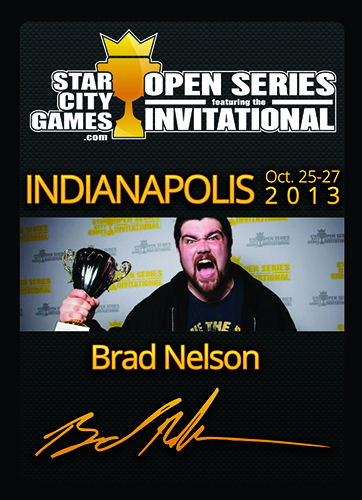 StarCityGames.com's latest token premiered on our Pinterest page! Go to pinterest.com/starcitygames to follow us there and see our latest tokens, playmats, and other projects we're working on!
How do you get your own? Come to the Open Series! The Indianapolis Invitational champion tokens featuring Brad Nelson will be available starting this weekend at the Open Series in Providence (#SCGPROV)!
These limited edition tokens are only available while supplies last.
Remember folks, the only way to get your hands on one of these limited edition tokens is by participating in a StarCityGames.com Open Series event. And you could be the next to be token-ized! Be sure to visit our upcoming schedule of events and qualify for the Invitational yourself via Invitational Qualifiers or by earning Open Points.
And once again, congratulations Brad Nelson, the 2013 StarCityGames.com Indianapolis Invitational champion!