Force of Squirrel Products Coming Soon!
Tags: #News
posted 2014-03-14 by Nick Miller
StarCityGames.com is proud to unveil Force of Squirrel as the second installment of the Creature Collection Squirrel Series.
Force of Squirrel products launch on March 28 to coincide with the StarCityGames Invitational in Charlotte, NC. Supplies include playmats, sleeves, deck boxes, dice bags, and a special Complete Collection bundle.
The Force of Squirrel token will also make its debut at the Invitational with all Legacy Open players receiving one Force of Squirrel token along with a Squirrelstorm token. Starting at the Legacy Open in Milwaukee, WI on April 6, players will get two copies of Force of Squirrel as we retire the Squirrelstorm token.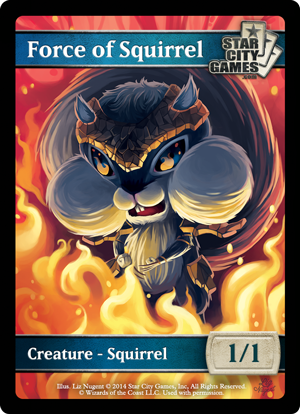 Force of Squirrel is a fun, furry parody of the iconic Legacy counterspell Force of Will designed by Liz Nugent. These beautiful supplies are a part of the Squirrel Series line in the StarCityGames.com Creature Collection.
Don't miss your chance to get a Squirrelstorm token in Charlotte and we'll see you there!