StarCityGames.com is proud to announce Acorn Mystic as the third design in the Creature Collection Squirrel Series!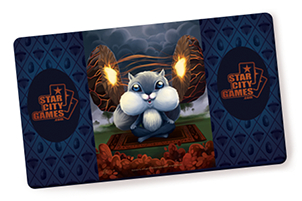 Acorn Mystic products launch on June 13 at noon on StarCityGames.com and will be available at the StarCityGames.com Open Series featuring the Invitational in Columbus, OH. Available items include playmats, sleeves, deck boxes, dice bags, and a Complete Collection bundle.

The Acorn Mystic token also will debut on the Invitational Weekend. Starting June 15, Legacy Open competitors will receive two FREE Acorn Mystic tokens!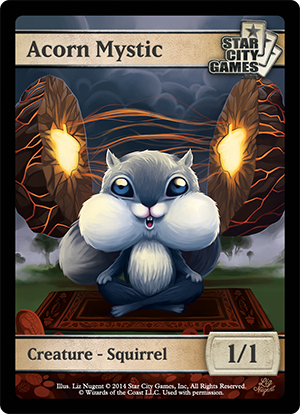 Acorn Mystic is a fun, furry parody of staple Legacy creature Stoneforge Mystic, illustrated by Liz Nugent. Remember to buy your Acorn Mystic gear on June 13 and mark your calendars for upcoming Legacy Opens to get your Acorn Mystic tokens starting June 15!