Squirrel Confidant, the latest design in the StarCityGames.com Creature Collection Squirrel Series, is here! Playmats, sleeves, deck boxes, dice bags, and the Complete Collection bundle are now available!

Starting August 31 at the Open Series featuring the Invitational in New Jersey, competitors in StarCityGames.com Legacy Opens will receive two Squirrel Confidant tokens!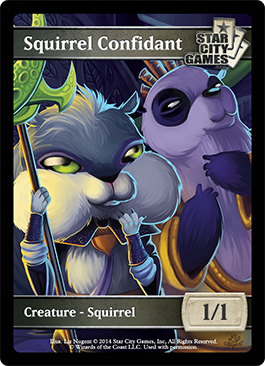 Squirrel Confidant, a fun, furry parody of Dark Confidant, is illustrated by Liz Nugent. Get your Squirrel Confidant gear!