StarCityGames.com is now selling Cardboard Crack books! The three volumes of the popular webcomic – Cardboard Crack, I Will Never Quit Cardboard Crack, and Cardboard Crack Anytime, Anywhere – will be available for $12.99 each on StarCityGames.com and in the Star City Games sales booth at events such as Open Weekends and Grand Prix.
Cardboard Crack has crafted an exclusive comic for Star City Games featuring SCG Columnist and former Player of the Year Brad Nelson.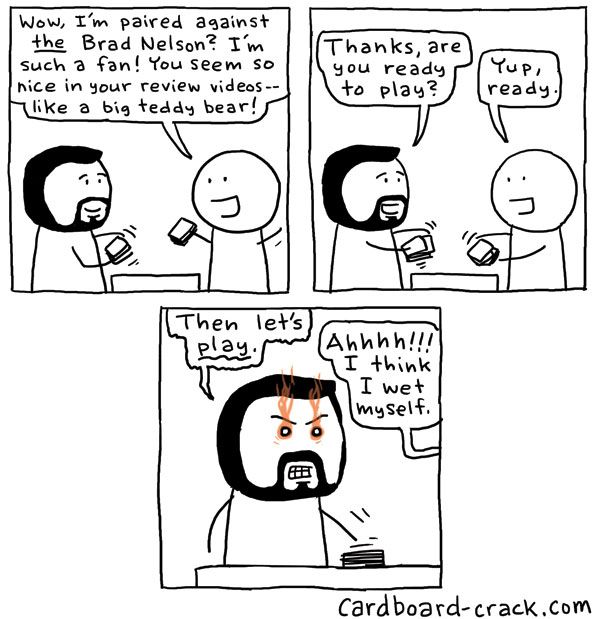 The creator of Cardboard Crack remains anonymous but agreed to answer a few of our questions about getting started in Magic, the origins of Cardboard Crack, and the webcomic's future.
SCG: When did you start playing Magic?
CC: I started playing Magic during Ice Age. I still remember my first starter deck (remember those?). I had a Lhurgoyf and Icy Manipulator, which quickly became my favorite cards at the time.
What got you to start playing the game?
My friends and I were just enchanted by the look of the cards. The original card borders had such a strong mysterious, fantasy look to them, it really got us curious to know what the game was all about. We taught ourselves using the little rule book that came in the starter decks. Because of this, we got a lot of the rules wrong. For example, for a long time we thought countering put the countered spell back into the player's hand. Even with this mistake, one of my friends still made a deck of all counterspells, which did pretty good. Just goes to show how strong counterspells are!
Where did you get the idea for Cardboard Crack?
I got back into Magic about two years ago after being away from the game for a few years. Because of work and family responsibilities, I was only able to play online most of the time. Although this can be fun from a competitive standpoint, I missed the social aspects of Magic and wasn't finding Magic Online particularly rewarding. So I started looking for ways I could contribute to this great community, but still fit my tight schedule. I soon stumbled onto the idea of making a comic. I've had a long love of comics, so it felt like a natural fit.
How long does it take you to make a Cardboard Crack comic?
This is a tough question because there are two main parts to each comic, the writing and the drawing. The drawing can be quick, between 10 and 20 minutes (with the exception of some of my more detailed comics with can take a couple hours). The writing on the other hand can vary by a lot. Sometimes an idea comics to me and I have it written down in a couple minutes. Other times it can take me multiple days to get the writing to a point I'm happy with it.
Who is your audience for Cardboard Crack?
Magic players! More specifically, I'm trying to do something that can reach all Magic players in some way. One of the great things about this community is how diverse it can be. People have different backgrounds and they also like to experience the game in different ways. This of course means that sometimes my comics miss specific segments of the community. But I hope that sooner or later I can draw a comic that everyone can enjoy.
What did you do to reach your audience and grow it?
Not too much. I post on the normal social media platforms, like Facebook, Twitter, and Tumblr. The key is that I've really been fortunate to have so many supportive readers who really go the extra mile to head spread the word. They're beyond amazing!
What goes into a volume of Cardboard Crack?
Each volume is 142 pages and includes 8 to 12 comics that have not appeared online. The other comics have appeared online, but I hope people will see that they really read nicely in book form. In addition, in the first volume I have a two page introduction describing how I started the comic.
What is the story behind the print-only comics that you never put online?
Sometimes I draw comics that don't quite fit with the site for a number of reasons. For example, I draw a comic but by the time I go to post it the topic is outdated. Other times, I feel the humor is a little too edgy for the site, or maybe the humor is little more narrow and I'm not sure if most people will get it. Finally, sometimes I draw a comic and then I see the same joke made on someone else on Twitter or Facebook and so I don't put it on my site. The extra comics make a nice bonus for people who support my artwork through my books, and they always seem to be really popular.
What do you see in Cardboard Crack's future?
I would like to have more Magic-related products such as playmats, sleeves, and deck boxes. My readers have been asking for them for a while, but with this comics just being a hobby, it's hard for me to make the time to get this done. Hopefully it will happen sooner rather than later. Beyond this, I plan to continue making comics as often as I can. I just really enjoy sharing this humor and using these comics as a way to better connect with the awesome Magic community!
Thanks to Cardboard Crack for the comic and interview, and don't forget to order your Cardboard Crack books!