Fate Reforged is finally upon us and StarCityGames.com has you covered with an amazing preorder experience! As Fate Reforged cards are unveiled, we'll make them available to preorder immediately so you can lock in a playset of your favorites. Bookmark this page for quick access to all the new products!
Get Ben's Financial Insights!
As the set unfolds, Magic financial expert and StarCityGames.com General Manager Ben Bleiweiss will provide exclusive insights on the expected short-, mid-, and long-term price trends for cards. Ben has been part of the Magic industry for over twenty years and his daily column updates have proven invaluable to many, so be sure to check for them each weekday!
Preorder Worry-Free!
Preordering cards can be scary, but with the StarCityGames.com Preorder Price Guarantee, you can do it with complete confidence. If you purchase any item that goes down in price during the preorder period, StarCityGames.com will give you store credit worth 150% of the difference when your order ships!
But we're not finished yet! Every Complete Set and Booster Box purchase gets you for a free subscription to StarCityGames.com Premium when your order ships, up to six full months (a $39.99 value)! Have a Premium account already? Your membership will be extended by the amount you qualify for and you won't pay again until after your free subscription ends!
Save on Shipping!
Combine orders. It's tough to get everything you need onto one order during spoiler season. Sometimes the cards you need are spoiled later in the preorder period and we don't want you to spend your budget on shipping. Just leave a note during the checkout process and ask our Customer Service team to merge your preorders. We'll combine them into fewer shipments if it saves you money!
Get event delivery. Enjoy free shipping, a convenient pick-up option, and a chance to use your new cards while competing for great cash prizes and more! The $20,000 Open in Washington, DC on January 24-25 will define the new Standard. It'll be a Format Reforged...and your chance to shape it for months to come!
Play in the Prerelease!
There is, of course, a chance to play with Fate Reforged even before its official release date. The Star City Game Center is the place to be on January 17-18 for the Fate Reforged Prerelease! In addition to the usual individual flights and Two-Headed Giant tournaments, we're also handing out a limited-edition parody playmat, "Fate Refished," with illustrator Andrea Radeck on-hand to sign it!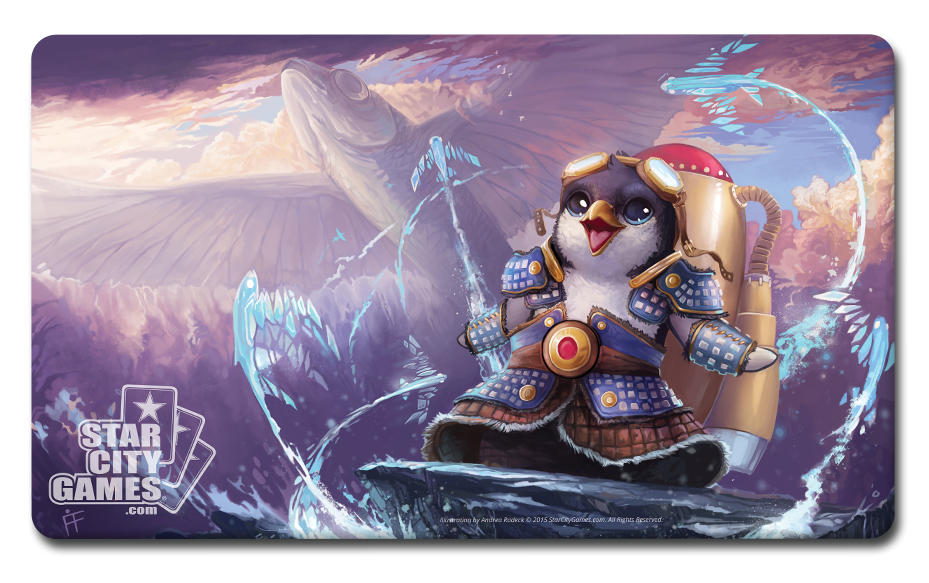 The Prerelease will be an amazing event, so be sure to check out the details here!
With cards such as Ugin, the Sprit Dragon; Monastery Mentor; and Soulfire Grand Master already spoiled, Fate Reforged promises to be a surprising small set as unpredictable as the battle between Ugin and Nicol Bolas. Preorder today!