Just a few short years ago, the city of Charlotte, North Carolina entered the record books by hosting the largest Magic: The Gathering Grand Prix of all time. And on June 12th-14th, thousands of Magic: The Gathering fans will once again descend on the Queen City when StarCityGames.com proudly presents Grand Prix Charlotte! This Modern-format Grand Prix will be held at the Charlotte Convention Center… and it's going to be huge!
No Grand Prix is complete without artists, and we're excited to have the incredibly talented Clint Cearley, rk post, Mark Poole, Jason A. Engle, Eric Deschamps and Noah Bradley joining us!
But it doesn't stop there.
StarCityGames.com-run Grand Prix always feature a special Guest of Honor, and Grand Prix Charlotte is no exception. Please join us in welcoming our Grand Prix Charlotte Guest of Honor… all the way from Germany… Volkan Baga!
Normally, this is the part where I'd move on to announcing some of the many other reasons why Grand Prix Charlotte is going to be so big, but I didn't say it was going to be big; I said it was going to be HUGE! And since this is our second Grand Prix in Charlotte and the event will be celebrating the release of the second Modern Masters set, we thought it'd only be appropriate to commemorate the occasion by inviting a SECOND Guest of Honor!
And we were beyond thrilled when Terese Nielsen accepted our invitation!
Clint Cearley, rk post, Mark Poole, Eric Deschamps, Noah Bradley, Volkan Baga and Terese Nielsen.
Come meet them all… live and in person… at Grand Prix Charlotte June 12-14!
But a Grand Prix is not just about special guests; it's also about special attractions, and Grand Prix Charlotte definitely has some sweet ones!
Meet and Greet with SCGLive commentators Cedric Phillips and Patrick Sullivan
The return of the massive SCG Prize Wall
A Meet and Greet with "The Dragonmaster" Brian Kibler
The debut of the SCG Infinite Challenge Badge
Almost twenty (!) of the world's biggest and best Magic: The Gathering vendors
A Next Level Deckbuilding Release Celebration with Patrick Chapin "The Innovator"
A special appearance by cosplayer extraordinaire Christine Sprankle
Live coverage courtesy of Cedric Phillips, Patrick Sullivan and the rest of the SCGLive crew
Of course, a Grand Prix wouldn't be a Grand Prix without the chance to acquire some sweet swag, and at Grand Prix Charlotte, attendees will have a number of opportunities to get their hands on sleeves, deck boxes, collectible pins, and playmats, all featuring this... lovely... lady...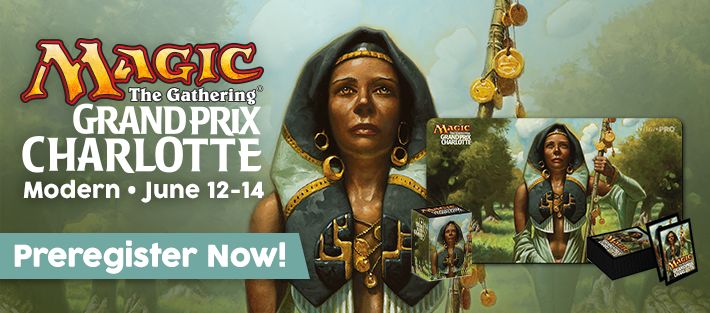 Noble Hierarch is coming out of retirement to attend the ultimate Magic: The Gathering party at Grand Prix Charlotte, and she expects to see you there as well. :)
Click here to learn more about Grand Prix Charlotte... and preregister today!
Best wishes,
Pete Hoefling
President, StarCityGames.com
Premier Tournament Organizer, Grand Prix Charlotte