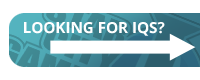 What Are Open Trials
Open Trials are the flexible and affordable way to bring the excitement of the Open Series to your store! Use the prize kit from your Open Trial to run a whole new tournament of your own, or simply add the prizes to your pre-existing weekly event. Take advantage of our geotargeted regional marketing while rewarding your players at the same time! Any format, any style, any day of the week.

Organizer Rewards
Earn rewards for supporting your local community, unlock special perks and earn free events! Visit our Organizer Rewards page for more information.
Earn Double Points!
Schedule an Open Trial on these weekdays for Double Points!
Monday, March 24th - Friday, March 28th (Winter)
Monday, June 9th - Friday, June 13th (Spring)
Earn 300 points just for registering your Open Trial, and up to 430 by purchasing a Premium Plus Swag Pack and by submitting your event fee early!*
* Limit one per organizer per season; Only base event points are doubled.
New Playmat!

Click for Hi-Res
For the Spring Season, your Open Trial Event Kit will contain playmats featuring new, exclusive art from Kristen Plescow! These new playmats are only available through the Open Trial Program and only during the Spring Season!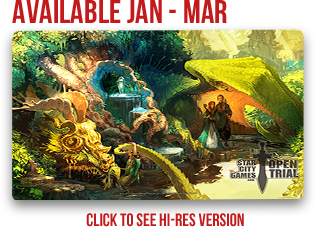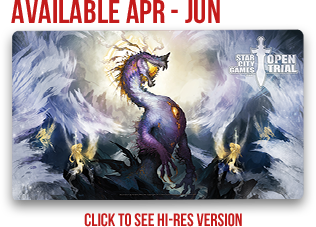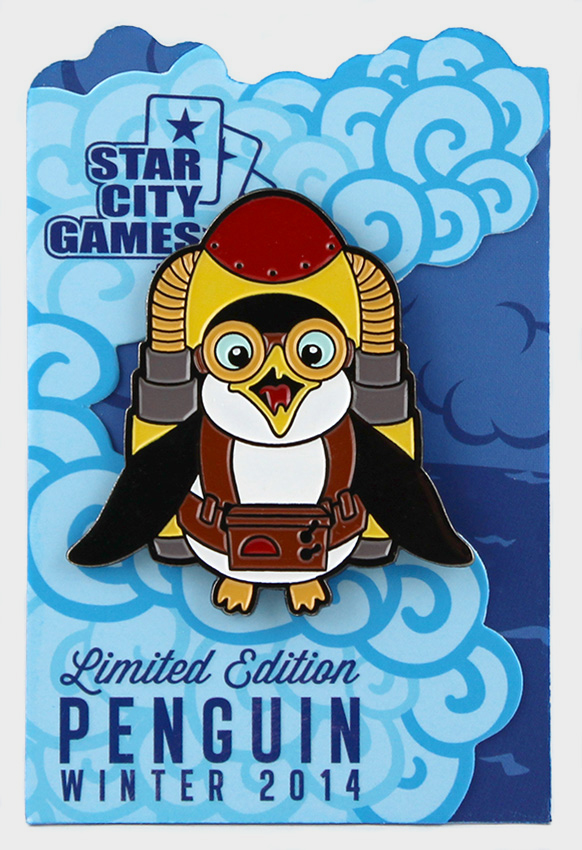 Limited Edition Penguin Pin!
Exclusively available during the Winter Season, this beautifully-detailed high-quality collectable pin is available nowhere else!
Use this incredibly unique prize to entice players to participate in your events! Only a limited quantity have been produced, so get yours with each Swag Pack or TWO with a Premium or Premium Plus Swag Pack while supplies last!
Tokens!
Every event held in the Spring Season will receive a free set of StarCityGames.com Organized Play tokens.1 Each token pack contains 5 pieces with art from Kristen Plescow and Julie Dillon. Additional sets can be acquired as a gift with Swag Packs and Premium Swag Packs!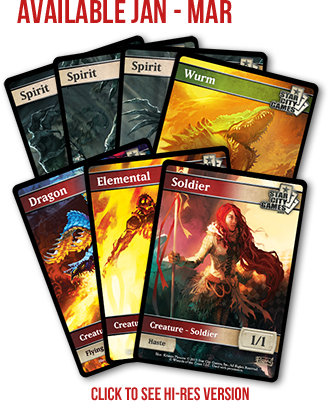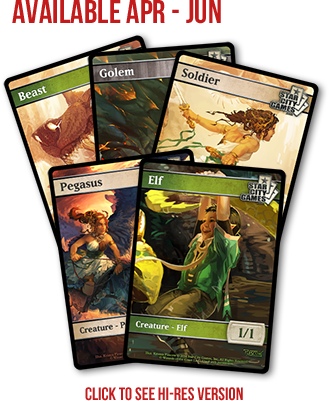 Open Trial Swag Packs

Swag Packs are promotional items that can be used as additional prizes or as free gifts for your players. Our newest edition, the Premium Plus Swag Pack, comes with everything currently offered in the Premium Swag Packs, along with 8 randomly assorted out-of-print Invitational Qualifier and Open Trial playmats from previous seasons. For less than the cost of three entry fees, you can add playmats for your top 16 players, not to mention the other great items that are included. Pick yours up today!
Swag Pack
Premium
Premium Plus
Price
$25
$50
$70
Limited Edition
Creature Collection Pin

1

1
2
2
Organized Play Token Pack

2

1
2
2
20 x 6-sided OT dice
4 x OT Dice Bags
25 x Lifepads
Free SCG Premium

3

2.5 Years
3 Years
3 Years
4 x OT Playmats
2 x OT Cinch Bags
8 Assorted Out-of-Print Playmats
1 While supplies last.
2 Free gift with Swag Pack purchase, while supplies last.
3 All Swag Packs include 6 x 1 Month Vouchers, 2 x 3 Month Vouchers, 1 x 6 Month Vouchers and 1 x 1 Year Voucher. Premium Swag Packs include an additional 6 x 1 Month Vouchers.

| | |
| --- | --- |
| Cost for Event | $100 |
| Table Numbers | 25 |
| Open Trial Exclusive Playmats | 4 |
| 1 Month Premium Vouchers | 4 |
| Free Entry into Open Series Event | 1 |
| Event Finder Listing | |
| Bi-Monthly Geotargeted Emails | |
| Geotargeted advertisement in StarCityGames.com orders | |
| 18x24 Event Poster | |
| Free Domestic Shipping | |
| Organizer Rewards Points | 150 |