Next Level Deckbuilding by Patrick Chapin "The Innovator" is a must-read for aspiring deck designers, seasoned brewers, new players, and experienced veterans alike. The ultimate guide to mastering deckbuilding in Magic: the Gathering, Next Level Deckbuilding covers everything from beatdown to control, Standard to Commander, and manabases to sideboards. Next Level Deckbuilding also breaks down Magic's sixteen basic archetypes using the revolutionary Deckbuilding Wheel, and walks through the colorful history of the game's greatest deck designers and what made them great.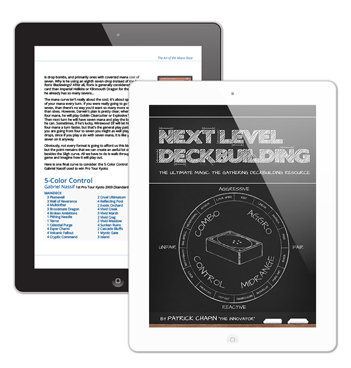 Next Level
Deckbuilding
by Patrick Chapin
"The Innovator"
472 pages
Downloadable PDF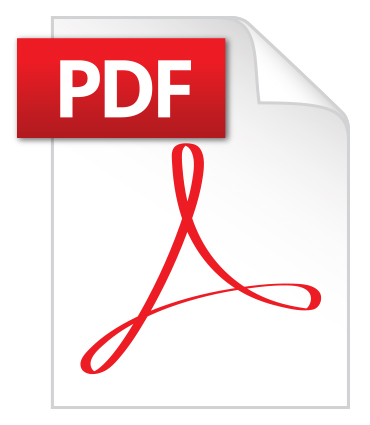 Video Feature

About the Author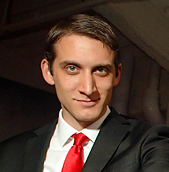 Award-winning author Patrick Chapin, "The Innovator," is a member of the Magic: The Gathering Hall of Fame class of 2012 and author of the widely popular Next Level Magic strategy guide. He is a four-time Pro Tour Top 8 competitor and the first player to Top 8 Pro Tours in three different decades. A renowned deckbuilder, Chapin is known for Next Level Blue, Cruel Control, Dragonstorm, Tezzeret, Grixis, U/W Control, Next Level Bant, Gifts, Aluren, Sligh, and countless other tournament-winning strategies.

Others about Patrick Chapin
"Patrick Chapin is quite simply one of the best, most innovative deckbuilders in the history of Magic."
-Jon Finkel, fourteen-time Pro Tour Top 8 competitor
"By far the most impressive thing about Patrick Chapin as a deckbuilder is his infinite range. From Sligh to Dragonstorm to Next Level Blue -- he understands what a strategy needs for it to be successful and how to make it happen. While others might limit themselves to a single strategy, Patrick didn't stop there."
-Gerry Thompson, Two-Time Grand Prix champion
"Patrick Chapin's skill at deckbuilding is rivaled only by his way with words. Nobody is more qualified to write this book. Chapin diving deep into his area of expertise is not to be missed."
-Josh Utter-Leyton, 2013 Player of the Year
"Patrick is not only an exceptional deckbuilder and theorist, he also has a knack for making it understandable. Often the 'why' is what improves your games."
-Bob Maher, Hall of Famer
"I've been playing Magic nearly 20 years — I've seen few who can match Patrick's sheer volume of powerful deckbuilding ideas."
-Chris Pikula, three-time Pro Tour 8 competitor
"When I think Patrick Chapin, I think this guy knows how to take a decent deck and turn it into a masterpiece, or better yet, take it to the Next Level."
-David Williams, World Series of Poker Finalist
"Patrick Chapin's skill at deckbuilding, lifespan of relevance, and list of co-builders is unparalleled in the game."
-Mark Herberholz, 2006 Pro Tour Hawaii champion
"Patrick Chapin takes the games most complex process and breaks it down step by step. Next Level Deckbuilding is a must read for anyone who plays competitive Magic!"
-Brad Nelson, 2010 Player of the Year
"I first met Patrick at my very first Pro Tour, New Orleans in 2001. He was paired against a good friend of mine in the last round of the Swiss playing for Top 16. My friend was actually playing a very innovative deck at the time, a black-red creation of Andrew Cuneo that posted very good results for their team. However, in terms of innovation, Patrick had them beat. Patrick was playing a combo deck that was centered around the enchantment Aluren, and it was so groundbreaking it actually went on to spawn an archetype for many years to come. I remember thinking this was one of the coolest decks I've ever seen, and that whoever built it must be a genius.
Well I didn't know Patrick well at the time, but twelve years and countless other innovations later, I can in fact confirm Patrick is a genius and one of the greatest constructed minds this game has ever seen."
-Osyp Lebedowicz, Pro Tour champion
"Patrick has always been one of my favorite people to talk to about Magic. As a fellow deckbuilder and as a student of the game in a broader sense, he has reaffirmed my better instincts while constantly pushing me to dig down to the next level of understanding. And Magic, more than any game ever, pays off the effort."
- Billy Moreno, Wizards of the Coast, R&D Member
"My first Pro Tour was Paris, and that's the first time I met Patrick. I knew of him and his infamous control decks but I never got to see one up close. Patrick ended up in the Top 8 of that tournament with a deck no one expected (Grixis)."
-Shahar Shenhar, three-time Grand Prix champion
"In the history of the game, there are few people who have understood Magic like Patrick Chapin does. Patrick not only understands Magic, but importantly, he knows how to explain it — one could call him the Neil Degrasse Tyson of the game."
-Adrian Sullivan, former editor of the first Magic strategy website
"Patrick Chapin is one of the greatest deckbuilders in Magic's storied history. The chance to get inside his head should not be passed up."
-William Jensen, four-time Pro Tour Top 8 competitor
"Patrick Chapin builds Decks That Matter, which is impressive enough, but it's the way he approaches deckbuilding that sets him apart. He's applied creative problem-solving techniques to solve all sorts of formats across three decades with his trademark mixture of analytic and intuitive understanding of Magic. There is no one alive more qualified to write a book about building better decks than Patrick Chapin."
-Patrick Sullivan, Mono-Red Master
"When I am doing coverage of a new (or established) Constructed format there is a short list of people that I check in on immediately for an exciting and effective decklist. Nobody has been on the list for as many years, through as many decades, as Patrick Chapin."
-Brian David-Marshall, Pro Tour Historian
"It's impossible to talk about Magic over the course of the last decade without mentioning Patrick Chapin. His decks have defined the landscapes of World championships, Pro Tours, and Qualifier Seasons, and his theoretical insight has shaped the way pros and novices alike play the game. He's truly one of Magic's all-time greats."
-Zac Hill, Former WotC R&D Member
"Patrick Chapin has what it takes to get your deckbuilding to the Next Level!"
-Andrew Cuneo, Inventor of Draw-Go
"Any conversation about the best deckbuilders in the game, past or present, includes Patrick Chapin. In a career spanning multiple decades, he's consistently built decks that have shaped the metagame, clearly demonstrating his expertise in the field."
-Luis Scott-Vargas, five-time Pro Tour Top 8 competitor
"Working with Patrick was a critical part of my first Pro Tours. I learned deckbuilding and selection lessons that have repeatedly been important since then."
-Ari Lax, Gold Pro
"Patrick Chapin is a constant inspiration. As a strategist he raises the bar; he is merciless at making everybody else look bad. As a writer he is transcendent, perhaps the best of us, and the proto-publisher. It is Patrick's mission in Magic to go down as the one who loved the game most; in Next Level Deckbuilding he takes yet another step in cementing that bragging right; I know of very few people who can teach you how to play -- or love -- this game better."
-Michael Flores, World champion deckdesigner
"While I was just getting into competitive Magic, Patrick Chapin was one of the major influences over my desire to be a deckbuilder. Over the years, he has continued to be just that for many other players while providing the tools to help them get there. Patrick Chapin has long been an authority on deck design, consistently designing successful and innovative decks. This book is a great opportunity to impart that knowledge on an ever-growing player base."
-Conley Woods, three-time Pro Tour Top 8 competitor
"Patrick's passion and excellence for Magic: the Gathering spans decades and has catalyzed #1 deck after #1 deck.
I remember when I met him at Pro Tour Dallas after he'd just made his first of many Top 8 appearances... when I talked with him I quickly realized that he "gets it" in a way that few do. And that fire has burned and burned through every imaginable circumstance through years and through decades."
-Mike Long, 1997 Pro Tour Paris champion
"Patrick is more passionate than anyone about Magic and it's history and community. Unique insights and experience make him a great teammate." -Jelger Wiegersma, Hall of Famer