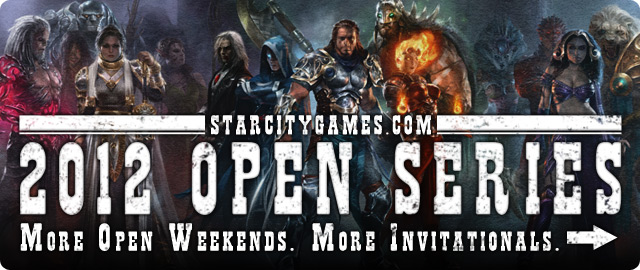 We're proud to announce the StarCityGames.com 2011 Open Series! We are appreciative of all the support we received for our 2010 Open Series – from players, judges, and the community at large – and we're making the 2011 Open Series even more awesome!

You read that right! StarCityGames.com will award over $500,000 in cash prizes over the course of the entire 2011 Open Series year. As part of this expanded prize payout, we are raising the prize payouts for each Saturday Standard Open to $6,400 per event!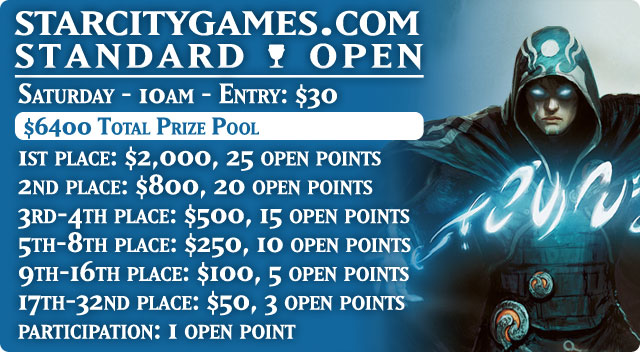 We recognize that playing 9+ rounds of Swiss makes for a long day of Magic, so starting with the 2011 Open Series events, we will be running the Quarterfinals of the Standard Event on Saturday night, and the Semifinals and Finals will be played on Sunday morning at 8 a.m..
StarCityGames.com remains committed to supporting the Legacy format, and we will continue this support in our 2011 Open Series! Each Sunday, we will run our Legacy Open event starting at 10 a.m. and featuring a total prize pool of $5,800!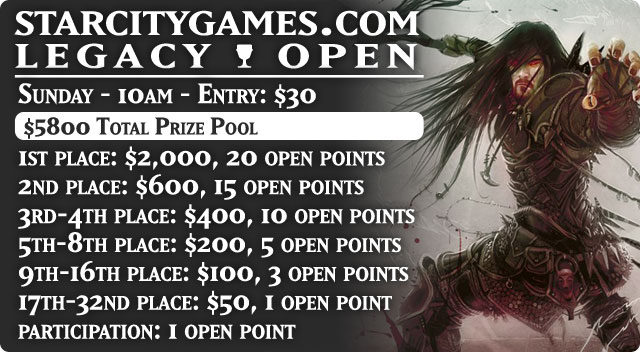 We will be adding two new Open Events to our Sunday schedule! We are proud to announce the StarCityGames.com Draft Open events! We will run two limit-64 player Booster Draft events on Sunday – the first starting at 9 a.m., and the second starting at 2 p.m.! Each event will be run as follows: Eight pods of 8 players each will do a booster draft. After three rounds, players with the best records will play in a second booster Draft, with the following prizes: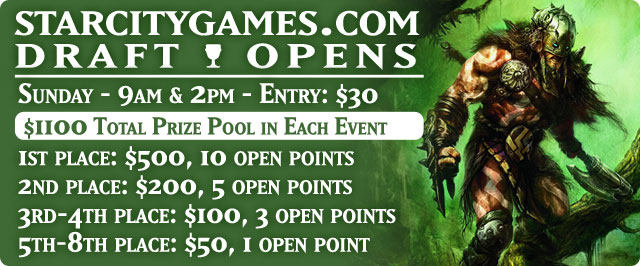 Sign-ups for the Draft Opens will be taken starting at 8 a.m. on Sunday. We will provide a place where players can line up to sign-up for the event, and players will be registered on a first-come, first-served basis.

In addition to the big prizes offered up at each event, we also offer Open Points to participants and high finishers. Players can accumulate Open Points over the course of the entire 2011 Open Series, earning levels in the StarCityGames.com Player's Club and all the rewards that come with it. At the end of 2011, two of the year's strongest players will win the Player of the Year and Rookie of the Year titles!



The 2011 Open Series includes all events starting with the Open Series events in Richmond, Virginia on December 4-5, 2010, and running through the StarCityGames.com Invitational in Charlotte, NC on December 10-11, 2011. The Open Series events held alongside the Invitational in Charlotte on December 10-11, 2011 will be the first events counting towards the 2012 Open Series.
Questions?
Please email us at: events@starcitygames.com

This year, the StarCityGames.com Open Series will be divided into two Invitational seasons! The first Invitational Season will culminate in Indianapolis, IN, on the weekend of June 3-5, 2011. The second Invitational Season will finish up in Charlotte, NC, on the weekend of December 9-11, 2011. Each StarCityGames.com Invitational tournament will award $50,000 in cash prizes!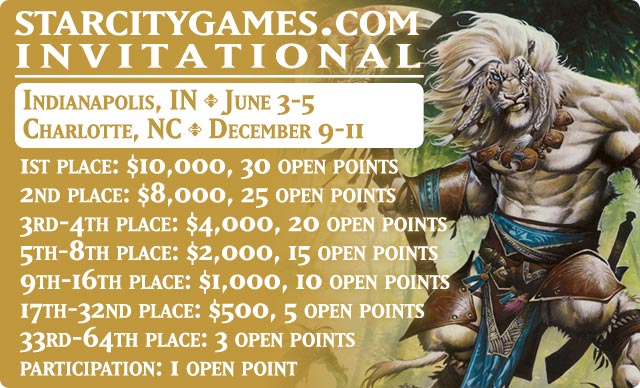 Last December, Invitational players battled through 15 rounds of Standard before the top 8. In 2011, StarCityGames.com Invitational players will need to bring a more diverse set of skills to the table. Players can now qualify through different formats - and it is only fair if those different skills are tested in the culminating events!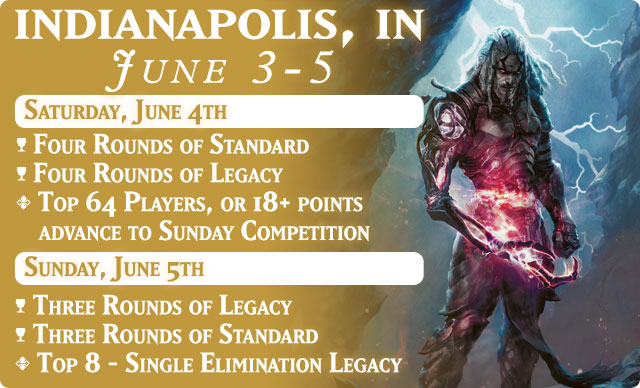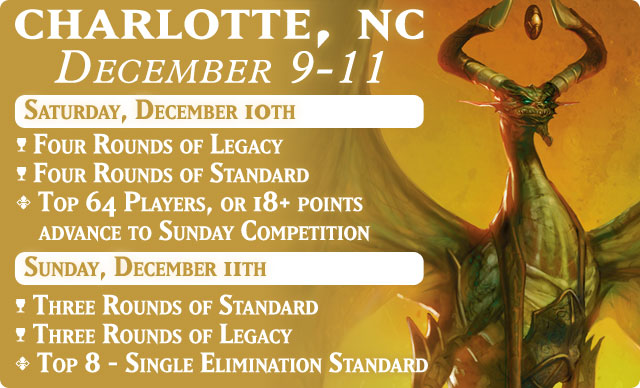 Last year, qualification for the Invitational was based on Open Points. This year, we've simplified the system! Here's how you can qualify for a StarCityGames.com Invitational tournament:


Questions?
Please email us at: events@starcitygames.com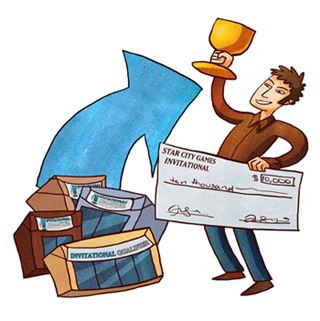 2012 features four Invitationals! Each region (West Coast, Central US, North East, and South East) will play host to one event, which means that there will be at least one closer to you! StarCityGames.com Invitationals are among the biggest and best events in Magic, and Invitational Qualifiers are one of the best ways to get in on the action. The only other ways to qualify are by making the Top 8 of an Open or by achieving the higher levels of the StarCityGames.com Player's Club.
The top players in the IQs will now also earn Player's Club points! 1st place will receive 2 points, and 2nd place will receive 1 point. For Super Invitational Qualifiers 1st will receive 4 points, 2nd will receive 2, and 3rd-4th will receive 1.
In addition to the Player's Club, an Invitational Qualifier is a great place for you to earn more Planeswalker Points. Each IQ is a WPN Premium Qualifier and will feature a 2x multiplier.
Prizes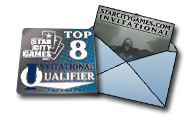 1st Place: Qualification for the StarCityGames.com Invitational*, Travel Award, T8 pin
2nd Place: 24 Packs of Current Set, T8 pin
3rd-4th: 12 Packs of Current Set, T8 pin
5th-8th: 6 Packs of Current Set, T8 pin
*Qualification may be used for any one (1) StarCityGames.com Invitational in 2012
Super Invitational Qualifiers

Super Invitational Qualifiers offer prizes including a MINIMUM of $1,000.00 in cash, a T8 pin, and a custom T8 playmat designed by Justin Treadway. In addition, the top two finishers will earn a qualification slot to their choice of a StarCityGames.com Invitational happening that year! Check out our calendar or forums for information on upcoming Invitational Qualifiers and Super Invitational Qualifiers near you!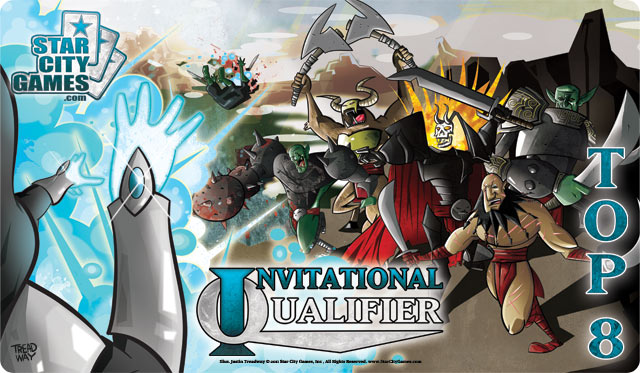 Exclusive Top 8 Playmat Featuring Art By Justin Treadway!
Attention Game Store Owners!
If you are a WPN Advanced location, you are eligible to host a StarCityGames.com Invitational Qualifier (SCG IQ)! SCG IQs are designed to make you money, increase in-store traffic, energize your local Magic community, and offer players a chance to qualify for the StarCityGames.com Invitational at your store! But don't take our word for it…
"StarCityGames.com events are a proven quantity and I can't begin to express how pleased I was with my Invitational Qualifier."
- Rick Ralsten, Time Capsule (Chester, VA)

"I'm friends with the owner of the store here in Charlotte who ran one this past weekend. He got 47 players (so he made money on entries alone), only about 1/3 of which were his regular players. Matt used the opportunity to push upcoming events and sales promotions. He had two separate drafts, did pretty well in snacks and constantly had a line of people buying singles. Although again, he did make money on the event alone so you could view it as a marketing program that also makes money."
- Trevor McGregor
2012 will also bring more ways to highlight and promote your store through the IQ Program! Instead of just submitting a photo of your winner, you can send in as many photos of your event as you like! Grab quotes from customers, make a short write up…anything you like. We'll be compiling all this information in a central location. In addition, we will be selecting stores that are going above and beyond to provide their players with an outstanding experience and featuring them in our IQ Spotlight, which will contain all the items above along with more detailed information about your store!
Last, but not least, we will be making special IQ Promotional Kits available to each Invitational Qualifier host!
Once you successfully run a StarCityGames.com Invitational Qualifier, bigger and better Organized Play opportunities await in the form of StarCityGames.com Super Invitational Qualifiers (SCG Super IQs), so if you're a PTOs or store owner, and would like to host a StarCityGames.com Invitational Qualifier, please contact us @ SCGIQ@starcitygames.com, and we'll be happy to assist you!
More Info!
All StarCityGames.com Invitational Qualifiers are advertised at http://www.starcitygames.com/IQ and on StarCityGames.com's Facebook page. StarCityGames.com Invitational Qualifiers occurring on the upcoming weekend are spotlighted on the front page of StarCityGames.com. After each StarCityGames.com Invitational Qualifier, T8 decklists from that event are posted on StarCityGames.com so that players can follow the metagame as it continues to evolve!
StarCityGames.com organized play… bigger, better and now coming to a store near you!
Questions about StarCityGames.com IQs? Please e-mail SCGIQ@starcitygames.com

Last year, StarCityGames.com Open Points were only used to keep track of the Player of the Year. This year, we are rewarding you for attending and finishing well at StarCityGames.com Open Events! We're proud to introduce the StarCityGames.com Open Player's Club!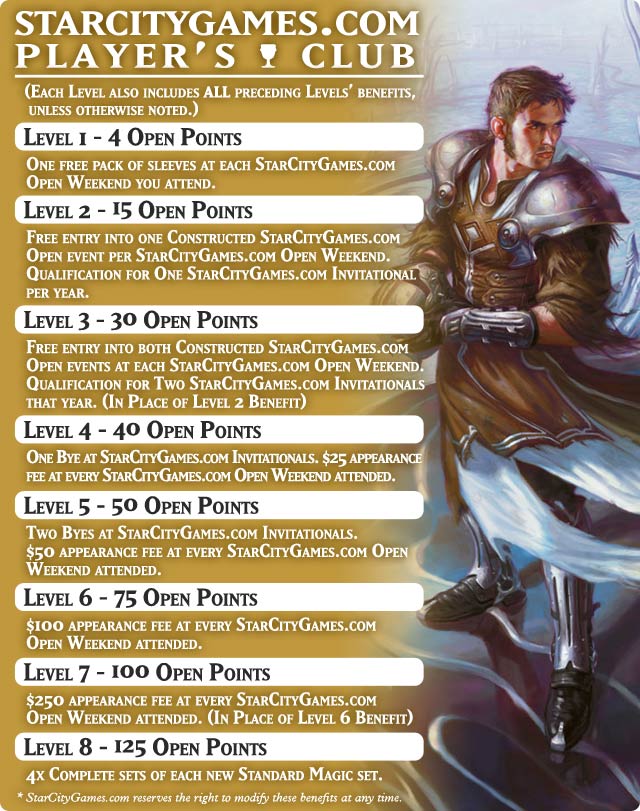 If you make Level 8 of the StarCityGames.com Player's Club, you receive 4x copies of each new Standard Magic set, a $250 appearance fee at each StarCityGames.com Open, two byes at StarCityGames.com Invitationals, free entry into the StarCityGames.com Standard and Legacy Open tournaments each Open weekend, qualification for two StarCityGames.com Invitational tournaments that season, and a free pack of sleeves at each StarCityGames.com Open Weekend!
Points will reset at the beginning of each StarCityGames.com Open year. Once you have reached a level, you will be conferred the benefits of that level into the next Open year! For instance, if you earned 40 Points during the 2010 StarCityGames.com Open season, you will start 2011 at zero points, but will have all of the Level 4 benefits locked in for all of 2011 – $25 appearance fee, 1 Bye per Invitational, free attendance to the two constructed Open events each Weekend, automatic qualification for both Invitationals in 2011, and a free pack of sleeves at every Weekend you attend!
Player's Club levels for the 2010 season will be locked upon the completion of the StarCityGames.com Open Weekend in Boston, MA, November 6-7, 2010. Points will be reset starting with the StarCityGames.com Open Weekend in Richmond, VA, December 3-5, 2010. Players will be able to take advantage of their Player's Club benefits starting with the StarCityGames.com Open Events in Richmond, VA, December 3-5, 2010. Points earned during those events will count towards the 2011 standings.
Questions?
Please email us at: events@starcitygames.com
Watcha doin?
NM, just fillin some space.

SCGLive is the new name for all StarCityGames.com Live Coverage. Whether it's written or broadcast live, it'll be brought to you by the professionals at SCGLive.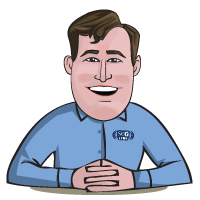 Age: 23
Location: Roanoke, VA
Occupation: Coverage Content Manager for StarCityGames.com
When did you start playing Magic? I started playing in 1998.
Favorite format: I love Cube Draft above all others.
Accomplishments: Day 2 at GP Daytona Beach, Tampa, Atlanta, and DC. Q'd for PT Kyoto, Honolulu, and Amsterdam. Punted a lot of important matches along the way.
Twitter handle: @SecludedGlenn
Favorite color of mana: I like to taste the rainbow.
Favorite deck: Whatever is winning. I do often avoid linear aggressive strategies.
Most memorable game of Magic you've won: Casting Splinter Twin on a Haze Frog in ROE draft remains one of my favorites.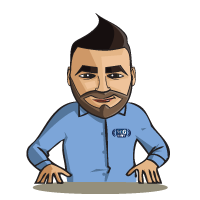 Age: 30
Location: Baltimore, MD
Occupation: Television Production / Management
When did you start playing Magic? January 1995
Favorite format: My traditional answer to this has always been Standard, due to it constantly being refreshed with new sets. However, the allure of Legacy has been drawing me in recently. Ask this question again in 6 months, and my answer may very well be Legacy.
Accomplishments: Being one win away from Day 2 of GP DC. My major accomplishment outside of the game itself is certainly the creation and promotion of the Yo! MTG Taps! podcast along with my co-host, Bigheadjoe.
Twitter handle: @AffinityForBlue
Favorite color of mana: Blue!
Favorite decks: Mystical Teachings (TSP/LOR Standard), Faeries (LOR Block), MUC (Mirrodin/Kamigawa Standard), U/W Control (post-WWK PT San Diego 2010)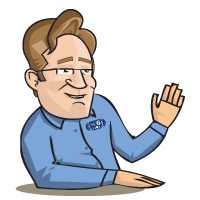 Name: Adrian Sullivan
Age: 34
Location: Madison, WI
Occupation: PhD Student in Media and Cultural Studies / freelance writer
When did you start playing Magic? Late 1993, with Beta. So at this point, it's been over seventeen years!
Favorite format: Legacy. You can basically play anything, so long as it is rational. If you're good with your deck and your deck is reasonable, you can succeed.
Accomplishments: 2 State Championships, 19 PTs, and Worlds. For GPs, I have 9 Top 64s with Top 32s in Kansas City, Columbus, and Madison, and a Top 8 in GP Memphis. I finished Top 64 of PT Rome and Hollywood, Top 16 at US Nationals, and tied for Top 8 at PT NY '99.
I've qualified people and made them money at Pro Tours with my decks going all the way back to a Pox deck for ALICE (Ice Age/Alliance) Constructed. My most noticed decks include: Counter-Oath (US Nationals 1998), U/G Control ("The Baron"), Necro-Naught, Corrupter Black, and Eminent Domain (Annex-Wildfire), among many others.
Community-wise, I've been writing about Magic since the early, early days, somewhere around 1997. I've worked for Wizards of the Coast, the Dojo, and many more publications.
Twitter handle: @AdrianLSullivan
Favorite colors of mana: 1. Blue/Green, 2. Mono-red 3. Anything not white... white is the worst (boringest) color.
Favorite decks: I like decks that demoralize my opponents or that they don't understand. If they get out of the game mentally, there are so many ways that the game ends.
Most memorable game of Magic you've won: In game 3, playing for Top 8 of PTNY, my opponent overextended his green creatures, knowing that there was no reasonable way I could punish him for it. I didn't block with my lone Viashino Heretic and went down to 3 life. I dropped a Phyrexian Tower, sacrificed my Viashino Heretic, and cast Wildfire out the board with my fifth land, leaving my opponent, Pro Tour Villain Trey Van Cleave, with nothing. I won the match, Mike Flores started shrieking with joy up and down, and I just smiled and waited to see if I made Top 8. Sadly, I missed out on breakers...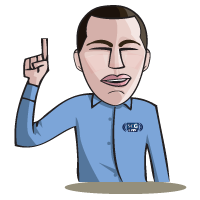 Age: 21
Location: Seattle, WA
Occupation: Professional Magic player, writer, and SCGLive commentator; looking for work as a game designer/developer
When did you start playing Magic? January 2001
Favorite format: Extended. While many players dislike Extended, I find the wider, yet restricted, cardpool to provide more exciting interactions and deckbuilding tools than Standard. However, unlike Legacy, the format is constantly rotating, changing the entire landscape from year to year. The 2011 Extended format isn't the greatest, but go back and look at the 2010 and 2009 Extended formats, and you'll find some of the most interesting formats of all time.
Accomplishments: Pro Tour Yokohama 2007, Berlin 2008, Hawaii 2009, and San Juan 2010. 16 Grand Prix with a Top 16 at GP Los Angeles 2009 and a top 64 at GP Houston 2010. Invited to the 2010 Wizards Community Cup. Pioneered several deck archetypes, including Standard Reveillark and Vampires as well as Extended Elves and Guess Who. 15 PTQ Top 8s. Paid for college almost entirely with Junior Super Series winnings.
Twitter handle: @GavinVerhey
Favorite color of mana: Let me put it this way: if I were a land, I'd be Vivid Creek. I'm preferential to blue mana, but I'll deal with any other kind when necessary.
Favorite decks: U/W Reveillark, U/B Faeries, U/B Guess Who.
Most memorable game of Magic you've won: On the way to my first PTQ victory, Rashad Miller went off with his Mind's Desire combo deck for over half of his library, hit almost all lands, fizzled, and then I won on the following turn. I don't think I'll ever forget that.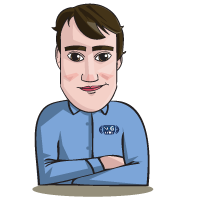 Age: 25
Occupation: Homemaker
When did you start playing Magic? 1995
Favorite format: Limited / I enjoy the actual draft more than playing any format. :)
Accomplishments: Pro Tour San Diego 2007 Champion, Author of Building on a Budget. I've designed a lot of decks...
Favorite color of mana: Blue
Favorite decks: Cloudstone Curio Elves, Pyromancer Ascension, and UW Nolark.
Most memorable game of Magic you've won: I was in the finals of a PTQ playing Cloudstone Curio Elves. It was game three. I knew my opponent had Path to Exile in his hand because he had revealed it with his Dark Confidant. He had one white mana open. I would die if I passed the turn. I had Heritage Druid, Llanowar Elves, and Cloudstone Curio in play with plenty of Forests and a Stomping Grounds. After my drawstep, I had Essence Warden and Heritage Druid in my hand. I cast my Heritage Druid, put the Cloudstone Curio trigger on the stack, tapped all three Elves for mana, and returned the Llanowar Elves to my hand with the Curio. I recast the Llanowar Elves and returned a Heritage Druid to my hand; I recast that and returned the other Heritage Druid to my hand; I recast that Heritage Druid and put the Curio trigger on the stack. I tapped the three for mana.
I stopped, "I've demonstrated that I can create infinite storm. May I create infinite storm? Do you have any effects?"
My opponent, knowing I had a copy of Grapeshot in my deck, shrugged, "Path to Exile targeting a Heritage Druid."
I searched for my land, cast my Essence Warden, and proceeded to gain a few trillion life. Very memorable.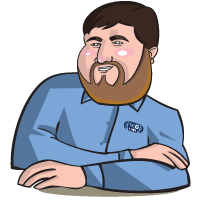 Age: 24
Occupation: Pro Magic Player
Location: Fargo, ND
When did you start playing Magic? 2003
Favorite format: Block
Accomplishments: 2 PT Top 8s, 4 GP Top 8s, 2 Nationals Top 8s, 2011 Pro Player of the Year
Twitter handle: @fffreakmtg
Favorite color of mana: Green
Favorite decks: Doran/proactive strategies
Most memorable game of Magic you've won: Player of the Year playoff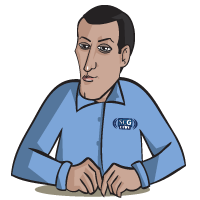 Age: 30
Location: Milwaukee, WI
Occupation: Professional Magic Player
When did you start playing Magic? 1994 (17 years playing)
Favorite format: New formats that aren't yet on Magic Online; I like dynamic formats; change is more relevant to me than which sets are legal.
Accomplishments: Top 8 Pro Tour Paris 2011, Finals World Championships 2007, Top 8 Pro Tour LA 1999, Top 8 Pro Tour NY 1997, lots of random stuff like Type 1 Champ 2002, 3rd in Junior Pro Tour Dallas 1996, State Champ 1999, Finals Grand Prix Milwaukee 2002. Known for countless decks, including most recently Cruel Control, Next Level Blue, Mono-R Dragonstorm, U/W Control, Grixis Tezzeret, Next Level Bant. Only player to Top 8 Pro Tours in three decades.
Twitter handle: @thepchapin
Favorite color of mana: Blue
Favorite archetype: Control
Most memorable game of Magic you've won: Probably hitting blind with Counterbalance four times in a row to lock up Top 8 of Worlds in 2007, but my most memorable game is certainly the game four that I lost to Nassif in the same event (though I did win the match).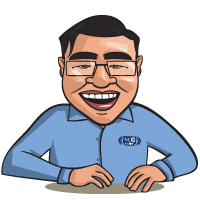 Age: 35
Occupation: Marketing Director
When did you start playing Magic? 1994
Favorite format: Ravnica Block Constructed... Lots of reasons. It was during Ravnica Block that I got my best-ever practice in. We brought Jonny Magic back to Magic (he exercised his Hall of Fame invite for the Pro Tour) and created a great testing community around NY and NJ for that Pro Tour, and ultimately helped to invent FinkelDraft. Also the Ravnica Block PT was my best ever individual performance (would have been good enough for a Top 8 in an individual Pro Tour). Also this might have been my height as a deck designer. I wasn't as inspired as Tsuyoshi, but I was very good at reading the metagame and wasted essentially no space. Ravnica Block was just a perfect storm of friendship, personal accomplishment, and ability that is hard to match for me.
Accomplishments: New York State Champion, 11,000 Twitter followers
Twitter handle: @FiveWithFlores, @FloresRewards
Favorite colors of mana: Blue
Favorite archetype: anything tapout control
Most memorable game of Magic you've won: When I beat Jonathan Rubin (AngelFire mirror) to win my semifinal match in the NY State Championship I won, that was about the best match of Magic I have ever played. I realized I was going to deck him around turn three when he played Whispers of the Muse, Think Twice, and Remand (three cards that drew cards that I didn't play); so I played like I was struggling and behind the entire game. I was in fact behind on "card advantage," but I knew he actually had less "stuff" in his deck because of all the card drawing, and all I had to do was make sure I wasn't dead, and I could actually out-card him if we both saw sixty. Asher Hecht (who would go on to be a GP and SCG Open Series Top 8 competitor and who was gunning to be Apprentice #1 at the time) was bedazzled by how well I played that match and was, for a short time only of course, enamored of my actual game play capabilities. This was coming off my PT Charleston performance, and I was playing pretty well at the time. Then my second child was born, and I haven't won a tournament since... until just last month :)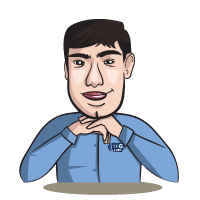 Age: 20
Location: Seattle, WA
Occupation: Student
When did you start playing Magic? I began sometime between Ice Age and Mirage.
Favorite format: Kami/Rav Standard (pre-Coldsnap and Counter-Top). So many awesome decks that were all viable.
Accomplishments: 3 GP Top 8s (Seattle '09, Nashville '10, Atlanta '11), PT Top 16 (Kyoto '09), and been on the train since then (PT Honolulu, Austin, Rome Worlds, San Diego, San Juan, Amsterdam), SCG Open DC Top 4, responsible for the post-Mystical Tutor U/B Storm decks in Legacy and the popularization of Dinosaurs as a draft archetype in Scars.
Twitter handle: @armlx
Favorite color of mana: U/B
Favorite deck archetypes: Aggro-control and combo, notably Faeries and Storm
Most memorable game of Magic you've won: Ripped the second Island against Adam Yurchick to Cancel my way on to the Pro Tour (hit his Battlegrace Angel).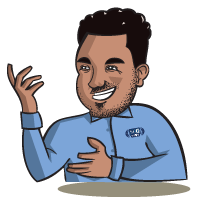 Name: Gerard Fabiano
Age: 27
Location: Belleville, NJ
Occupation: Student/Proooooooooo/CEO at 3thingstoknow.com
When did you start playing Magic? 1997
Favorite format: 2HG, I really like team formats, and this one is the most fun.
Accomplishments: Top 4 PT Boston 2002, Won GP Philly 2008, Top 8 USA Nationals 2010, 4 other GP Top 8s
Favorite colors of mana: Black
Favorite decks: Rock decks, Hymn to Tourach, Cabal Therapy, Duress, Thoughtseize, Gerrard's Verdict
Most memorable game of Magic you've won: Honestly, the best ones you don't remember, but they both happened at PT Charleston 2006 (Team PT).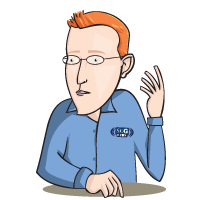 Age: 24
Location: Springfield, MA
Occupation: Sales Manager
When did you start playing Magic? 1999 - right when Urza's Saga was released
Favorite format: Before the change from seven to four years, it was Extended. Now that it's just double Standard though, Legacy has taken the title for me. I like the variety of decks and all the wacky cards and interactions you get to witness.
Accomplishments: I have cashed 8 out 10 Pro Tours I've played in, and I have one GP Top 8. I also have the honor of being Gerard Fabiano's 3rd biggest fan (behind his mother and Ben Lundquist of course). I suppose this is where I'm obligated to mention I lose bets and do stupid things too.
Twitter handle:@zchall
Favorite color of mana: Blue, with the power of the Mountains being a distant second.
Favorite decks: Jushi Blue, Pattern Husk combo, Burning Bridges, which I played at my first tournament, Aluren, and U/G Urzatron.
Most memorable game of Magic you've won: Playing with Faeries against Olivier Ruel with Quick 'n' Toast on Day 1 of PT Hollywood; our epic game three saw him go through 3 Wispmares, 2 Cloudthreshers, and about 2/3 of his library. I had all 3 Bitterblossoms in my graveyard along with all 3 Cryptic Commands and had used almost all of my relevant cards. I then resolved my Ancestral Vision while facing down his third Thresher and what was most likely another Cryptic in his hand. I drew my 4th Bitterblossom, a removal spell for his Thresher, my fourth Cryptic Command, and a Mutavault to win a memorable game against the Hall of Famer.
SCGLive – The Future of Magic Coverage
The world of Magic coverage has stayed largely the same for years now, and we aim to change that. SCGLive is a new initiative into the world of professional live broadcasting, up-to-the-minute Twitter updates, and text coverage of every important match. Using the power of StarCtiyGames.com combined with the efforts of our commentators and Glenn Jones, this year's Open Series Coverage is going to reach all-new heights.
Questions?
Please email us at: events@starcitygames.com