On July 16th–17th, Get the Latest StarCityGames.com Creature Collection Playmat at YOUR Prerelease!
For years, StarCityGames.com has created exclusive Creature Collection playmats to offer at our own Prereleases. If we had any leftovers, we'd offer them on our website the following Monday and often sell out extremely quickly.
For July 16th–17th's Prerelease, we've expanded this promotion to our In-Store Program Organizers, each of which now has the opportunity to offer our same exclusive Creature Collection playmat to their Prerelease attendees as well!
These exclusive Creature Collection playmats may be offered as participation items, early registration incentives, door prizes, prizes based on finish or in whichever way the organizer wishes to use them to enhance their own Prerelease experiences.
Take a look at the exclusive Creature Collection playmat we've created for July 16th–17th's Prerelease—and prepare to get your Eldritch Groove on with Lilillama Vess!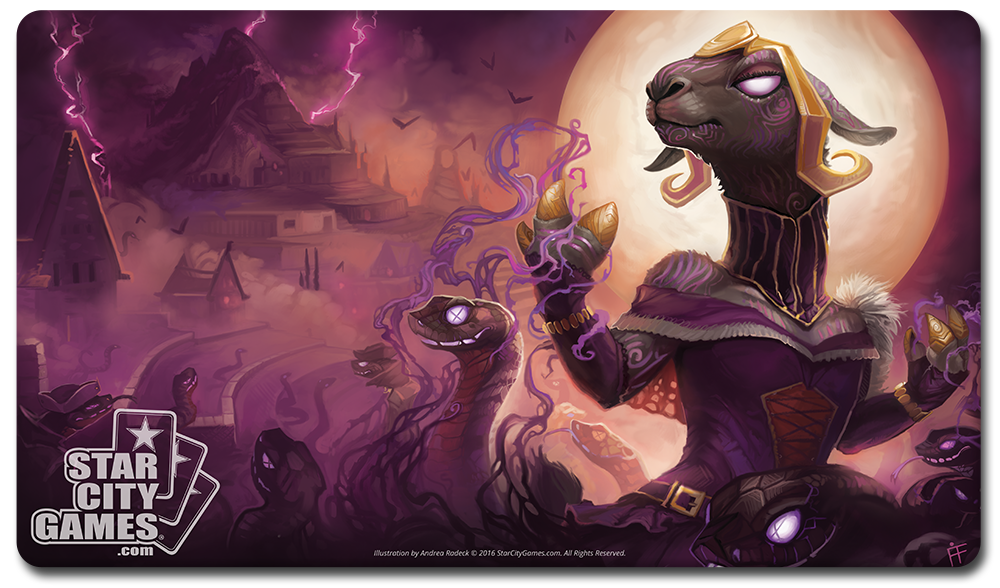 Participating Locations
Wondering where you can get your hands on this exclusive Lilillama Vess playmat near you? Please use the map below to find a participating In-Store Programs Organizer near you, then click on their location marker for more information about that specific event:
Didn't see your favorite store on the list? Please let the owner/manager know that you're interested in this promotion, then ask them to email isp@starcitygames.com to learn more about becoming involved StarCityGames.com's In-Store Programs and our next Prerelease playmat promotion!
Thank you and have fun at whichever Prerelease you choose to attend on July 16th–17th!