SCGLive is the umbrella under which StarCityGames.com presents live coverage of major Magic the Gathering events such as Open Series, Invitationals and select Grand Prix.
Cedric Phillips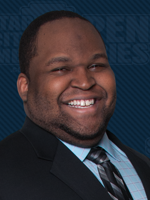 Twitter: @CedricAPhillips
Age: 27
From: Seattle, WA
Occupation: Online Content Coordinator for StarCityGames.com
Cedric Phillips lives and breathes Magic. With two state championships, a staggering eleven Pro Tour Qualifier Wins, two Grand Prix Top 8s, and an appearance on the Sunday stage at Pro Tour Kyoto, he's experienced success at every level competitive Magic has to offer. Now he's turning his attention away from playing and towards pushing the game into the mainstream as the Online Content Coordinator for StarCityGames.com and the voice of the StarCityGames.com Open Series.
Patrick Sullivan
Twitter: @BasicMountain
Age: 32
From: Carlsbad, CA via Hillsborough, NJ
Occupation: Game Designer for Stone Blade Entertainment
Perhaps best known for his infamous 'Red Box' and his love of burn spells, Patrick sharpened his Magic skills as one of the original members of the legendary Team TOGIT. He is also a noted deck designer and developer, skills he uses today not only as a Magic pro but also as as a game designer for Stone Blade Entertainment working on creating and improving games such as Ascension and SolForge. To date, Patrick has 4 Grand Prix Top 8s and a slew of StarCityGames.com Open Series finishes including a Standard Open win, 2 Legacy Open Top 8s, an Invitational Top 8, and 2 Draft Open Wins.
Matthias Hunt
Twitter: @MtGMatthias
Age: 28
From: Saint Paul, MN
Occupation: Magic writer
As the 2011 Rookie of the Year and a Magic Pro Tour stalwart ever since he grinded his way onto the Pro Tour as a PTQ winner, the man in the driving cap knows his way around a Magic tournament. With a Top 16 finish at Worlds and an additional Pro Tour Top 32 already on his résumé, Matthias has shifted his focus and has since become one of Magic's preeminent voices in articles, podcasts, and commentary.