Gerry had some leisure time during the byes to hang out with his best friend--Hapless Researcher.
Gerry fell shy of the Top 8 after a great start yesterday but our resident grinder is no stranger to "the next tournament." Gerry posted consistent solid Legacy finishes throughout 2010 in Legacy even breaking the format with his Necrotic Ooze Survival deck. Survival's gone and now Gerry needed to craft a new weapon. Naturally he turned to an old favorite—Reanimator.
"Gerry 'Hapless Researcher' Thompson!" Alex Bertoncini crooned and he wasn't far off. Gerry's love of the little man is well-documented. "Sadly I had to cut one" he admitted. "I'm only playing three." Making Reanimator work in a world without Mystical Tutor has been something of a trial for many players and Gerry was looking for a new card to add to the engine. "John Cuvelier was playing with Goblin Welder and he was having some success. I thought about playing with his deck but the Welders didn't seem very good" Gerry said. "There also aren't enough artifacts in the deck."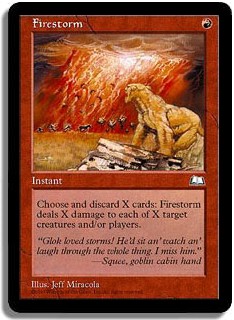 Expecting a format filled with the usual creature decks Gerry wound up turning to a peculiar card that has seen considerable play in tournaments past: Firestorm. "The problem now is kind of just finding ways to get the creatures in your graveyard" he said. "I actually thought about playing something like Lightning Axe!" Firestorm's utility in a field expecting to see a surge of Zoo Merfolk and Goblin popularity seems like a powerful tool.
With the core of his deck mostly set in stone already all that was left for Gerry was to select his fatties of choice. Iona Shield of Emeria was his go-to choice for a fatty. "I have three Iona" he said. "With no Mystical Tutor you kind of need to draw the right fatty in the right matchup to discard. Iona's the one that is good enough against the field rather than having to Reanimate a Sphinx against Counterbalance where it won't do anything." Of course the traditional bullets are also present to handle particular situations. "I also have Terastodon Blazing Archon Sphinx of the Steel Wind and Inkwell Leviathan."
Many people thought that Legacy might be the format most affected by the addition of the Player's Club and its byes but Gerry didn't really take that into consideration in choosing his deck. Alex theorized that it would allow decks that needed to dodge Zoo some additional leeway (aka Merfolk) but Gerry didn't think it was that big a deal over 8 rounds. Two free wins is enough—overrating any additional edge probably didn't seem promising.