Ben's been slipping these creatures into play with the powerful Birthing Pod en route to a 4-0 record.
Olivier Ruel rolled into French Nationals with a Bant Birthing Pod list and carved his way through the Swiss into the elimination rounds, losing in Top 8 to eventual champion Armel Primot. Olivier, citing the deck as fun to play, didn't seem to regret his choice. Upon seeing the deck, Ben Isgur immediately took a shine to it.
A competitive player in other games, Ben recognized all of the elements of a successful strategy in Oliver's list. "It can do a lot of incredibly synergistic things that makes it seem almost like a combo deck," he explained. "With Sun Titan and Birthing Pod, you can just Stone Rain people a billion times."
For those unfamiliar with the archetype, Sun Titan has gained a very powerful new friend in Phantasmal Image. Now you can use two Tectonic Edges a turn by copying the Titan, or simply bring back an Acidic Slime over and over. "The most ridiculous thing you can do is 'jump' a Solemn Simulacrum with Birthing Pod into Acidic Slime, and then Phantasmal Image the Acidic Slime," Ben explained. "Then you can eventually Sun Titan the Phantasmal Image back into play."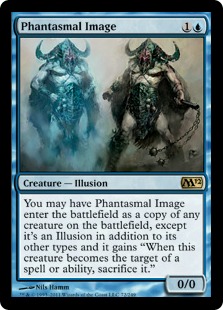 Truly, Phantasmal Image may be the instigator in a Sun Titan revolution. "There are just a lot of different things you can do with Sun Titan," Ben said. "I wanted to run a third Phantasmal Image, but it's hard to find space for it."

One of the reasons Ben has had trouble figuring out the exact right build is he adapted the deck on the fly from Ruel's list, in addition to slimming it down to sixty cards—a consummate professional. "Ruel didn't play Cobra, he played Viridian Emissary instead," Ben said. "I think Cobra gives the deck a lot more surprise factor. Turn 3 Acidic Slime is always going to be good." The explosiveness granted by Cobra comes at the cost of a two-drop that can be transformed into Sea Gate Oracle for value—but how valuable is that?

"I also added Emeria Angel, because it's really good against the Caw-Blade decks." With Caw-Blade on the rise, most decks are immediately evaluated based on their matchups against that archetype. How does Ben thinks his goes? "It physically reaches over and strangles the Spagnolo/Flores version that won Seattle," Ben said, and he'd just finished proving it on SCGLive. "I got really good draws that round, but he had no real shot at winning either game without doing ridiculous things and me drawing bad cards." The Cincinnati-winning deck is less favorable, but still a reasonable matchup. "People are moving away from the blade splicers and heroes, and that makes it easier."

The top end of Ben's deck curves past Sun Titan into Elesh Norn, Grand Cenobite—a veritable bomb. Even sicker is using Birthing Pod to turn a Wurmcoil Engine into the Praetor. "She's pretty ridiculous," he said. "All the aggro decks can't beat her—most of them are just running Dismember and Dispatch, and they can't Dispatch her effectively." Elesh Norn grants the deck a different dimension in the endgame, offering a way to win that doesn't require you to race or grind out points of damage over a long game. "Generally, the deck just builds to Stone Rain them a lot. It's a deck about incremental advantage—once you're in a position where you feel safe putting Elesh Norn on the table, you put her on the table."

Ben's weakness is obvious. "Opposing creatures," he sighed. "I cannot kill them!"
Bant Pod
Featured by Ben Isgur on 2011-07-31 ()
As written about in http://www.starcitygames.com/php/news/article/22431.html
Print this deck!

---

Maindeck:

Artifacts
4 Birthing Pod

Artifact Creatures
2 Phyrexian Metamorph
1 Solemn Simulacrum
1 Sylvok Replica
1 Wurmcoil Engine

Creatures
2 Acidic Slime
4 Birds of Paradise
2 Emeria Angel
2 Llanowar Elves
4 Lotus Cobra
1 Obstinate Baloth
2 Phantasmal Image
1 Razor Hippogriff
4 Sea Gate Oracle
1 Sun Titan



Legendary Creatures
1 Elesh Norn, Grand Cenobite

Sorceries
4 Preordain

Basic Lands
4 Forest
2 Island
1 Plains

Lands
4 Misty Rainforest
4 Razorverge Thicket
3 Seachrome Coast
3 Tectonic Edge
2 Verdant Catacombs

Sideboard:

2 Spellskite
2 Obstinate Baloth
3 Viridian Corrupter
4 Flashfreeze
4 Nature's Claim


---

Stats:
Average mana: 1.85
Average creature mana cost: 3.14
Average creature power: 1.72
Average creature toughness: 2.17

Deck Composition:
Artifacts: 6.67%
Artifact Creatures: 8.33%
Basic Lands: 11.67%
Creatures: 38.33%
Lands: 26.67%
Legendary Creatures: 1.67%
Sorceries: 6.67%


---

---

---