Anaba Ancestor
Card Type: Creature

Creature Type: Minotaur Spirit

Power/Toughness: 1/1

Casting Cost:

Card Text: ocT: Target Minotaur gets +1/+1 until end of turn.

Oracle Text: Tap: Another target Minotaur creature gets +1/+1 until end of turn.

Flavor Text: "The Ancestors are the wisdom of the tribe and the soul of the Homelands. I am eternally in their debt."
—Taysir

Artist: Anson Maddocks

Rarity: Rare


Anaba Bodyguard
Card Type: Creature

Creature Type: Minotaur

Power/Toughness: 2/3

Casting Cost:

Card Text: First strike

Oracle Text: First strike (This creature deals combat damage before creatures without first strike.)

Flavor Text: "Not all minotaurs are tribal. Some are freelance."
—Eron the Relentless

Artist: Anson Maddocks

Rarity: Common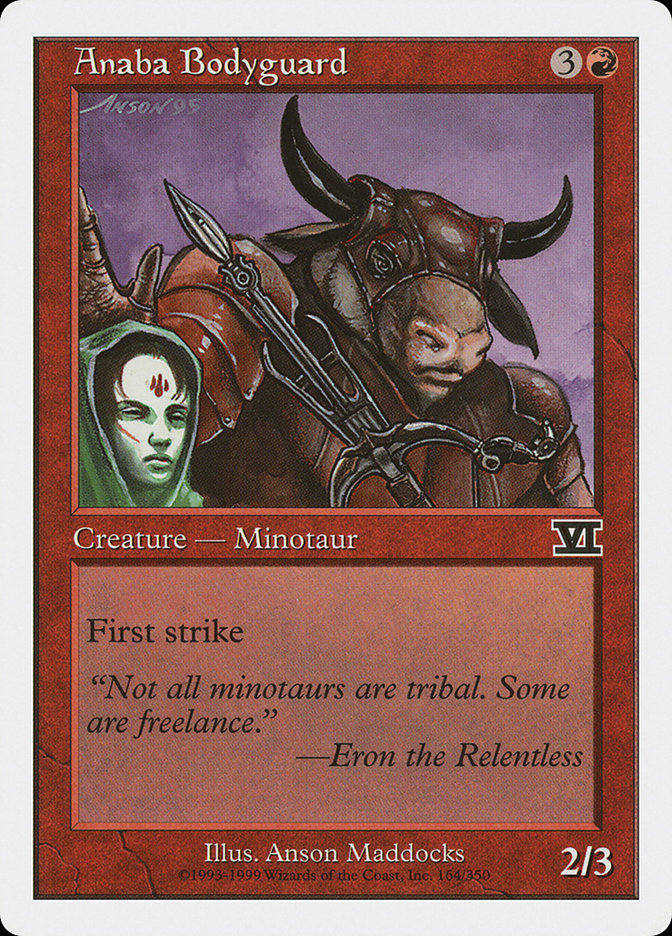 Condition: NM/M



Price: $0.15


97 in stock



Anaba Bodyguard (Alone)
Card Type: Creature

Creature Type: Minotaur

Power/Toughness: 2/3

Casting Cost:

Card Text: First strike

Oracle Text: First strike (This creature deals combat damage before creatures without first strike.)

Flavor Text: "Not someone to pick a fight with, unless you're fond of pain."
—Halina, Dwarven Trader

Artist: Anson Maddocks

Rarity: Common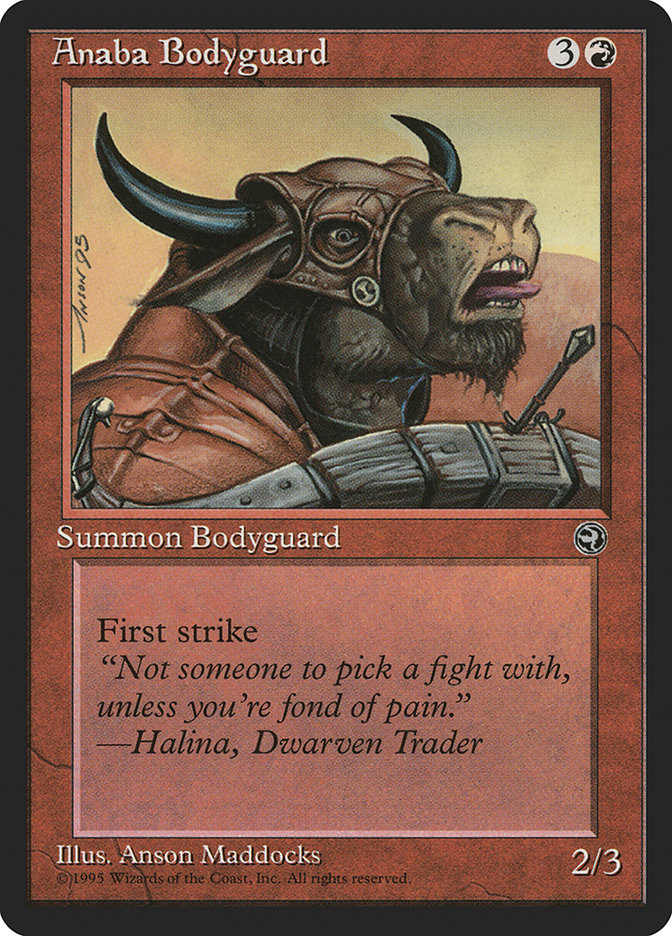 Condition: NM/M



Price: $0.15


70 in stock



Anaba Bodyguard (With Human)
Card Type: Creature

Creature Type: Minotaur

Power/Toughness: 2/3

Casting Cost:

Card Text: First strike

Oracle Text: First strike (This creature deals combat damage before creatures without first strike.)

Flavor Text: "Not all Minotaurs are tribal. Some are freelance."
—Eron the Relentless

Artist: Anson Maddocks

Rarity: Common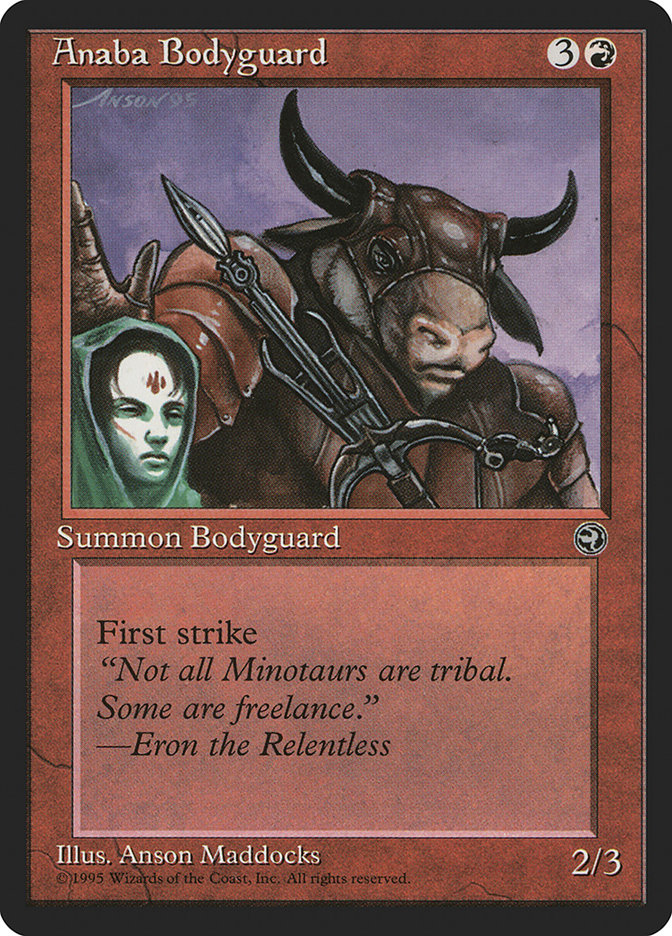 Condition: NM/M



Price: $0.15


71 in stock



Anaba Shaman
Card Type: Creature

Creature Type: Minotaur Shaman

Power/Toughness: 2/2

Casting Cost:

Card Text: R, ocT: Anaba Shaman deals 1 damage to target creature or player.

Oracle Text: R, Tap: Anaba Shaman deals 1 damage to any target.

Flavor Text: "The shamans? Ha They are craven cows not capable of true magic."
—Irini Sengir

Artist: Anson Maddocks

Rarity: Common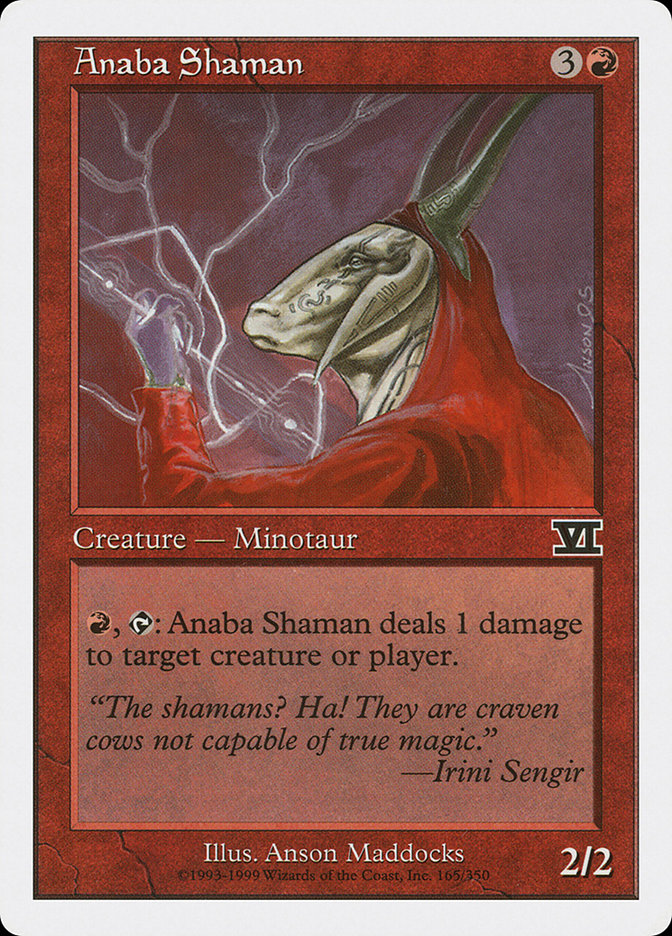 Condition: NM/M



Price: $0.15


76 in stock



Anaba Shaman (Facing Left)
Card Type: Creature

Creature Type: Minotaur Shaman

Power/Toughness: 2/2

Casting Cost:

Card Text: R, ocT: Anaba Shaman deals 1 damage to target creature or player.

Oracle Text: R, Tap: Anaba Shaman deals 1 damage to any target.

Flavor Text: "The Shamans? Ha They are mere craven cows not capable of true magic."
—Irini Sengir

Artist: Anson Maddocks

Rarity: Common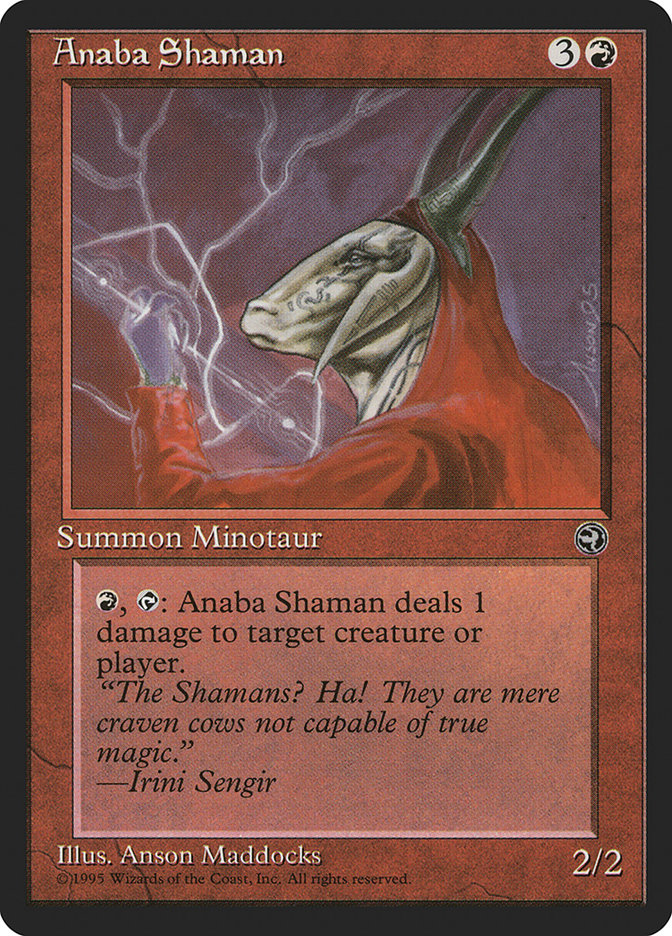 Condition: NM/M



Price: $0.15


65 in stock



Anaba Shaman (Facing Right)
Card Type: Creature

Creature Type: Minotaur Shaman

Power/Toughness: 2/2

Casting Cost:

Card Text: R, ocT: Anaba Shaman deals 1 damage to target creature or player.

Oracle Text: R, Tap: Anaba Shaman deals 1 damage to any target.

Flavor Text: "Few master the powers of the earth as well as do the Shamans of the Minotaurs."
—Baki, Wizard Attendant

Artist: Anson Maddocks

Rarity: Common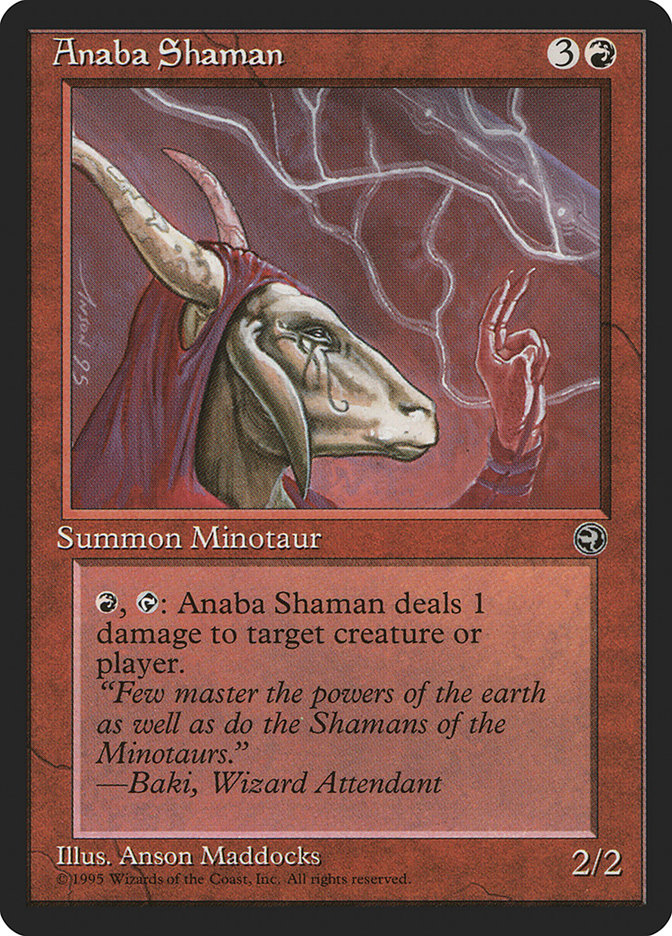 Condition: NM/M



Price: $0.15


60 in stock



Anaba Spirit Crafter
Card Type: Creature

Creature Type: Minotaur Shaman

Power/Toughness: 1/3

Casting Cost:

Card Text: All Minotaurs get +1/+0.

Oracle Text: Minotaur creatures get +1/+0.

Flavor Text: "The Spirit Crafters sing of all our people. They sing of those lost, of those found, and of those who are yet to be."
—Onatah, Anaba Shaman

Artist: Anson Maddocks

Rarity: Rare


Animate Dead
Card Type: Enchantment

Subtype: Aura

Casting Cost:

Card Text: Any creature in any graveyard comes into play on your side with -1 to its original power. At end of game, or if this enchantment is discarded without removing target creature from play, target creature is returned to its owner's graveyard. Target creature may be killed as normal.

Oracle Text: Enchant creature card in a graveyard
When Animate Dead enters the battlefield, if it's on the battlefield, it loses "enchant creature card in a graveyard" and gains "enchant creature put onto the battlefield with Animate Dead." Return enchanted creature card to the battlefield under your control and attach Animate Dead to it. When Animate Dead leaves the battlefield, that creature's controller sacrifices it.
Enchanted creature gets -1/-0.

Artist: Anson Maddocks

Rarity: Uncommon


Animate Dead
Card Type: Enchantment

Subtype: Aura

Casting Cost:

Card Text: Take target creature from any graveyard and put it directly into play under your control with -1/-0. Treat this creature as though it were just summoned. If Animate Dead is removed, bury the creature in its owner's graveyard.

Oracle Text: Enchant creature card in a graveyard
When Animate Dead enters the battlefield, if it's on the battlefield, it loses "enchant creature card in a graveyard" and gains "enchant creature put onto the battlefield with Animate Dead." Return enchanted creature card to the battlefield under your control and attach Animate Dead to it. When Animate Dead leaves the battlefield, that creature's controller sacrifices it.
Enchanted creature gets -1/-0.

Artist: Anson Maddocks

Rarity: Uncommon


Animate Dead
Card Type: Enchantment

Subtype: Aura

Casting Cost:

Card Text: When you play Animate Dead, choose target creature card in any graveyard. When Animate Dead comes into play, put that creature into play and Animate Dead becomes a creature enchantment that targets the creature. Enchanted creature gets -1/-0. If Animate Dead leaves play, bury the creature.

Oracle Text: Enchant creature card in a graveyard
When Animate Dead enters the battlefield, if it's on the battlefield, it loses "enchant creature card in a graveyard" and gains "enchant creature put onto the battlefield with Animate Dead." Return enchanted creature card to the battlefield under your control and attach Animate Dead to it. When Animate Dead leaves the battlefield, that creature's controller sacrifices it.
Enchanted creature gets -1/-0.

Artist: Anson Maddocks

Rarity: Uncommon


Animate Dead
Card Type: Enchantment

Subtype: Aura

Casting Cost:

Card Text: Any creature in either player's graveyard comes into play on your side with -1 to its original power. If this enchantment is removed, or at end of game, target creature is returned to its owner's graveyard. Target creature may be killed as normal.

Oracle Text: Enchant creature card in a graveyard
When Animate Dead enters the battlefield, if it's on the battlefield, it loses "enchant creature card in a graveyard" and gains "enchant creature put onto the battlefield with Animate Dead." Return enchanted creature card to the battlefield under your control and attach Animate Dead to it. When Animate Dead leaves the battlefield, that creature's controller sacrifices it.
Enchanted creature gets -1/-0.

Artist: Anson Maddocks

Rarity: Uncommon


Condition: NM/M



Price: $699.99


1 in stock



Animate Dead
Description:
Alternate Fourth Edition is a parallel print run of the standard Fourth Edition set. They were printed in 1995 by the Cincinnatti, Ohio-based United States Playing Card Corporation and marked Wizards of the Coast's first attempt to print Magic: the Gathering within the United States. Due to a dispute between the two companies, the cards were never officially released and were supposed to have been destroyed. However, a limited quantity of Alternate Fourth Edition starter displays are believed to have survived.

Alternate Fourth Edition cards look very similar to standard Magic cards, but a closer inspection reveals obvious differences. Their card stock is thicker, their backs feature a glossy finish, and their colors do not show the usual pattern of dots characteristic of Magic: the Gathering cards. Furthermore, they have a special coating which causes the cards to stay dark under ultraviolet light (also known as "black" light), in contrast to standard Magic cards which start to glow when held under similar lighting.
Card Type:
Enchantment
Subtype:
Aura
Casting Cost:
Card Text:
Take target creature from any graveyard and put it directly into play under your control with -1/-0.
Treat this creature as though it were just summoned.
If Animate Dead is removed, bury the creature in its owner's graveyard.
Oracle Text:
Enchant creature card in a graveyard
When Animate Dead enters the battlefield, if it's on the battlefield, it loses "enchant creature card in a graveyard" and gains "enchant creature put onto the battlefield with Animate Dead." Return enchanted creature card to the battlefield under your control and attach Animate Dead to it. When Animate Dead leaves the battlefield, that creature's controller sacrifices it.
Enchanted creature gets -1/-0.
Artist:
Anson Maddocks
Rarity:
Uncommon
Animate Dead
Card Type: Enchantment

Subtype: Aura

Casting Cost:

Card Text: Any creature in either player's graveyard comes into play on your side with -1 to its original power. If this enchantment is removed, or at end of game, target creature is returned to its owner's graveyard. Target creature may be killed as normal.

Oracle Text: Enchant creature card in a graveyard
When Animate Dead enters the battlefield, if it's on the battlefield, it loses "enchant creature card in a graveyard" and gains "enchant creature put onto the battlefield with Animate Dead." Return enchanted creature card to the battlefield under your control and attach Animate Dead to it. When Animate Dead leaves the battlefield, that creature's controller sacrifices it.
Enchanted creature gets -1/-0.

Artist: Anson Maddocks

Rarity: Uncommon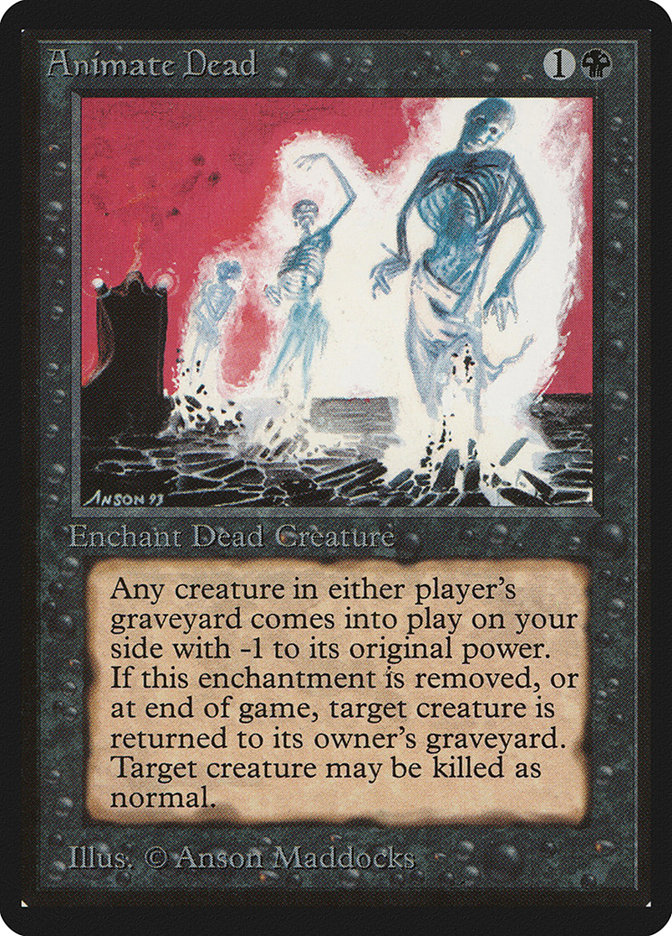 Condition: NM/M



Price: $299.99


1 in stock



Animate Dead
Card Type: Enchantment

Subtype: Aura

Casting Cost:

Card Text: Any creature in either player's graveyard comes into play on your side with -1 to its original power. If this enchantment is removed, or at end of game, target creature is returned to its owner's graveyard. Target creature may be killed as normal.

Oracle Text: Enchant creature card in a graveyard
When Animate Dead enters the battlefield, if it's on the battlefield, it loses "enchant creature card in a graveyard" and gains "enchant creature put onto the battlefield with Animate Dead." Return enchanted creature card to the battlefield under your control and attach Animate Dead to it. When Animate Dead leaves the battlefield, that creature's controller sacrifices it.
Enchanted creature gets -1/-0.

Artist: Anson Maddocks

Rarity: Uncommon


Animate Dead (3rd Edition BB)
Card Type: Enchantment

Subtype: Aura

Casting Cost:

Card Text: Any creature in any graveyard comes into play on
your side with -1 to its original power.
At end of game, or if this enchantment is discarded without removing target creature from play, target creature is returned to its owner's graveyard.
Target creature may be killed as normal.

Oracle Text: Enchant creature card in a graveyard
When Animate Dead enters the battlefield, if it's on the battlefield, it loses "enchant creature card in a graveyard" and gains "enchant creature put onto the battlefield with Animate Dead." Return enchanted creature card to the battlefield under your control and attach Animate Dead to it. When Animate Dead leaves the battlefield, that creature's controller sacrifices it.
Enchanted creature gets -1/-0.

Artist: Anson Maddocks

Rarity: Uncommon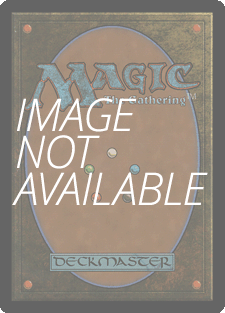 Condition: NM/M



Price: $19.99


1 in stock



Animate Dead (3rd Edition BB)
Card Type: Enchantment

Subtype: Aura

Casting Cost:

Card Text: Any creature in any graveyard comes into play on
your side with -1 to its original power.
At end of game, or if this enchantment is discarded without removing target creature from play, target creature is returned to its owner's graveyard.
Target creature may be killed as normal.

Oracle Text: Enchant creature card in a graveyard
When Animate Dead enters the battlefield, if it's on the battlefield, it loses "enchant creature card in a graveyard" and gains "enchant creature put onto the battlefield with Animate Dead." Return enchanted creature card to the battlefield under your control and attach Animate Dead to it. When Animate Dead leaves the battlefield, that creature's controller sacrifices it.
Enchanted creature gets -1/-0.

Artist: Anson Maddocks

Rarity: Uncommon