Lots of people have tackled the "Commander staples issue" and I'm going to go ahead and throw my hat into the ring on it. When I first started getting interested in Commander the first thing I began doing was assimilating information. I needed to understand what made the format tick which cards I should be playing and how to begin building a deck that would be both fun and useful.
There are a lot of lists of Commander "staples" out there but I think most of them include a lot of stuff that just doesn't always make the cut. In fact I think many of the cards are actually pretty bad in many decks—remember Wrath of God from last time? Those are the sort of cards making these lists more often than not.
I'm going to give you a short list for every color and we'll use these cards to understand 1) what every deck needs and 2) how to figure out what you don't need. It'll also come with a fun lesson on color identity on Commander an issue I love to chatter about but that will wind up being an article for another day I imagine.
Let me define what I consider a Commander staple.
A staple is a card that if you can you should play the vast majority of the time. Specifically its absence from any deck should be noteworthy and not without explanation. There will be staples that wind up on the cutting room floor from time to time but by and large there should be no reasonable strategic ground for excluding the card from your list. The exception that comes up most frequently is for decks based purely around a combination kill (or a series of them) but even those decks will play most of these cards. Physical space is also a concern and is an issue that crops up in decks with three or more colors.
If cards are banned by house rules deckbuilding restrictions budget whatever—that's a completely different story.
The examples that follow will help to clarify exactly what I mean. I'll lump together the cards that are incredibly similar for the sake of being concise. I'll include some minor descriptors for the cards that are worth some talking about. Lands that are only playable within a color will be grouped with their color.
I'm not getting into gold at least not today because that stuff really varies a lot from deck to deck. For every Angel of Despair there's a Putrefy if you get what I mean. It's just a really complicated issue and changes wildly.
After each group of staples I'll note some "Honorable Mentions" that are worth thinking about before adding or subtracting. These cards won't comprise an all-inclusive list but will instead serve as some talking points for deckbuilding.
Ideally I won't accidentally forget to include some obvious staple but the first draft of this article did—so I'm not holding my breath. Just correct me in the comments and I'll be sure to chime in with my side!
Artifacts / Colorless Spells
Starting off with artifacts and colorless spells seems like the most obvious as every deck runs them. In fact given our definition artifacts are very important to identify because they will go in basically every deck you build for forever. The most playable artifacts tend to offer excellent mana or card economy. Some make it on pure power level but that's relatively rare.
Why?
Well take Gauntlet of Power or Caged Sun. These cards are very good when you've got your deck designed to make them awesome but when you don't they're pretty underwhelming. A lot of cards fall into this category including Mindslaver—a card I once believed needed to be banned. Since then so many decks have moved to use combat as their axis of interaction that Mindslaver plays like Master Warcraft slightly more often than it should.
Staples
Darksteel Ingot – Commander games are a grind and the Ingot's ability to sit in play while accelerating you is pretty handy. I like it better than Coalition Relic in decks that don't need to accelerate to six immediately and aren't three colors. For instance Relic is much better if your commander is a wedge Dragon.
Ulamog the Infinite Gyre – I only cut Ulamog from my decks when I find it very important to keep my graveyard unshuffled such as with my current love (Glissa the Traitor). He can be tough to beat via Bribery so if you play a lot of one-on-one then it becomes more reasonable to trim him then as well.
Honorable Mentions
Kozilek Butcher of Truths – He's not as durable as his indestructible brother but if you're playing green without black or blue then he's an excellent source of card drawing.
Skullclamp Scroll Rack – These are two very different cards but they actually exist under similar constraints. They're both powerful card advantage engines that require you to build with them in mind in order to maximize the gains. While Rack isn't pure card advantage its filtering strength is just as good if not better. Hiding your late game cards back in the deck is really quite useful!
Lightning Greaves Swiftfoot Boots – Many consider these cards staples but not me. I don't run either one in most of my control decks and if your general lacks an activated ability or a strong offensive capacity then they're probably not that impressive.
Mana Vault – Mana Vault can be little more than a colorless Dark Ritual for some decks and the life loss is a very real risk in certain games. I play Mana Crypt in all my decks but Mana Vault isn't nearly as powerful.
Worn Powerstone Thran Dynamo Gilded Lotus – These cards are often very vulnerable to sweepers and wind up costing you a card. I prefer artifact ramping that's cheaper giving me more turns with the mana or that develops your board more permanently such as Sol Ring and Solemn Simulacrum. That said these cards will go in most big mana decks that are just trying to jam huge spells.
Swords – Depending on how offensively minded your deck is and what colors your opponents are these can shift from awesome to acceptable. I don't play them very often because attacking isn't my style but that really just serves to demonstrate that they are more niche than many assume.
White
White's got an especial penchant for strong removal in Commander featuring two of the best ways to kill a creature alongside excellent effects like Oblation and Oblivion Ring. Most white decks are hungry for lands and cards because developing your mana and your hand at the same time isn't something they're well suited to. I often aim to add blue green or maybe black to most white decks to supplement this vulnerability.
Staples
Swords to Plowshares / Path to Exile
Land Tax – If you're not packing a lot of basics it's not so great...but you'd be surprised by how few you actually need. The low double-digits still make it good enough.
Sun Titan – I don't see Sunny T in all the white decks and that's pretty odd. His synergy with fetchlands and legendary lands alone is worth noting but he's got plenty of other tricks to play with Stoneforge Mystic and such.
Honorable Mentions
Faith's Reward – A nice new insurance against major destruction from Magic 2013 with additional upside. Obviously I haven't seen this card play much but it feels pretty good in white decks for this format. Of especial note is that Faith's Reward functions when you put the cards into the graveyard with your own effects.
Reveillark – Gotta be playing the right creatures of course. Reveillark often represents the threat of a combo kill to your opponents and will draw attention—keep that in mind.
Serra Ascendant – This card is not that hard to kill and it's real easy to go out of your way and bludgeon a white player for a few turns just to make sure their Serra Ascendant comes at a high price—this punishment can be exacted in other was than just life total! It makes most of my decks but it's such a bad late game draw that I'm happy to find excuses to cut it when I do.
Martyr's Bond – This card's a powerful effect and keeps other players off your back which is my favorite sort of strategy. I used to play Karmic Justice a lot and it's also pretty good but better players taught me that it wasn't a card they truly feared. Martyr's Bond offers a little more protection by spreading the pain around though admittedly at a higher cost.
Blue
Blue is a pretty incredible color in Commander mostly on the back of its card advantage effects and its ability to handle problematic permanents by copying or stealing them. That's reflected in the staples below. Of course any time you can take an extra turn is also pretty nice.
Staples
Spin into Myth
Phyrexian Metamorph – Neither Sculpting Steel nor Clone qualify as staples but mix them together and you have a real winner. This card is never dead and I lament my inability to play it in non-blue decks.
Time Stretch – You may not like it but this card's power level is off the charts. Choosing not to play it is generally just a self-imposed handcuff which I can respect...but let's call it what it is. Time Warp Capture and the like are all very close as well but Time Stretch is a real haymaker that I don't see myself cutting for any reason beyond being a "nice guy."
Honorable Mentions
Intuition – This card instantly assembles an engine in some decks...but only some decks. If you want to play Intuition then there are a lot of cool trios to make sure you build into your deck. Perhaps a topic for a future article?
Spelltwine – Another new card from Magic 2013; this one has me visualizing a lot of dancing sugarplums. It's not as vulnerable to graveyard hate as something like Memory Plunder because you'll often still be able to get one spell. Given how awesome our spells are this card has to be pretty reasonable.
Crystal Shard – If you incorporate the cards to make this one good both it and Erratic Portal are studs.
Trinket Mage – It's almost a staple just for fetching three staple artifacts. If you run Skullclamp it's a lock. At the end of the day a Grey Ogre isn't that good but this one finds something sweet for specific decks.
Black
I love playing black. Tutors are awesome in a Highlander format and several of its best spells can end the game all by themselves. It's also home to one of my favorite lands of all time—of all time!
Staples
Tutors (Vampiric Tutor Demonic Tutor Grim Tutor Increasing Ambition Diabolic Revelation) – These are all obviously pretty incredible to the point that multicolored black decks are becoming much harder to build due to lacking open slots for the actual spells!
Skeletal Scrying – This is a much more powerful card-drawing spell then you might expect and its price is just right—whatever you can afford!
Nihil Spellbomb – This card is a freeroll form of protection against a lot of different instant speed deaths since it costs nothing to play and yields a free card. One thing playing Glissa the Traitor has taught me is that many decks can't defeat a couple activations of Nihil Spellbomb and it costs so close to nothing.
Honorable Mentions
Entomb – This card is basically the black Intuition. It's an engine card that needs other pieces to make it go VROOOOM!
Grim Harvest / Disturbed Burial – These are both additional Volrath's Stronghold effects but they actually cost you slots in the decks. I prefer Harvest over Disturbed Burial but they're both reasonably playable.
Necropotence – Multiplayer games can go really long and the cards you miss during the draw step combined with the vulnerability of a depleted life total can grow problematic. I really like playing Necropotence in decks that can easily destroy the enchantment but the mana is prohibitive. Play often but play carefully!
Sheoldred the Whispering One – An excellent creature on the top end it took me a while to come around. After about the hundredth time someone played Sheoldred and I thought "Man that chick is annoying" I realized it meant she's good! If you're not maximizing the recursion though she's kind of weak.
Red
It's slim pickings in red folks. On the upside most of these cards are pretty unique effects that other colors can't duplicate. Anger Word of Seizing Kiki-Jiki and Reiterate are all especially effective at what they do and can't be replicated easily. I'll confess that I play red pretty rarely and had to ask around before submitting this list.
Staples
Kiki-Jiki Mirror-Breaker
Recoup – This one's pretty contextual but it's hard to imagine a deck that can't take significant advantage of it. If you play with Recoup in mind it'll pay off for you in games.
Honorable Mentions
Goblin Welder – Welder is effective against most decks and lets you control board states over the course of several turns. In addition to serving as protection for your own lost treasures it also combines very well with cards like Top and Urza's Blueprints to yield extra cards.
Decree of Annihilation – I like the brand new Worldfire a lot more due to its "thunder dome" quality but Decree is the original middle finger and also has the handy add-on of an uncounterable Armageddon. That's actually what makes Decree so powerful and makes the players who use it so disliked.
Green
Green is the best color in Commander. It's got the most powerful forms of mana acceleration it doesn't lack ways to generate card advantage and Primeval Titan may actually be the best spell in the format. You can argue if you want but many games come down to the first person to land and keep a Primeval Titan and his effect pushes you way ahead in mana as others scramble to answer him and catch up singlehandedly. This warps the cards that are good in the color!
Staples
Chord of Calling / Green Sun's Zenith – These find Primeval Titan.
Tooth and Nail – This gets Primeval Titan and a friend or kills your opponents (generally).
Explosive Vegetation / Skyshroud Claim / Ranger's Path / Hunting Wilds – You can't usually play all of these although I'm certainly going to be trying to do so in coming months! I love making the manas I admit. Vegetation is probably going to be the one we start phasing out as the capacity to find dual lands is very potent in decks of many colors.
Woodfall Primus – I almost moved Primus down to Honorable Mentions but because green offers so many ways to search up big creatures over and over I decided to stick him here. Truthfully I'll cut Primus but only when I'm hitting the wall of "more cards than I can play" as a general rule or when green is a minor splash in a five-color deck.
Honorable Mentions
Scavenging Ooze – I haven't played with the Ooze yet but I can see him being potent in much the same way Nihil Spellbomb is. Being cheap and easy to Tutor for are both nice boons and the life isn't irrelevant.
Azusa Lost but Seeking – I just added Azusa to my Glissa deck and I must say she has been impressive thus far. The synergy with Crucible of Worlds and Life from the Loam has been devastating but I'm not certain that she's a staple...yet. I don't think Exploration is on the same level for a few reasons.
Mwonvuli Beast Tracker – A new "Tutor" from Magic 2013 this one is really only notable for its ability to fetch Primeval Titan or a utility dude in a tight spot such as Acidic Slime or the Primus. I'm not sure if it'll pay off or not but I'd be more inclined to play it than not at the moment.
Seedborn Muse – Many players are in love with Seedborn Muse and if you've got ways to use the mana then she's a house and a half—but only if you're using the mana. Vigilance is really not worth all that mana in Commander and there aren't enough creatures tapping in the average green deck (although exceptions exist).
Boundless Realms – This one is very good in one and two-color decks but probably doesn't belong in three or more colors. I foresee it being a real bomb though. It's going right into most of my decks since I generally stick to dual-colored decks.
Genesis Survival of the Fittest – Gotta play creatures man. If you're not building to make these cards good then they're not that potent to play. The big problem is that you only have so many slots in your deck; otherwise it would be easy to incorporate these engines. I see a lot of people working really hard to generate value here and it's most often because they haven't truly considered cutting the cards.
Lands
I don't think there's anything interesting at all going on in the staples section here; I'll play all of these in virtually every deck that can support them. Thawing Glaciers and the fixers have some caveats—I mean you have to be in the colors for your duals and such—but they are worth it every time.
Staples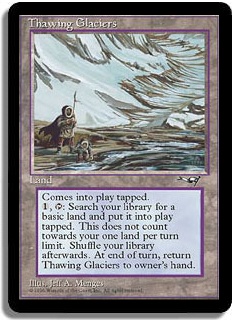 Thawing Glaciers – Probably only in decks of two or less colors.
Fetches
Duals
Shocklands
Bouncelands
Trilands
Honorable Mentions
Boseiju Who Shelters All – Worthwhile in certain metagames or in decks that are designed to implement powerful sorceries.
Wasteland – Strip Mine is a staple only because it's strictly better; if Strip Mine didn't exist then Wasteland would be a staple. The reason is that you have to play at least one way to handle a problematic land but you only absolutely need the one thanks to Crucible of Worlds.
Winding Canyons – This card is sweet but only in decks that are doing a fair bit of creature casting. I'm not playing it all that often but that's because it's not really my kind of game. I respect its power in other decks though.
Homeward Path – It's possible this card deserves staple status. It certainly goes in every deck with a Primeval Titan!
Reliquary Tower – A staple contender but I think it only locks slots in blue and black decks or other decks that dedicate a lot of time to building their hand. Admittedly I used to hate it so it's possible that I'm still moving along the path of realizing that Reliquary Tower is the bee's knees but I kind of doubt it.
That's it for staples—sound off in the comments if you think I missed one or if one of my Honorable Mentions is truly more than meets the eye.
Featured Format: One-Drop Cube Hall of Fame Ballot
In my next column two weeks from now I'll be giving you guys a treat and discussing my One-Drop Cube which has returned to the world of the living and is boatloads of fun so far. With preparation for the Magic 2013 release and StarCityGames.com Open Series: St. Louis in my crosshairs I'm a bit swamped and I don't want to fail to do justice to one of my favorite formats.
So I'd like to post up my Hall of Fame ballot since my next opportunity to do so will come after the votes have been cast. I truly value the honor and responsibility of being bestowed with a vote in the Hall and I think it's a very important topic. It's also super-interesting with a lot of different viewpoints on what's good enough. Fortunately this year they seem to be all giving the same answers—I wouldn't be surprised to see three or even four people make it in and five isn't out of the question (albeit very unlikely).
Here are my picks—while they may not be especially unique among voters I do think that I have something unique to say about them. I use a lot of things to determine what I consider a Hall of Famer: raw stats community contributions and intangibles as evaluated by me. After all it is my vote and I want to be proud of these representatives.
I think we all know about a lot of these candidates' statistics but I'd rather look at "the other stuff."
Paulo Vitor Damo da Rosa
Paulo is a surefire lock to make the Hall this year—anyone who looks at his stats can see that he's not just one of the best players in the world right now but one for the history books.
I want to talk about his writing.
I first heard of Paulo from his Brainburst (now TCGPlayer.com) articles and even remember the first one I read: this one detailing his near miss at the first Pro Tour Honolulu. Obviously Paulo has come a long way in the past six years (!) but the things I liked about that article are the things I still like about Paulo's work today—a strong analytical voice and a willingness to put himself under the microscope as he did during an awkward match against Osyp in this report. I didn't normally frequent Brainburst back then but I started checking back to see what Paulo had written which in turn exposed me to some other writers.
He became one of my favorite writers during his tenure on StarCityGames.com and I still read his articles today. His first articles on mulligans (here and here) started a trend on the topic and there's a lot of good stuff in his archives. If you really want to know more about Paulo he even summarized the path of his Magic career for you in three parts.
I think he did his best work here on SCG and that's not me being a shill—I just think Paulo hit his writing stride in 2009. It was some of the best content I could remember reading at the time! Those articles impacted my game and actively made me better at Magic by demonstrating that I wasn't just playing the game wrong—I was actually thinking about it wrong. Come to think of it maybe I should be rereading them.
It will sound totally stupid (and make me look like quite the barnacle) but I don't think it is entirely a coincidence that I qualified for not just my first Pro Tour in 2009...but for my first two.
Another lock on stats alone many people have already added that Kenji is just super-fun. For me Kenji represents exactly the kind of star that Magic players don't just want to cheer for but want to show the world.
"This guy's one of ours—he represents us!"
My first Grand Prix Daytona Beach in 2007 saw me also make my first Grand Prix Day 2. I found myself seated between Olivier Ruel and Patrick Chapin with Kenji Tsumura across the table. I watched all three of these players play during the pod (shamelessly scouting) and kept watching Kenji even afterward getting my first glimpse of what all those crazy pros did at Magic events. Why?
Kenji made Magic look so fun. While I was busy going 1-5 to finish dead last in my first Grand Prix Day 2 Kenji was making a game I had just gone from loving to hating still look really awesome.
Working with a translator Kenji created articles for SCG and has a modest archive. However many people don't realize that even in the "twilight" of his career he has been writing for MTG-JP.com with articles as recent as last week! If you'd like to test the power of Google's translator feel free to take a look.
I don't have as much to say about Masashi—I am voting for him primarily on the strength of his resume and the thrill he helped bring to the 2005 Player of the Year race. Masashi skipped a Pro Tour that year and lost Player of the Year by four points a scant margin despite a tremendous disadvantage.
Even so Masashi has some incredible stories. For instance he stormed Grand Prix Boston with a team of Japanese professionals during a time when such a thing was unheard of. No one thinks twice of seeing Shuuhei Nakamura all over the world today but in 2005 it was a very different thing to see such commitment. Despite retiring Masashi came out for Japanese Nationals in 2008 and won the whole thing! I wouldn't be surprised to see him perform something in the near future after receiving a ring this year.
I hope that Patrick makes the Hall this year although I consider his induction inevitable. He had a near miss just last year and is always at the top of the discussion. Obviously Patrick's Magic stats are above average but not the stuff of the wunderkinds—it's his commitment and contribution to the community that pushes Patrick on to my ballot. He'll be a lock for any ballot I'm given until he gets in so hopefully that's this year.
If you recall above I actually drafted with Patrick at a 2007 Grand Prix—years before I ever talked to him which is probably a good thing since I was a lot dumber back then. I've worked with him on @SCGLive for some time now as well as on other content projects here and he carries his passion for Magic into every endeavor. Patrick doesn't just want to succeed in Magic—he wants Magic to succeed and he wants you to help.
Patrick has proven he's capable of succeeding at the highest levels for decades and brings a constant stream of quality content to the community each and every week. He's written some of the best and most interesting articles in Magic even pushing himself with challenges few other writers would ever consider such as his lipogram A Void but Nothing Missing: Looking Back on 2009 and the impressive Sixty.
What more can we want from a Hall of Famer?
I struggled with the last vote as many have and I eventually decided to go with...
Justin Gary
Justin has some strong numbers and to be honest his case has been more thoroughly made by Adrian Sullivan on Facebook than I could ever hope to explain. I find his Pro Tour strength pretty impressive and I know Justin through his work on Ascension with Gary Games an effort I've been happy to contribute to when I have the capacity. He's one of a few standout players on the ballot...though to be honest I don't think he will get in this year.
So why would I vote for him?
The three players I was considering for this slot were William Jensen Justin Gary and Tomoharu Saito. Of the three I first considered Saito—obviously we all remember that he made the cut last year and still has a very strong resume on the Pro Tour. We also all remember the reason he didn't make it was due to a suspension for his time manipulation strategies. That said I think Saito did earn a place in the Hall last year and I expect he will earn it again. I didn't want to vote for him this year for two reasons: 1) he hasn't yet demonstrated that he will commit himself to playing at a high level with renewed integrity and 2) not enough people were going to vote for him.
At the same time I wasn't comfortable voting for William Jensen. If you look back at what I wrote for the four previous candidates you can see that I've been an avid fan of Magic for some time and definitely respect its history. I'm one of the guys who reads everything always have been and I do remember William Jensen. That's why I have to factor in that he didn't make a strong impression on me and his contributions to the community don't shimmer.
It should be clear by now that I love those community contributions.
If I voted for Jensen it would be a vote I made because other people wanted me to—not because I genuinely wanted him to represent the Hall of Fame. Frankly I don't know if I want him to or not! On the other hand I think Saito will need to reprove himself in some way; something he hasn't had the opportunity to do just yet.
I knew that I would be happy to see Justin Gary in the Hall of Fame and I also think he deserves it—so I voted for him.
I'll be back in two weeks with the One-Drop Cube! If you want to hear updates on its progress I'd advise you to follow me on Twitter—I tend to tweet pictures of decks and other shenanigans for your viewing pleasure.