Innovations - Exclusive Preview: Skaab Ruinator!

What are the most prolific silver-bordered cards of all time?
"Look at me I'm the DCI?"
"Rocket-Powered Turbo Slug?"
"Blacker Lotus?"
"Chaos Confetti?"
"Cheatyface?"
While a number of those cards pay homage to existing Magic cards (Blacker Lotus Chaos Confetti) Cheatyface is a strange and unique set of one.
There are 2/2 fliers for three in Magic sure but there has never been a card like this. When your opponent counters or kills Cheatyface you can just play him again from your graveyard. In fact the way most people play with the card (it is all a grey area with silver-bordered cards...) is even when they get caught cheating him into play exiling him they just cheat him back again.
The thing about Cheatyface (outside of being an Un-card) is that he is just a 2/2 flier. That is really not that big of a body so for the most part he is just about the subgame of trying to get value from his ability.Still as a player that has played in more than a couple casual formats involving Cheatyface (Unglued Draft Type 4) I can't help but wonder when I play him what life would have been like with a card like that in the real world. It's not the sneaking him onto the battlefield part. It's the flying blue Vengevine part that always interested me.
Today's preview card Skaab Ruinator goes so far beyond what I could have asked for in this department that I am a little caught off guard. After all if they were going to print a tournament legal flying blue Vengevine type what is the last thing you'd think they'd do?
How about make it insanely big and insanely cheap?!
I present to you Skaab Ruinator!
......
.....
....
...
..
.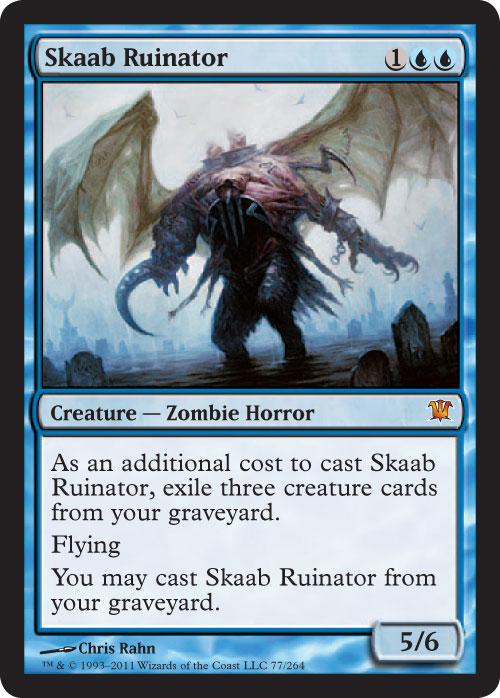 Yeah you better go back and read that one again! That's right. Vengevine may be rotating out but there is a Cheatyface blue Vengevine now and he is a 5/6 flier for three mana!If your opponent counters or kills him you can just play him from your graveyard (not unlike Cheatyface which your opponent will feel like you are being by playing this guy!).
There is a lot going on with Skaab Ruinator as he operates very differently from normal creatures. To understand how to use him we might want to start by figuring out what exactly he is. A 5/6 flier is absolutely massive in this format a format dominated by the card Dismember. Traditionally 5/6 fliers have cost about six mana though that would not be strong enough for tournament play these days. Just looking at the card's baseline it is not hard to imagine exiling a creature from your yard as being about a mana apiece. That resource is worth much less than that to you if you are the one setting it up; however it does take some work to do. It is sort of like a Delve that you have to do. Delve is just a good ability. Having to do it is far better than not having the chance to do it at all.
Already we are talking about a relatively aggressively costed fatty and we haven't even started abusing him yet. After all there are several ways to use this guy that cheat some basic rule of the game. If you can get a few creatures into your yard early he has absolutely unheard of stats to say nothing of his ability to come back over and over if your opponent manages to find a way to slow him down!
What are some good ways to actually be able to feed the Zombie Horror the fuel that he needs?
Waiting for three creatures to die then summoning Skaab Ruinator actually seems pretty solid. After all he is a 5/6 flier for three so that even if we play him on turn five and keep Mana Leak up we are in really good shape. Still a card this abusable is begging to be pushed harder.
Looting is an obvious way to fuel the Ruinator. He is blue so various Merfolk Looter types can quickly provide the bodies he needs no waiting. Another is sacrificing creatures. There are tons of creatures in Magic that give you some effect then leave you with some extra body that isn't worth all that much to you. Phyrexian Rager Viridian Emissary Oculus Perilous Myr and so on are all excellent examples.
What about milling yourself? Now we are talking! If you mill yourself it is easy to actually mill enough cards to easily pay for Skaab Ruinator's additional cost...
...plus you can actually mill the Ruinator himself!
That's right. Skaab Ruinator is a flying blue Vengevine that gets himself back! How many times have you milled yourself with some Vengevine deck but have been unable to get the two creatures you need to get your Vengevines back? Well Skaab Ruinator does the work for you; all you have to do is pay the three mana (which is unreal for such a massive body) and play with enough creatures so that when you mill yourself you get the fuel you need! Dredge? Jace Memory Adept? Glimpse the Unthinkable? The possibilities are too numerous to count.
Skaab Ruinator is sure to be a linchpin for multiple new graveyard decks that take advantage of Innistrad's graveyard theme. We have been seeing some of the enablers already knowing they were going to get much stronger because of Innistrad but not knowing exactly how (like the aforementioned newest Jace). Now we are starting to see the big payoff! An undercosted flying fatty that keeps coming back is a pretty big reward but we aren't even done abusing this one.
What about the fact that he has no drawback at all beyond an additional cost to play him? Creatures are the most easily abused of all types as they are the easiest to cheat the cost of by far. As a result a good rule of thumb is that whenever an undercosted creature's drawback is associated with casting it it should sound alarm bells that it can be abused. For instance what if we sacrifice our Viridian Emissary to our Birthing Pod and go get this guy?!
This guy does everything Myr Superion ever aspired to do and so much more. He is even more impressive on the table due to flying; he is easier to Pod up (Superion needs a one; Skaab Ruinator needs a two which means that a one can become a two first if you need) and he is way way better on his own. Against many opponents you might not want to sacrifice him continuing to work your way up the chain. After all what four-drop are you getting that is better than a 5/6 flier? Then again maybe you really want an Entomber Exarch to strip your opponent's hand or a Solemn Simulacrum to advance your board. Either way Skaab Ruinator makes for surprisingly good sacrifice fodder as he can just come back later if you want!
The interaction between Skaab Ruinator and Birthing Pod is just unbelievable. It was one thing when Birthing Pod could just let you upgrade your guy each turn. Now you can actually jump all the way from your two-drops into a monster that outclasses anything short of a Titan!
Turn 1- Birds of Paradise
Turn 2- Viridian Emissary
Turn 3- Birthing Pod make a Skaab Ruinator!
Even if your opponent can deal with the Pod on the very next turn you still have a 5/6 flier on turn three that won't even die to Dismember! Even if they Day of Judgment you need just a single additional creature in the yard to rebuy the Ruinator!
It's not just in Standard that the Skaab Ruinator has a chance to make an impact though. What about Intuition in Legacy? What about Aether Vial (or Dredge!?) in Modern? What about Fauna Shaman in Extended? There are so many possibilities to explore and Skaab Ruinator actually rewards us pretty hardcore for going to the trouble.
It is clear that it is going to take some work to find the right ways to abuse the Ruinator. Remember how long it took people to figure out how to use Vengevine? I suspect there will be a similar curve to the Ruinator. This isn't mindless power however so we ought to ask ourselves what will hurt the Ruinator.
To begin with he does have a steep drawback when things aren't going according to plan. He may be unreal cheap when he is "working" but if your opponent has a Leyline of the Void you can't even cast him (though you can still Birthing Pod him up...). Graveyard hate is efficiently costed so with Innistrad being a graveyard block we might see a lot of this. How much of a cost this is remains to be seen. It can be tilting to have the Ruinator sitting in your hand unable to hit the table against an opponent attacking your graveyard but I suspect the times you get a 5/6 flier for three will more than make up for it.
Another possible drawback is his vulnerability to bounce. After all if you exile all your creatures in the yard to play him and he is Aether Adepted you have a lot of work to do. For a Zombie Skaab Ruinator really is a thinking man's card. There are a lot of decisions that go along with when to play him and how to set the game up to use him. I am excited for this as it does seem skill intensive and interesting.
What's my take on Skaab Ruinator? He will not be as easy to just throw in decks as Vengevine but he will be abused in lots of places and will surely be one of the biggest rewards for using Innistrad's themes. He will easily be a Standard linchpin with some appearances in powered formats. He has stats engineered for tournament success and will singlehandedly beat some archetypes forcing them to adapt. He breaks the rules of Magic in such a powerful and unique way that people will have to change the ways they build decks taking him into consideration.
Wizards of the Coast has gotten burned before by printing graveyard cards that are too good so many people wondered if Innistrad was going to get into dangerous territory.
Skaab Ruinator proves they are willing to push it.
Patrick Chapin
"The Innovator"