Earlier this week Brad Nelson and I sat down to settle a score. We were tied 1-1 in our Standard playtesting series which results in a prank to whoever loses the five-match set. Since StarCityGames.com Open Series: Birmingham is this weekend and we both want to go we decided to shave it down to best of three.
The loser of our playtesting match will be wearing a dress in Birmingham.
As if that wasn't enough spice we decided that each player should have to play with seven maindeck copies of cards from Avacyn Restored that had been spoiled so far. My brain was going nuts trying to find something sweet that I could play against Brad. At first I wanted to play U/R Control similar to what Reid Duke has been working on. However I was having some trouble coming up with seven cards to play with.
Desolate Lighthouse and Tamiyo are clear winners but I thought I could be more original. What's more original than Delver of Secrets right? This is what I built:
Creatures (12)
Planeswalkers (2)
Lands (20)
Spells (26) What no Temporal Mastery? For the answer on that check out my last article. Instead of taking extra turns where I would do little I decided to just kill them with Thunderous Wraths. If it's in your opener you can Faithless Looting it away and then Noxious Revival it later. With a Snapcaster that's ten damage and hopefully you can deal the other ten.
The deck played out alright but Tibalt Lighthouse and Tamiyo didn't really belong. They are all great cards in their own right but not for this deck. Instead I would have liked more reach in the form of Incinerate. That would make closing games much easier.
Bonfire of the Damned was fine but not great. Overall it was a little too mana intensive for what you wanted to be doing. Reforge the Soul was another cool card but the effect wasn't necessary. Any burn spell instead of those two would have been better as well.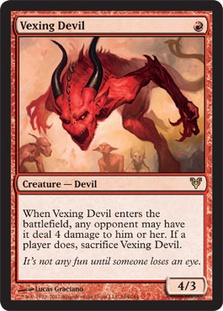 Maybe with more burn I could've played Vexing Devil and that would've been great. Instead of playing these new cards just to play with them I could've had a well-oiled burn machine. It will certainly be something I will try in the future when I have more time to build a deck.
U/R Delver seems like it could have a place. Obviously what the deck really wants is another U/R dual land but even without it the deck can compete. If you're looking to play Mono Red or a deck like it this is probably what you should try.
This is the deck Brad ended up playing:
Creatures (7)
Planeswalkers (7)
Lands (24)
Spells (22) For a first draft Brad's deck looks awesome. He's mostly a Reanimator deck but also has Necrotic Ooze to backpack Griselbrand. Drawing a ton of cards doesn't necessarily translate into victory so he's got Zombie Infestation to help. Brad's deck can also use Timely Reinforcements as a "draw seven" against slower decks which is a pretty cool use for it.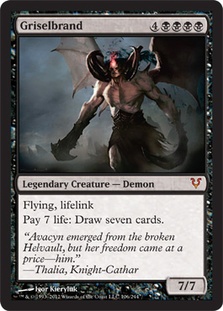 While it might look like his deck is short on removal remember that Timely Reinforcements and Lingering Souls do a lot of work to keep you alive. I might be sounding like a broken record at this point but I wouldn't mind seeing an Intangible Virtue or two in the sideboard for matchups where the tokens are really important. After all what would you rather have: a removal spell or a spell that pumps three of your creatures? One of those is going to be much better if you're trying to keep creatures off your back. It's also a solid way to pressure control decks.
Tibalt is my pick for most underrated card to come out of Avacyn Restored. Yes I know the entire set has yet to be spoiled but I don't think it matters. Yes his ultimate doesn't quite win you the game. If Insurrection is good that probably means they could have been attacking him. No his abilities aren't really linked together in any way.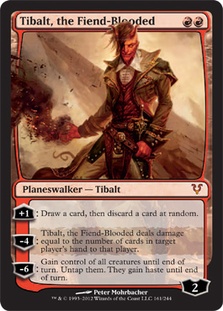 Y'all seem to be missing the point. In decks where your graveyard is an extension of your hand Tibalt is pretty good. He's not game over like most unchecked planeswalkers are but he helps. There were several games where he kept the gas flowing for Brad and games where he sat around and did nothing when a Tibalt would've gassed him up.
Think about Tibalt in a deck like Mono Red where you have Grim Lavamancer and Chandra's Phoenix. That's pure value and a cheap way to prevent you from running out of gas. In the meantime they can't just let him run around unchecked because his abilities can be threatening.
Maybe it will take some time to show what Tibalt is truly capable of. In the above deck he's a clear all-star.
I could see Brad's deck being a contender going forward but it probably needs help in the Delver department. Then again don't we all? I would expect the deck to crush slower strategies like midrange control and ramp. Fast decks might seem like a problem but I imagine that quad Timely Reinforcements will give you some free wins.
Let's move on to my brew!
Creatures (10)
Planeswalkers (7)
Lands (24) Finally a deck that uses Temporal Mastery well! Not only does it function like an Explore at times but you can realistically cast it and no matter when you use it you will get extra value. Four was too clunky so I went with three and that seems like the best number.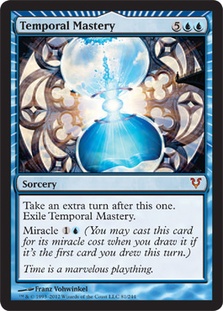 The main goal of the deck is to use a series of Frost Titan effects possibly with a Temporal Mastery to lock down a bunch of their permanents. To that end you have plenty of acceleration and some soft removal like Vapor Snag and Ratchet Bomb.
For the most part it's not much different than a Wolf Run Ramp deck. Your ultimate goal is to accelerate your mana and play a Titan but this deck wants to lock down their important permanents rather than kill with Kessig Wolf Run.
Sure there's a Wolf Run package in this deck but that's only out of convenience. I started with Sphere of the Suns but I quickly realized Green Sun's Zenith is much better than Sphere. Birds of Paradise is easier to kill but it also gives you the added benefit of protecting Frost Titan from Liliana of the Veil. Birds is also the only ramp spell that enables a turn 3 Tamiyo with another ramp spell.
Garruk Relentless was fantastic in the deck. It was a threat a great defensive card awesome with Temporal Mastery (although most cards are once they are online) and the backside was perfect for the deck. Demonic Tutoring every turn for a Frost Titan puts your opponent in a very tight spot.
Like any ramp deck you need to draw a good mix of ramp threats and lands. Thankfully even if you're a little slower your spells are powerful enough to catch up should something go wrong. Also post-board vs. aggro decks your removal spells and Vapor Snags buy you time just like your ramp spells will accelerate you.
One might scoff at Vapor Snag in a ramp deck but it makes sense to me. It's not that much worse than Galvanic Blast. When you're just looking to buy time Snag does the same thing as Galvanic Blast. They most likely won't be able to empty their hand by the time you start locking down their stuff. Basically if the game ends while they still have spells in their hand they didn't get to cast Snag is similar enough to actual removal.
I liked the deck but I'm not sure if it's actually better than Wolf Run Ramp. Regardless it's certainly cooler and your threats are much better in areas where Wolf Run's wouldn't be as good. I think the Delver matchup might end up alright especially with one of other cards that was recently spoiled.
This next deck might be a stretch but I know people were talking about Past in Flames combo when Innistrad was released and it just got a little better. With Burning Vengeance and Phyrexian mana spells like Gitaxian Probe and Gut Shot you can deal a decent amount of damage with a resolved Past in Flames.
Timely Reinforcements buys you time and gives you life to work with. The new cards Battle Hymn and Thatcher's Rebellion can team up with Infernal Plunge to give you a mana boost if the deck needs it.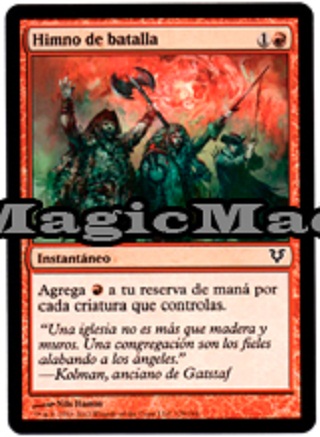 I don't have an exact list since I don't know exactly how the deck should or could function but it seems like something is there.
A list of possibilities includes:
Infernal Plunge
Battle Hymn
Timely Reinforcements
Lingering Souls
Thatcher's Rebellion
Gitaxian Probe
Gut Shot
Past in Flames
Faithless Looting
Thought Scour
Ponder
Desperate Ravings
Burning Vengeance
Intangible Virtue (sideboard)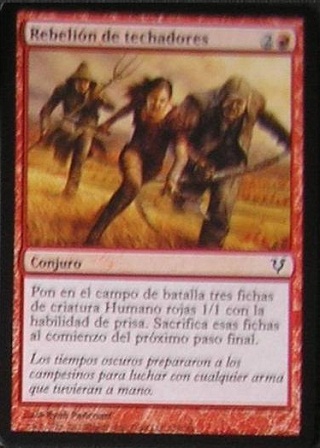 Thatcher's Rebellion
I think having a combo deck in Standard would be pretty cool. Decks like Heartbeat of Spring were more on the fair side of things at least as far as combo decks go but I don't want to see anything that good. Killing on turn 4 is too good but killing on turn 5 or 6 with consistency should be fine.
That said I doubt this is the deck. Between Ponder Thought Scour and Faithless Looting you have a lot of selection. You have tokens and Burning Vengeance to buy some time and Past in Flames for the big finish. Is that enough though? I'm guessing not.
Your Rituals aren't all that impressive and I'm not seeing what you can do with all that mana. Maybe you can get to a point where you have a critical mass of tokens rituals card drawing and Past in Flames and you can do some nutty stuff. What's the likelihood of that though?
The best thing I can think of is Increasing Vengeance plus Brimstone Volley. That takes away the necessity of Burning Vengeance which seems like a net positive. It's kind of slow isn't that great defensively and you need to draw it. The great thing about Volley and Vengeance is that you can mill them all with Thought Scours and you don't care.
Maybe someone smarter than me can brew with this shell.
Some notes about other spoiled cards in the set: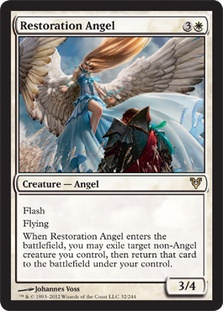 Restoration Angel: Patrick is right. This card is pretty damn good.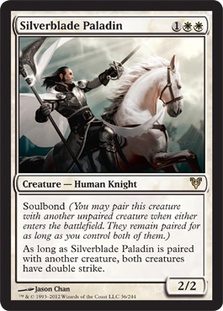 Silverblade Paladin: This guy is a pretty scary threat but whether or not he's better than Mirran Crusader will change weekly.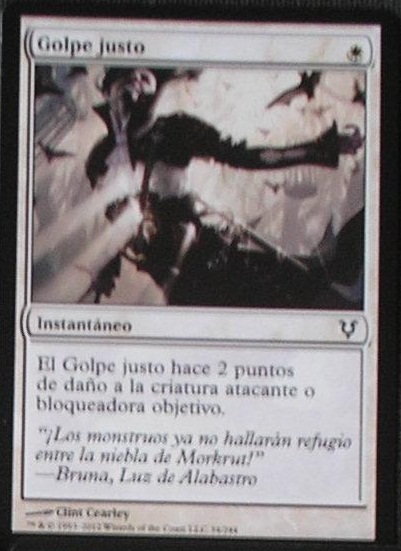 Righteous Strike
Righteous Strike: I think I'd rather have Condemn at least from a control player's standpoint but this is a solid role player.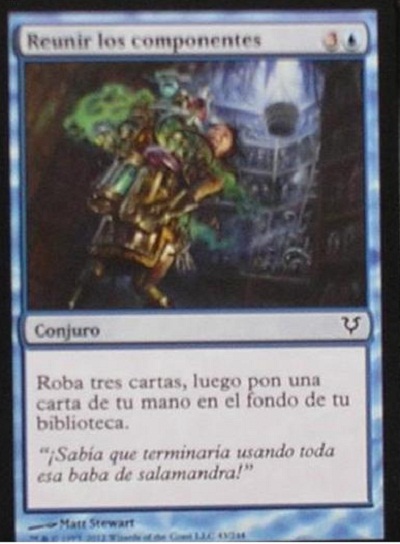 Gather the Components
Gather the Components: I have played Sift in Standard and didn't feel embarrassed. Obviously a direct Sift reprint would fuel the Unburial Rites decks even more and I don't think anybody wants that.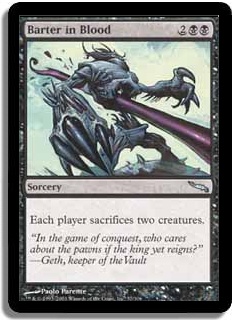 Barter in Blood: This is a pretty cool reprint. There are enough value creatures like Strangleroot Geist Huntmaster of the Fells and Gravecrawler where it might not do enough but I wouldn't mind finding out.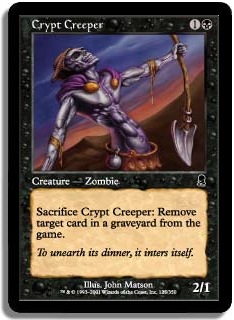 Crypt Creeper: I won my first individual PTQ with this guy and it's just as playable now as it was then. Granted that might not say much but it's something.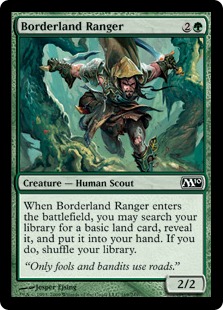 Borderland Ranger: May the Michael J. Floreses of the world unite and rejoice!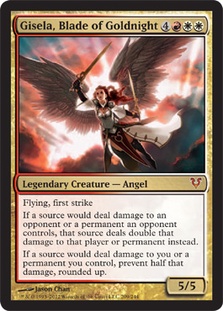 Gisela Blade of Goldnight: I like her a lot as a reanimation target. We certainly have plenty of good options but it ain't like the old days where no one can beat a Verdant Force.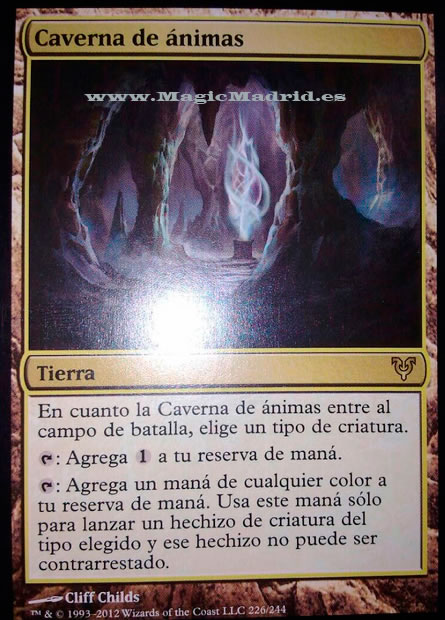 Cavern of Souls: Wow! For an in-depth look at this one check out GBTV tomorrow!
As always Wizards doesn't disappoint. Avacyn Restored looks like another sweet set at least for Constructed and there are still plenty of cards unspoiled. I'm looking forward to starting fresh with Standard.
If you can make Past in Flames work let me know!
GerryT